The excitement around this year's World Cup in Brazil has been ratcheted up a notch now that we're in the second round of group matches.
While there's been talk about the innovations in how we watch and follow the World Cup on TV and social media, it's the technology innovations happening at the game level that viewers need to keep an eye on in Brazil.
1. Goal-line camera technology
One big story at this year's World Cup is the new goal-line technology that claims to be 100 percent accurate. What that means is that goals will be called goals at this World Cup, and we won't have to worry about controversies like we did at the 2010 World Cup, when a ball clearly crossed the line but was not ruled a goal.
The goal-line camera technology (GoalControl) is better than instant replay technology in other sports because it can detect a goal in real-time - no waiting around for the referees to view different angles of a shot on goal and then conduct a conference on the field about a controversial call. Each camera is capable of taking 500 pictures per second and then instantaneously sending a message to a referee's watch that a goal has been scored.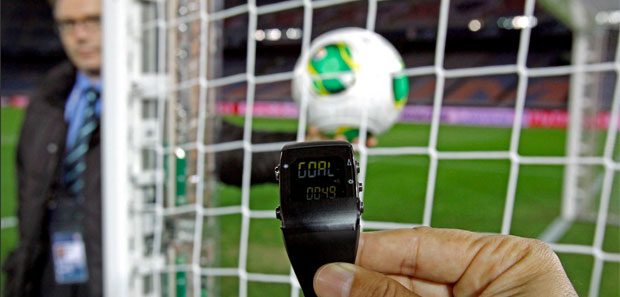 The goal-line monitoring device is demonstrated before the media in Tokyo. Photo / AP
2. The vanishing white foam
You've probably seen the referees spraying graffiti-like white foam in front of the players' feet during free kicks. This is to make sure they don't come too close to the ball - something they tend to do when the referees aren't watching.
The white spray paint - known as 9:15 Fairplay - is biodegradable and actually disappears after a minute.
It physically appears on the field of play - unlike the augmented reality lines that TV sports broadcasters use to help viewers make sense of sports like American football. The Major League Soccer and the Brazilian leagues have been using the vanishing foam already, but it's new to the World Cup.
3. High-tech jerseys and shoes
Nike, Adidas and Puma are collectively outfitting 27 of the 32 teams at the World Cup, and each of them claims that their clothing can actually help to improve on-field performance of their teams - and that especially means helping players stay cool in the Brazilian heat and humidity.
Ghana, for example, was outfitted by Puma, which uses an innovative technology that claims to micro-massage specific muscle areas and boost overall stamina. Nike, which outfits the U.S. team, touts its Dri-FIT technology in its jerseys for improved breathability, as well as the superior ability of its jerseys to conform to the shape of a player's body. There's a fine line between real technology and fashion masquerading as technology, though, and that's especially true for the shoes worn by the players: Color choice seems to be a big thing this year.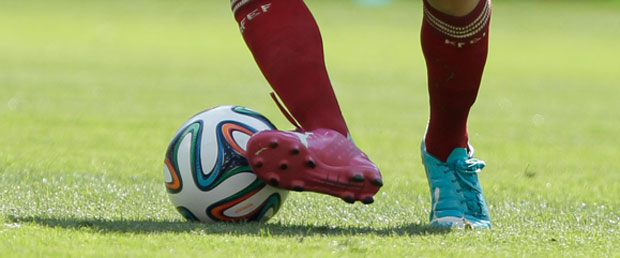 Spain's Cesc Fabregas wears his new Puma cleats in a World Cup exhibition game. (Photo / AP)
4. The ball
Much has been made of the improved aerodynamics of the ball used in this year's World Cup. Adidas claims that the ball it developed for this year's World Cup - the Brazuca - is an upgrade over the ball used in South Africa in 2010, offering superior grip, touch, stability and aerodynamics. In short, players won't be able to launch knuckleball shots that weave and wobble past goalkeepers. This appears to have been borne out by NASA's aerodynamic testing of the ball, which does show clear airflows around the ball in mid-flight and less tendency for a ball to wobble in mid-air.
5. iPad scouting apps
If you see players or coaches holding an iPad on the sidelines, it's probably because they're taking advantage of state-of-the-art scouting apps. Prior to the World Cup, the team from England touted a new iPad scouting app specifically developed by the team's head of performance analysis for Brazil that lets players check out the personal quirks and abilities of their on-field opponents. It's not just data and statistics of the type mentioned in the book Soccernomics - it's also video footage of specific players. That helps performance, of course, but is no guarantee of victory - England still lost to Italy 2-1 in its World Cup opener.
While technology can improve the pace and flow of the game, help players perform at higher levels and ensure the ultimate fairness of the game, there's still one thing that technology can't account for - and that's the health of the players.
Teams may have been preparing for the World Cup in Brazil by wearing extra layers of clothing in training or specifically working out in a hot and humid climate, but that didn't help the U.S. team when it lost key player Jozy Altidore early in the game due to a possibly weather-related hamstring injury and the team's captain later suffered a nasal fracture.
So that's the innovation we'd like to see at the 2018 World Cup - advanced medical technology that heals injuries in real-time.
-Bloomberg