Just days after launching New Zealand's biggest amateur rocket, the team behind Nike are still buzzing with success.
The Nike (for the record Nike is the Greek goddess of Goddess of speed, strength and victory) replicates NASA's Nike Smoke creation from the 1960s and is the work of Ethan Kosoof of Huntly, who is project manager, Dr Martin van Tiel and his wife Debbie of Taupiri, Chris North from Onewhero and Kelvin and Kim McVinnie from Te Pahū.
It is 6.5m tall, weights about 150kg and was built in the McVinnie's shed.
It didn't all quite go to plan for the team — if there had been a launch control centre the message would have been something like 'Houston, we have a problem'.
But unlike the life-threatening issue with Apollo 13, Nike Smoke had a small technical issue with the ignition set-up which caused several false starts.
Team member Kelvin McVinnie from Te Pahū says it spoiled an otherwise 'mint' flight.
Issue corrected, Nike was launched about an hour after expected, but most of the 700+ crowd had stayed to see the climax of an excellent day out.
The New Zealand Rocketry Association's first international launch event was held at Orini on Sunday, and there were dozens of rocket launches culminating in the big event.
The McVinnies were to the fore. Kelvin opened the day when he launched his rocket Deep Purple to gain his Level 3 rocket pilot high power certification.
It involved designing and building a rocket with a high powered motor and numerous electronic devices, meeting numerous testing and simulation requirements, submitting paperwork to support the integrity of the design and build and, finally, successfully launching the rocket and recovering it in a fit state to be flown again.
Kelvin says he was rapt to have passed the level test and it gave him a lot of confidence for the rest of the day — although the entire team admitted being nervous about the big launch.
Kelvin's wife Kim launched her rocket Middle Earth later in the day, aiming for an altitude record for a class L motor.
The previous record was about 10,000 feet — Kim's flight was about 15,000 feet subject to ratification.
Other launches included cardboard rockets made on the day by hoards of children, to various sized and powered rockets made by enthusiasts.
And it was exciting to watch — every rocket was different and there was an element of danger, especially when a parachute failed to deploy.
Warning hooters would have everyone looking skyward in case they had to dodge an incoming rocket, but they all managed to miss.

Speaking about the flight of Nike, Kelvin says it was perfect.
He says it was built as a crowd pleaser and it did that as well.
"The team will download the data and check the flight information, but on the day Nike did exactly as we expected," he says.
Also on hand to witness the flight were and David and Debbie Johnston from project sponsors Logic Wireless.
David says they were happy to be involved in the project, and while they weren't into rocketry previously, the enthusiasm of the people involved made it impossible not to get hooked.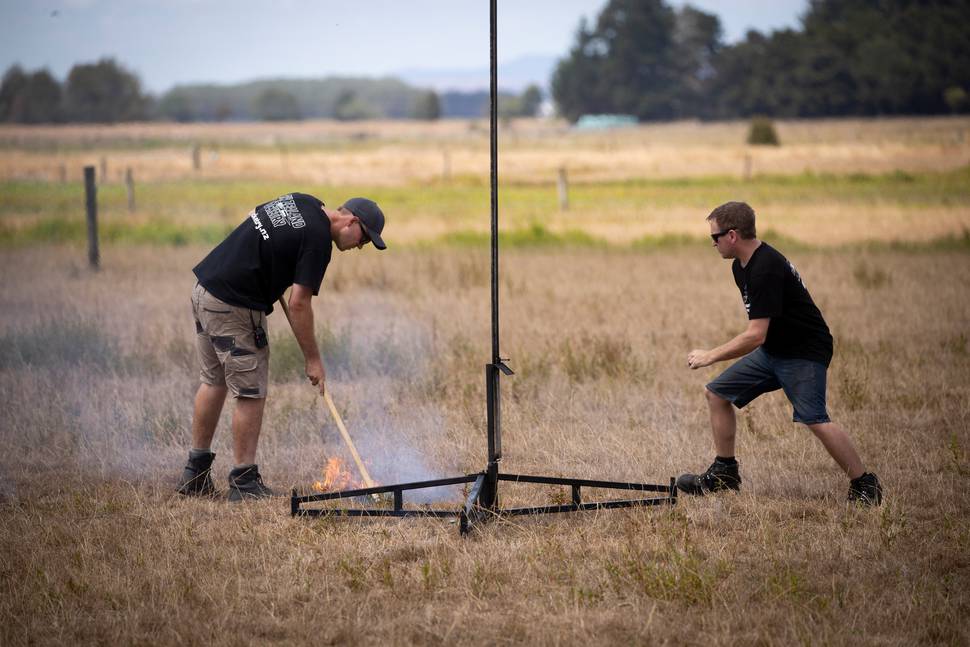 Members of the New Zealand Rocketry Association get together to fire rockets monthly at Orini, with an annual public day.
This year that day was the culmination of an extended three-day Havoc in the Paddock event.
Kelvin says it was a great crowd as well, and they all played their part, leaving the site, which is donated land on a working farm, in excellent condition.
For more information on amateur rocketry check out www.nzrocketry.org.nz