Cooked snapper, electric blankets and listening to the radio are some of the luxuries cats owned by Sue Ford enjoy.
The Pirongia woman breeds Burmese cats and is gearing up to show three of her finest felines at an upcoming cat show at the Te Awamutu College Hall.
Around 120 cats of all shapes, sizes and breeds will be vying for the overall supreme cat award.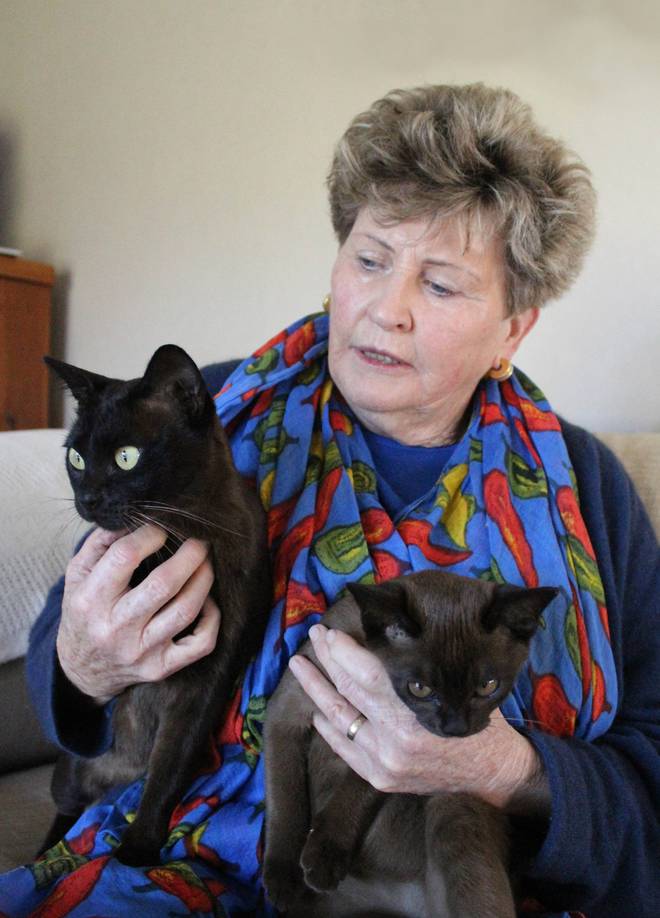 Sue has been breeding Burmese cats for the last 25 years, now from her Pirongia home that includes a cattery.
There's a lot of work involved in taking care of her 11 Burmese and two moggies.
Kittens are fed four times a day and adult cats twice a day.
Their diet includes cooked snapper, chicken necks, raw beef, good quality cat biscuits, cream and occasionally cheese, a raw egg or a sprinkle of yeast.
"Very seldom do I use tinned food," Sue says.
"Diet is really important when you're breeding cats. Just like people, you are what you eat. If you eat rubbish, you look like rubbish."
Sue's cats mainly live indoors where they enjoy toys and obstacles in their cattery.
They also like to listen to the radio as it prepares the cats for shows.
"It helps them get used to voices around them," Sue says.
"I have five radios going - some listen to national radio and they all seem to enjoy listening to the cricket.
"I always joke that my cats only listen to good programmes."
During winter the cats keep warm with electric blankets and heat pads.
"Burmese cats really feel the cold - I think because the breed originated from the warmer climates of Burma and they have sleek coats."
It's the personality of Burmese cats that Sue likes the most.
"They are very active and incredibly intelligent. We once had a cat that learnt to unlock doors and windows. It learnt to slide the latch down and push open the door."
Sue is entering three Burmese cats into the Te Awamutu show.
They will be judged on their eye colour (the more golden the better), coat texture, body shape, ear shape, length of tail and temperament.
"It's a beauty contest for cats at the end of the day."
There are four categories in the show - longhaired pedigree, short haired pedigree, domestic and companion.
Cats in the companion category look like a pedigree cat but might have a small fault in their appearance.
Pedigrees are judged for temperament, grooming and appearance. Domestic and companion cats are judged for friendliness and grooming.
Sue breeds her cats with the goal of optimising health and personality.
"I mostly sell them as pets and want to make sure my cats are really good pets."
As well as breeding cats, Sue is also a senior judge at cat shows around New Zealand and occasionally overseas.
She is qualified to judge 50 breeds of cats - including cats that can't be found in New Zealand such as Pixie-bob, Snowshoe, Piederball and Savannah.
The 26th Mid Island Cat Show is on Saturday, May 25 at the Te Awamutu College Hall. The show is open to the public from 10am, cash-sale tickets at the door.
In addition to watching the competition and speaking with breeders, spectators may visit vendor booths.
The show is a good chance to talk to breeders if you're interested in buying a pedigree kitten.
For more information contact skford49@gmail.com or 07 871 9157.