A fight that broke out in Hawera District Court this morning spilled outside after the court was cleared.
Police officers clashed with protesters, who were supporting two women accused of interfering with oil survey equipment.
Kylee Kathleen Rereatua Green and Patricia Tahere Green face charges related to the theft of seismic survey pegs from Shell Todd oil services on December 14 last year.
Patricia Green originally refused to stand in the dock, challenging Judge Garry Barkle on his authority.
Following several arguments Judge Barkle ordered Patricia be taken to the cells. At this point the public gallery erupted in noise and confusion and one woman leaped over the barrier and turned over a lawyers' table.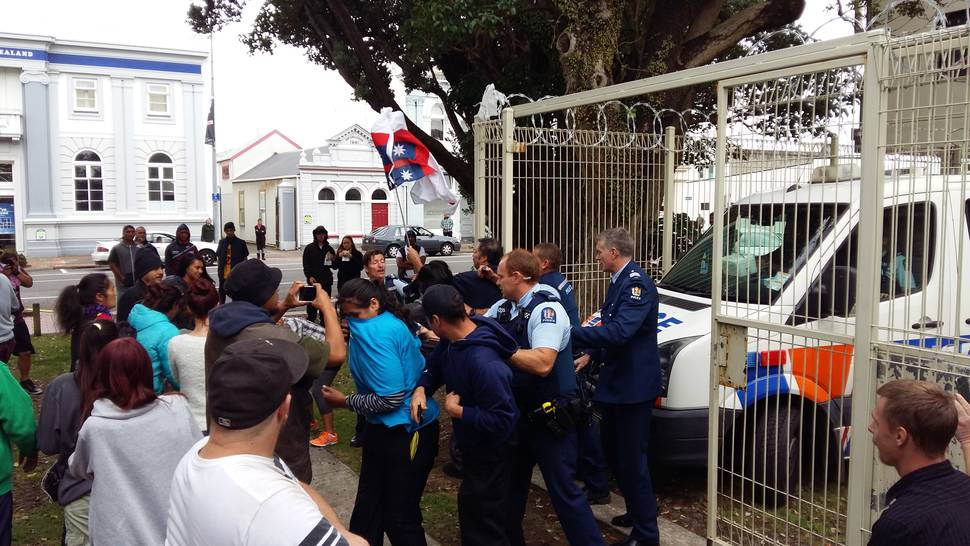 Another man was stopped from leaping the barrier but continued to shout "you f***ing stole our land and killed our people".
As the judge ordered the court to be cleared, up to 10 people continued shouting, singing and verbally abusing court staff.
One man was waving a United Tribes flag at the time. The two defendants were taken to the cells, where they could be heard singing loudly.