As Canterbury trainer Michael Pitman exchanged bear hugs and back slaps with wellwishers, it was difficult to detect any signs of emotion that trainers have become so accustomed to camouflaging in the high-octane arena of thoroughbred horse racing.
But there was no hiding the emotion written all over the face of his wife, Diane, standing in relative isolation about 10m away from all the commotion after Savvy Coup claimed an emphatic victory in the $250,000 group one Livamol Classic, dramatically dropping the curtains on the final leg of the Bostock New Zealand Spring Racing Carnival in Hastings today.
Clad in an unostentatious, stark, black-and-white ensemble, Diane kept flashing radiant smiles as jockey Chris Johnson made his way to the birdcage to park the champion 4-year-old daughter of Savabeel in her rightful No 1 slot.
But try as she might, the tears kept streaming down the cheeks of Diane, whose husband claimed his maiden group one victory in Hastings and is scheduled to go under the surgeon's knife to help him fight bowel cancer in Christchurch on Monday.
"The truth is the Couplands and us have been friends for a very long time so coupled with Murray's problems it's just a very big boost for everybody," she said, the tear ducts still breaking their banks.
Pitman was simply excited this morning, comfortable in the knowledge that Savvy Coup, the overwhelming favourite, was very capable with Johnson, she disclosed.
"You just hope them good luck, don't you, because it's a little bit of a worry to be a favourite like that but, yeah," she explained. "It's truly satisfying when you put plans into place twice and they come off."
Her 63-year-old husband, in a Hawke's Bay Today preview for the second leg of the carnival, the Windsor Park Plate, had prophetically declared Savvy Coup would be better suited to the 2040m Livamol Classic race because she had won the group one Al Basti Equiworld Dubai New Zealand Oaks over 2400m on March 17.
"It's massive. It's probably one of the best days of my life," said Pitman, wishing Sam Kelt was still sponsoring the race.
The Bay businessman had sponsored the classic to the tune of $1 million at the turn of the century.
"We've been friends with the Kelt family for a very long time and [Gordon] Kelt gave me horses to train when I was an absolute nobody," he said, also acknowledging Lucy and John Scoular for giving him the first two outside horses he had trained.
He said it was a special time for him, Diane, Johnson, and Savvy Coup co-owners Jim and Ray Coupland.
"We're a big, close family," he said, revealing Ray Coupland was one of his original horse owners.
"We've only ever had one difference in opinion, which is so massive," Pitman said.
"I'm so pleased for them but I'm also very pleased for myself, too."
He wasn't one of those "PC people" but I'm rapt today.
"It's probably one of the most important races I've ever won," he said.
"It's not the biggest or the most valuable but it's probably one of the most important I'll ever win, perhaps."
New Zealand Bloodstock's Jim Bruford also is a co-owner of Savvy Coup.
Pitman was "extremely confident" of the victory today as Savvy Coup and Johnson finished a don't-argue more than two lengths clear of Murray Baker and Andrew Forsman co-trained Lizzie L'Amour.
Danzdanzdance, attending the school of Chris Gibbes and Michelle Bradley, pipped Scott Base (Johno Benner and Hollie Wynyard) for third.
"My wife told me [yesterday] that she just wouldn't get beat. The worst she'd have done would have been incredible," he said.
His son and co-trainer, Matthew, 30, couldn't be here because he had to look after proceedings at Riccarton today.
"He's a great kid, you know. He does his homework and we've now won three group one races in under 12 months."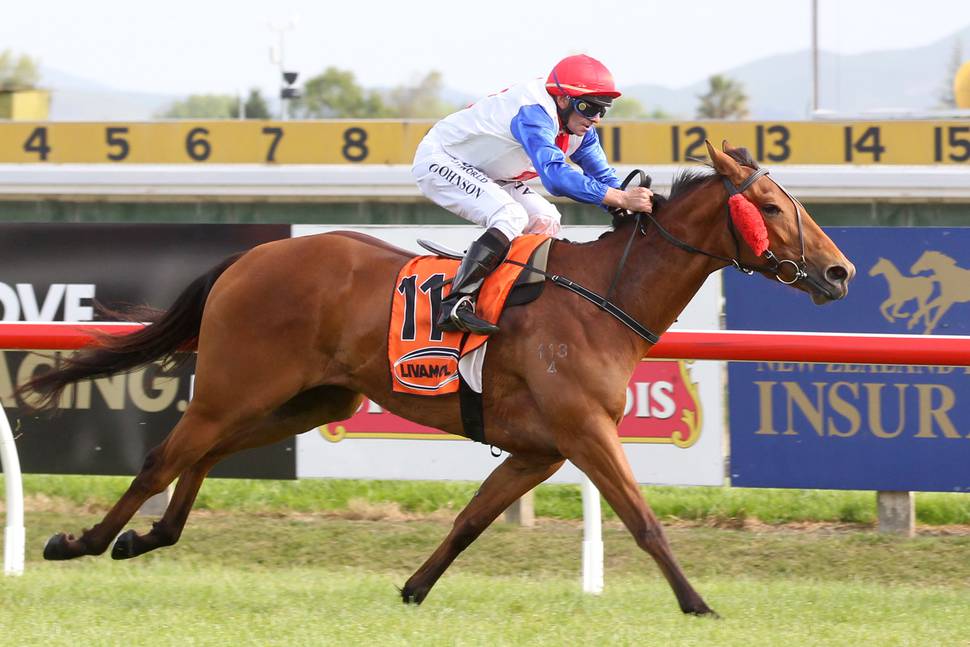 He saluted good friend Johnson, saying the 54-year-old Cantabrian had ridden his mounts for 34 years.
Pitman, who features in a cancer promotion video which he says is from his heart, said his impending surgery had been on his mind all along.
"People ask me if I was nervous before the race," he said.
"To be honest, I'm more nervous about Monday than I was today."
He was diagnosed with bowel cancer in May and had undergone chemotherapy and radiation treatments for 28 days leading up to Monday.
"I'm not looking forward to it, to be honest with you, but I'll enjoy today anyway."
He and Diane were catching their flight to Christchurch early tomorrow afternoon so they intended to catch a quiet lunch somewhere.
"I've got to be at the hospital at half past six on Monday morning for surgery."
While he might not be on the flight to Australia, Pitman kept his pre-race promise on Savvy Coup.
"We're going to take on Winx, you know. That's what we'll be doing," he said of the vow to take on senational mare Winx in the 2040m group one Cox Plate at Moonee Valley on October 27.