Crusaders coach Scott Robertson has opened up about a shark attack he experienced while surfing in South Africa.
Robertson, the 43-year old coach who took the Crusaders to a title in his first year in charge, revealed 'the first time he felt real fear' to Newstalk ZB host Mark Watson, in an interview to be broadcast on Saturday.
Robertson was attacked when he was isolated in the water, in a moment he described as 'massive for me.'
"I saw it really clearly, this was a shark and it was big, so I got out alive," said Robertson.
"There was one guy out there and he went in and I saw it (the shark) come straight through the middle of the wave and I was absolutely, can't say the word myself, but it was the first time I felt true fear.
"I turned around and went straight in feet-up off the board and fingers just touching the water, went straight in and sat on the beach for five to six minutes. So that was my moment."
"It was an isolated moment and I don't surf so much now but when I'm out now I do a little bit more homework."
Robertson is an avid surfer who noted it's been a tough week with All Black Wyatt Crockett announcing his international retirement along with Australian surfer Mick Fanning.
"It's emotional, it's right up there with Crocket really it's on par. Mick's been incredible for a long period of time, I think 17 years, and one thing I love about Mick is he's transformed surfing over the years, he's pretty straight up and down, he's a reasonable guy and I love watching him he's got a great attitude and a bit of charisma as well."
Robertson said his biggest surfing influence was Kelly Slater.
"I just loved his ability to dominate for a long period of time, I thought that was incredible to win 11 is just amazing but there's Gary Elkerton who came through, he was a big guy so I like the bigger guys, being a big guy myself I never would have made it six foot three and 100 odd kilos these boys are dripping at 60 km so the bigger boys are always who I really admire."
"But a real icon and someone who I look up to is Laird Hamilton, inspiration and he owns his own bullet coffee they make it with butter, he pioneer a lot of what those sub stand up paddling surfing which I do."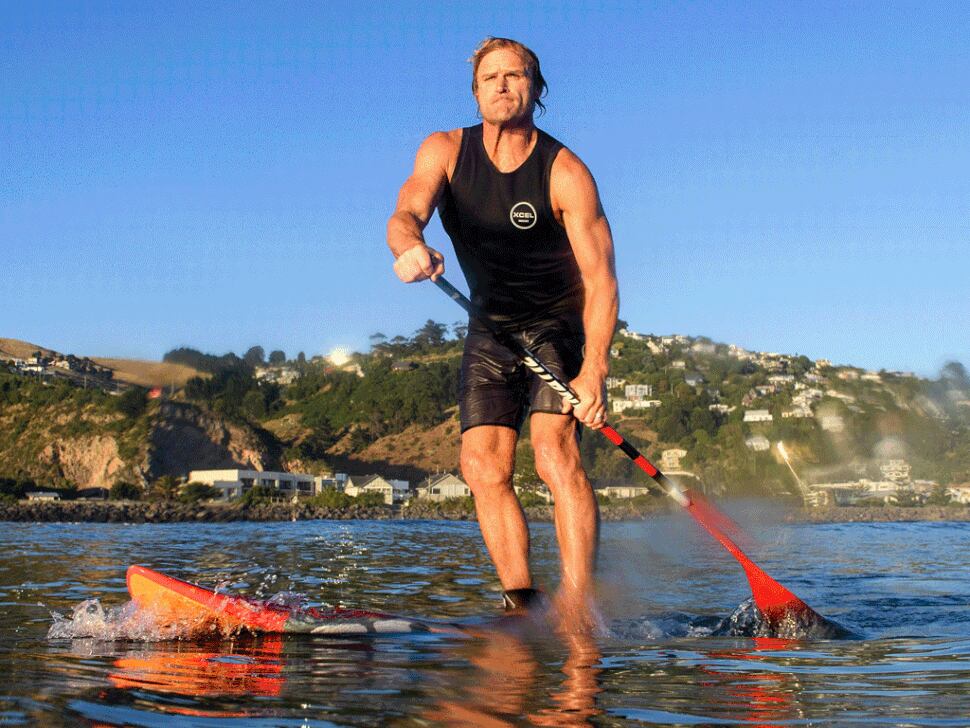 In summer, Robertson surfs or swims at the beach near his Sumner home most mornings before getting in his car and driving to work at 7 o'clock. A recent photo shoot had him skateboarding, bare-footed, to the beach with a paddleboard under an arm and paddle in another, a smile on his face.
To get the day's top sports stories in your inbox, sign up to our newsletter here