In an extraordinary moment that could hardly be fathomed one month ago, North and South Korea entered the Pyeongchang Olympic Stadium together at the 2018 Winter Olympic opening ceremony.
The countries are cooperating for a series of conciliatory measures, including having their athletes parade together for the first time in 11 years at the opening ceremony. The joyous group flew their flag, which was white with the blue Korean peninsula in the middle.
During the 2000s, the two countries' athletes marched together at the opening and closing ceremonies of several international sporting events, including the 2000 Sydney Olympics. The last time before Friday was at the Asian Winter Games in China in 2007.
The two countries have also formed a joint women's hockey team, which consists of 23 South Koreans and 12 North Koreans.
North Korea has sent hundreds of people to Pyeongchang, including officials, athletes, artists, journalists and a 230-member cheering group. The games are also being attended by North Korean leader Kim Jong Un's sister and other senior officials.
The sister of North Korea's leader, Kim Jong Un, also shook hands with South Korean President Moon Jae-in while they watched an elaborate show of light, sound and human performance. Its aim: to tell the epic story of Korea — not North, not South, but the entire land.
Kim Yo Jong is the first member of her family to visit South Korea since the 1950-53 Korean War. She's part of a high-level delegation attending the opening ceremony.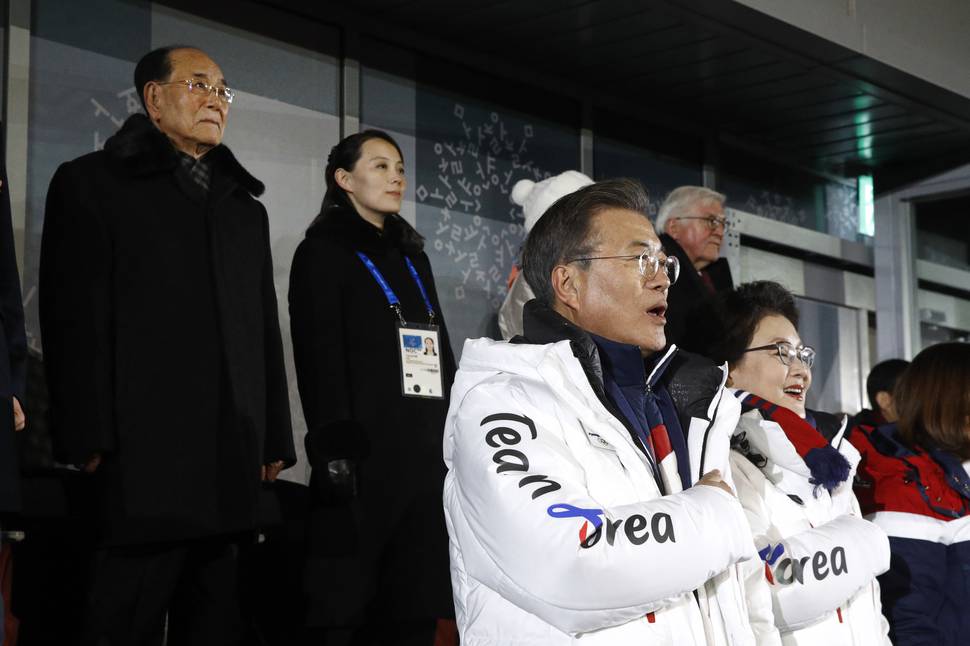 After years of frustration, billions of dollars and a nagging national debate about their worth, the opening ceremonies took place before a world watching the moment not only for its athletic significance and global spectacle, but for clues about what the political future of the peninsula could hold. A delegation from North Korea, dressed in identical garb, watched from an upper deck of the stadium.
Then began the Olympic tradition that takes place at every Games — the march of athletes from the world's many nations, girded against a frigid Korean night and temperatures that dipped below freezing with biting winds.
That included New Zealand's athletes, with Beau-James Wells flying the flag as the Kiwi Winter Olympians marched at an opening ceremony punctuated with colour, culture and the freezing cold.
Clad in the flagbearer's traditional cloak Te Mahutonga, Wells led a 32-strong Kiwi contingent of athletes and officials, including his brothers Jackson and Byron on Friday night.
New Zealand were the seventh country to march at PyeongChang Olympic Stadium per order of the Korean alphabet.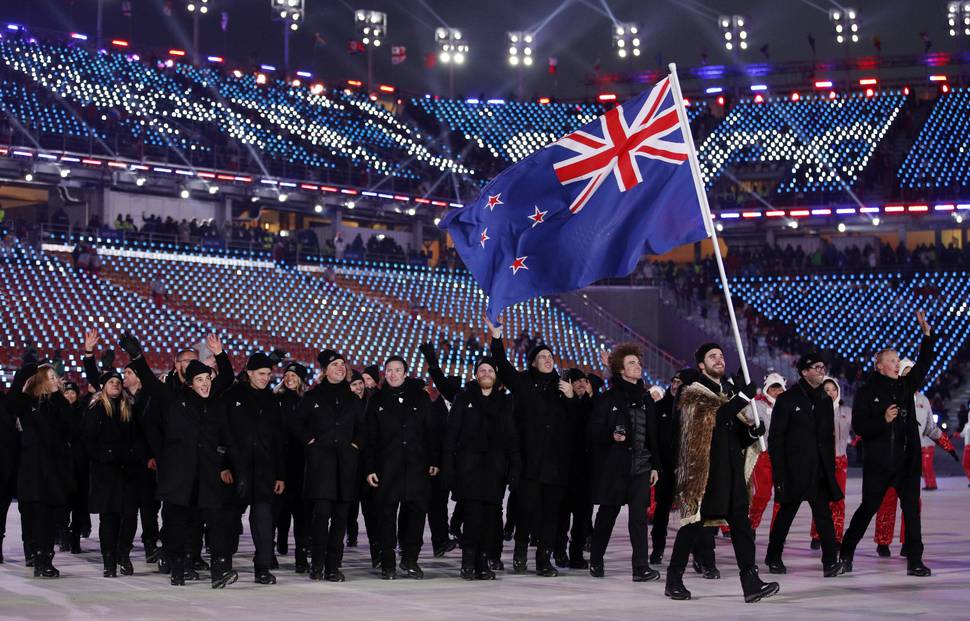 A huge crowd gathered in the freezing Olympics Stadium in this isolated, mountainous corner of South Korea, as performances displayed the sweep of Korean history and culture. Members of a delegation from North Korea, part of an extraordinary Olympics partnership between the two Korean rivals, watched from high in the stadium a performance called "The Land of Peace" and as past South Korean athletes paraded a large southern flag.
After a chaotic year of nuclear war threats and nuclear and missile tests from the North, it was a striking visual moment.
There was a palpable excitement in this isolated, rugged mountain town, as one of the poorest, coldest and most disgruntled parts of an otherwise prosperous South Korea kicked off two weeks of winter sports, Olympic spectacle and, just maybe, a bit of inter-Korean reconciliation.There will be plenty of sporting drama for both die-hard snow and ice junkies and the once-every-four-years enthusiast.
Will the Russians who aren't Russians — the 168 who have been invited as "Olympic Athletes from Russia," competing in neutral uniforms under the Olympic flag — bring home gold? Will Patrick Chan of Canada hit his quad jumps and claim figure skating glory?Can reigning men's gold medalist Yuzuru Hanyu of Japan overcome injury and defend his title against Chan? Will the past and present star of American skiing, Lindsey Vonn, be surpassed by the likely future of the sport, Mikaela Shiffrin?
More than 2,900 athletes from 92 countries will compete here, making it the biggest Winter Olympics to date.