Henry Nicholls has chosen the perfect time to make runs as New Zealand's No.6 batsman in one-day internationals.
His 50 from 43 balls, entering at 198 for four after 34 overs in the opening victory over Pakistan, signals a change in role and an increase in aggression from his customary approach as the test No.5.
Nicholls has made the most of his circumstances.
Spinners Mitchell Santner and Todd Astle are deemed all-rounders who usually bat at No.7 and No.8, supplemented by three pace bowlers to complete the tail.
Opener Colin Munro can bowl a few medium pace overs and, with Corey Anderson injured, Colin de Grandhomme on bereavement leave and Jimmy Neesham improving his game at domestic level, Nicholls slots in as a specialist batsman.
He has benefited from the new team balance.
In 18 ODIs, Nicholls averages 39.41 with a strike rate of 90; in his seven matches batting at No.6 since the start of the Indian tour, he averages 62.75 at a strike rate of 113.
"It's the nature of the role to come in during the middle to latter stages when you have to pick up the run rate," Nicholls said.
The situations have varied.
In the first ODI against India in Mumbai, he scored four not out from the final ball of the game, helping New Zealand chase 281 to win with an over to spare.
Contrast that with his highest ODI score of 83 not out to take his side to 325 for six against the West Indies in Christchurch, an innings that enabled the Black Caps to win the series with a match to spare.
At the Basin Reserve he was accelerating from the outset to capitalise on the platform created by the top order. He had 10 dot balls in his 43, but was scoring at better than a run-a-ball for the majority of the 90-run, 80-ball partnership with Kane Williamson.
"[The Basin Reserve] is a big ground with lots of twos to access if you run hard.
"[315 for seven] was an above par total, and that was a reflection of the way we built the innings nicely and added a bit at the end."
The main blemish before his dismissal came when he committed the cricketing crime of "ball-watching" and ran into Pakistani bowler Mohammad Amir.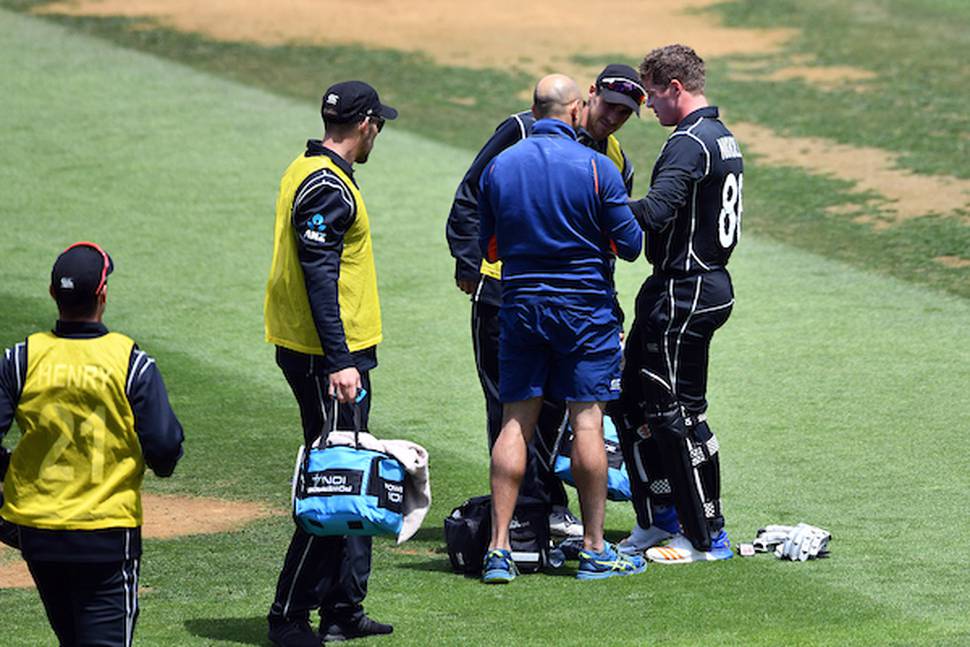 "I took a stumble looking to get two and, at the last moment, turned to see his shoulder. I got a big piece of it; it reminded me of getting smashed playing rugby when I was younger.
"Luckily no-one got injured and he bowled the last over. If that's not No.1 on Smashed 'Em Bro [a segment on The Crowd Goes Wild television show] I don't know what is. But I was in the wrong, so I apologised.
"Some guys played me the slow mo' just to show how embarrassing it was."