Herald reporter Heath Moore is spending five weeks in a Maui campervan following the Lions fans. This is his latest report.
They may be here for the rugby but Lions fans have been swept away in what many are describing as the holiday of a life time.
Following an 18,000km trip from the UK to New Zealand you could forgive the travelling masses for wanting a cup of tea and a lie down, but not for two young Lions' fans.
From Hot Water Beach to Luging in Rotorua, Red Army members Alex Marchant and Rory Tanner have been "living the dream", with the pair describing their journey so far as "the time of our lives".
The duo knew New Zealand was a place of beauty but they hadn't expected to have this much fun with the 23-year-olds getting stuck in on day one.
"I caught a fish in Cape Reinga on the first night in our campervan. That was wicked, but we haven't had a bite since!" Tanner told the Herald.
"It was a cool feeling eating your own food that you've caught."
Between games the boys headed to the Coromandel where they stumbled across the natural wonder that is Hot Water Beach and Cathedral Cove. "We've not nothing like this back home."
On Friday the passionate Red Army duo took to the Luge in Rotorua in between stalking the Lions team outside the team's hotel.
But what has stuck out most during the duo's first two weeks in New Zealand is the "incredible" hospitality from Kiwis everywhere.
"It's been awesome! Everyone has been so hospitable," Marchant said.
"We got stuck talking to some bloke for nearly half an hour who just wanted to chat about our trip and the rugby. We've had lots of offers of somewhere to stay. No one is in a rush, its really chilled."
You'd think when you come to New Zealand and expect a cultural experience you'd receive a Maori one.
However, the quirkiest moment in the duo's trip wasn't a Maori welcome or a hongi, but all things African.
"Our first night out in Auckland, we've come all this way and we're absolutely jet lagged and we were taken along to some African rap event in a bar in Auckland.
"It wasn't something you'd expect to find in New Zealand. It was pretty quirky. We were probably dead to the world with our jet lag but we had such a great night out."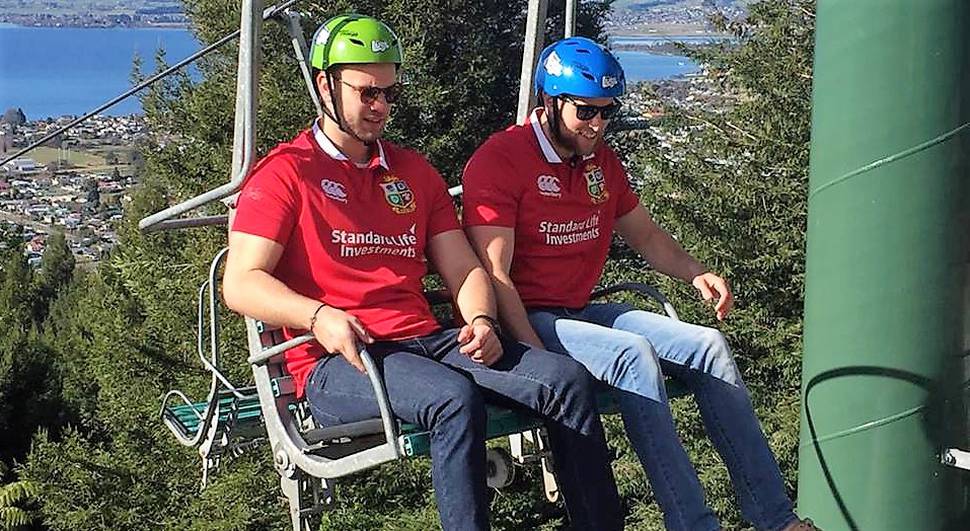 As for the humble Kiwi delicacies like pineapple lumps and L&P, it was the stock standard New Zealand pie that won the hearts of Tanner and Marchant.
The pair admitted to knocking back at least two a day, rating their pie experience as the best food they've had during their trip along with the fresh fish they caught up in Northland.
That's until they tried their first hangi.
On the weekend the men from Kent experienced a traditional Maori hangi in Rotorua - their faces lighting up when describing their evening.
"So far we hadn't experienced a lot of the Maori culture but the hangi was so delicious," Marchant said.
The pair were shown different aspects of Maori culture from poi dances to traditional Maori weaponry and greetings, with the experience rating as their favourite moment on the trip to date.
But loyalties were divided when it came down to the crunch question: Who will win the test series.
Tanner played heart over head picking a two-one series victory to the Lions while Marchant is backing the All Blacks to complete the clean sweep.
But the pair had one final word to say to All Blacks fans: "Chill out a bit when we lose. It's a bit hard on us coming all this way just to hear about how good you are the whole time. We'll soon get one over you."

• Heath Moore travelled in a campervan provided by Maui, who had no control over editorial coverage.