When Reg Rye first walked into his local bike shop about three years, shop manager Michael van Enter must have sensed he would have his hands full with this one.
Rye, in his early 90s at the time, was quite set on the kind of bike he wanted - a fast one - and didn't appreciate being steered towards a more sensible option for his delicate age.
That determination will see Rye, 94, line up as New Zealand's oldest competitor at next week's World Masters Games 2017, contesting in M 95+ 2000 metres individual pursuit and 500 metres time trial cycling events at the Cambridge Avantidrome.
Age groups are decided by a competitor's age on December 31, 2017, and Rye turns 95 in June.
He is also the oldest cyclist on show and provided he can make the finish line, he will be unopposed for the gold medals on offer.
"My goal is to ride as fast as I can to make a world record," states Rye, as he warms down from another training session at the track. "Whatever I do, I think, will be a world record.
"If any other silly 95-year-old is going to have a go, they'll have to work like I've worked."
Van Enter, now Rye's long-suffering coach, shakes his head at the memory of their first meeting.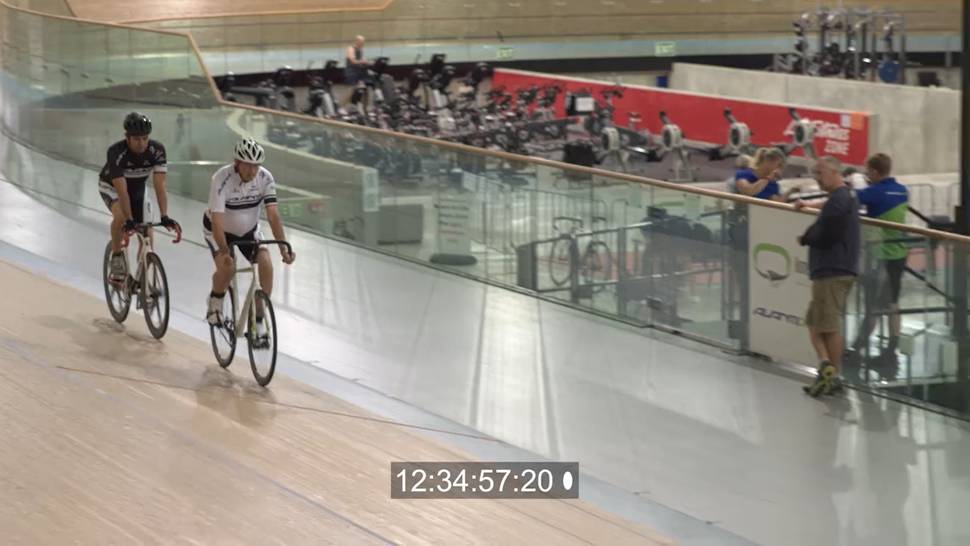 "Reg came in and said he wanted a bike to ride around on, so I looked at him and said he should go with the low step.
"He said, no, can't do that - it's a girl's bike."
Van Enter eventually persuaded him to start with the safer model, but the day he picked it up from the shop, Rye insisted on riding home, walking up and down hills, but wobbling along the flat stretches, as instructed.
From modest beginnings, he has progressed doggedly towards his goal, mixing his training between the stationary gym bike, the velodrome and laps of his 80-metre paved driveway at home.
"I've never seen a baby just get up and run," explains van Enter. "So I've taken that whole baby crawling to walking to running, and applied that to Reg.
"With young school kids, you let them do the basics first. I'm essentially training Reg like an under-12 youngster, except if he does come off, he is going to break something.
"From that aspect, it's pretty daunting."
And Rye definitely has a mind of his own. He moved to Cambridge as a teenager and inherited the family farm, playing rugby and sprinting on the track.
"I won the 100 yards championship at the Cambridge club twice - 10 years apart," he beams.
He did own a bike once, about 70 years ago, but gave it away when he hurt his back. That interest was rekindled, when a flash new indoor track opened down the road in 2014.
Soon after their initial encounter, van Enter suggested Rye train towards the World Masters Games.
"He had a funny grin on his face and you could see his mind was working over-time," says van Enter. "He said he'd think about it.
"He came back a couple of days later and I knew what the answer was ... he said he'd give it a go."
His new lifestyle has helped Rye get out of the house and make new friends, who can't help but be impressed with his progress to date.
"What I enjoy most is the people I meet here," he says. "Strangers come up to me, they congratulate me and sometimes we've become friends.
"I've been riding about three years now and I haven't fallen off my bike yet, so I can't be too bad.
"I feel healthier, I know I'm fitter and more flexible."
Van Enter is obviously proud of his young-at-heart charge, but still protective, as well.
"Put it this way, you have your top athletes, and you get others that are just happy to plod around and do the sport," he explains. "Reg, unfortunately, is a racehorse and he just wants to race.
"Sometimes I have to pull him in and tell him not to worry about speed, just get to the end and get that medal. That's all we need."
Rye has already begun setting goals beyond the Masters Games. In January, 105-year-old Frenchman Robert Marchand set an incredible new age-group record, cycling 22.547 kilometres around a track in an hour.
"Reg came into the shop and said 'did you see that guy? He's just ruined everything for me'," recalls van Enter. "I told him 'don't worry, we'll have a go at it as well ... but you've got to stick around for another nine years, mate'."
World Masters Games 2017 track cycling events are scheduled for April 26-28, morning/afternoon and evening sessions, at the Avantidrome in Cambridge.