Luck, and a quick reaction saved the life of a cyclist who found himself hanging off the side of a bridge at the end of a bicycle race in the United States.
Mike Allec, 51, was sprinting for the line in the Santa Barbara Road Race on January 28 when he got caught up in a crash that knocked him sideways just as the race was crossing the bridge, 10m above a sloping creek.
Video of the crash, take from the camera of a fellow competitor, went viral when it was posted to YouTube.
Allec told CyclingTips.com.au that he attributed his potentially life-saving maneuvre to "good reflexes and luck."
"As I started to flip over, I don't know if it was just momentum, because I was headed that direction, or if something bumped me, but I got pushed over to the wall, and as soon as I hit the wall... I knew I had hit the wall, and I knew I was on a bridge, but I didn't know how far down it was.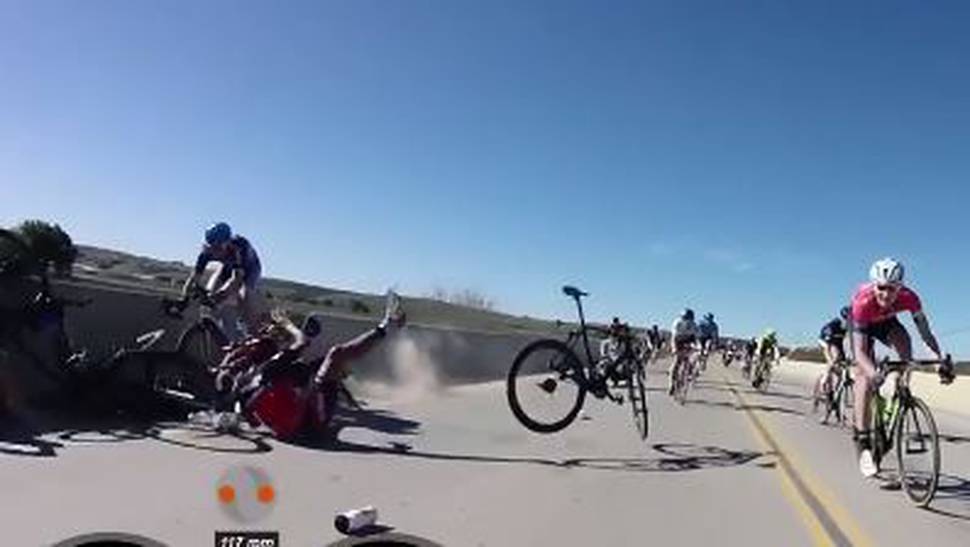 "So I said to myself, 'man, you'd better grab this wall, because you don't know if you're going down one foot or 100 feet'."
Allec said that, for the time being, he's going to cease bike racing and focus on his family and his business interests.