Oh, you think sitting at the 50-yard line is the most extravagant thing you can do on Super Bowl weekend?
Try hobnobbing with celebrities and supermodels, chowing down a porterhouse and washing it down with a magnum of Château Cheval Blanc, and partying in a warehouse-turned-club with Fergie and DJ Khaled. That's the real way to do the Super Bowl in extreme luxury. Here's your guide to every big ticket in Houston this weekend and what it would cost to do the Super Bowl like a champion, Vince Lombardi trophy included.
Fly in a private jet with team-themed cabin décor
What it'll cost: NZ$100,660
Private jet charter company Jet Edge won't just hook you up with a Gulfstream 550-they'll outfit the cabin interior with pennants, pillows, and floral arrangements that reflect your favorite team's colors. Also included: round-trip ground transport in your choice of exotic cars, Super Bowl-themed snacks for the flight, and a driver to take you to and from the football stadium (so you don't have to deal with parking).
Total budget, so far: NZ$100,660
Drive around Houston in a very fancy car
What it'll cost: NZ$5,500 for the long weekend
Car rental company Enterprise has a little-known Exotic Car Collection, which lets you rent Corvette Stingrays, Escalades, and Range Rovers in markets from Washington to Salt Lake City. Our top pick available in Houston? An Aston Martin Rapide, going for $1,000 a day.
Total budget so far: NZ$106,064

Stay in the most expensive new suite in town
What it'll cost: NZ$41,200 for the long weekend
We've already told you about the Marriott Marquis, Houston's splashiest new hotel opening (where all the players will be staying). And though it's already sold out, the US$7,500-a-night, 2,130-square-foot Presidential Suite is where you'd most want to be. It has floor-to-ceiling windows that look out onto downtown Houston and Discovery Green, along with plenty of entertaining space and enough beds for four.
Total budget so far: NZ$147,174

Score the most coveted seats to the big game (while giving to charity)
What it'll cost: NZ$206,170
At press time, the most affordable Super Bowl seats on Stub Hub were going for US$1,900 in the Upper Corner section. But what's the fun in that when you can get four club-level tickets by going to Luminaries of the Game, a red carpet gala benefitting education and youth health causes throughout Houston? The top-tier Ring of Champions table package also gets you guaranteed seating with a Hall of Fame NFL player and post-game field access, so you can sneak a photo op with that famous Tiffany-designed trophy.
Total budget so far: NZ$353,418

Get access to football legends ...
What it'll cost: NZ$38,485 for the two biggest tickets
Taste of the NFL is an annual event raising money to help fight hunger across the country. Chefs from all 32 NFL cities will be dishing out food and wine pairings alongside players from around the U.S. The chefs aren't household names, but The Band Perry is headlining, and sports stars include Dick Anderson (of the undefeated 1972 Miami Dolphins) and Donny Anderson (who played with the Packers when they won Super Bowl I). A VIP table will run you US$10,000. Big Game, Big Give is much more intimate: Only 10 couples can join Joe Montana at his signature charity event, benefitting the Giving Back Fund, for US$18,000 a pair.
Total budget so far: NZ$391,765

... Including at an epic tailgate party
What it'll cost: NZ$960
Ignore the fact that this event is being co-hosted by Guy Fieri. The Players Tailgate is less about the Buffalo grilled chicken tacos and Mac Daddy Mac n' Cheese and more about rubbing elbows with big name players such as Landon Collins (NY Giants) and Hall of Famer Walter Jones.
Total budget so far: NZ$392,482

Be at all the hottest parties
What it'll cost: NZ$106,051
Want to meet Taylor Swift or sit at a table with a Victoria's Secret model? If you get in with the right people, it's possible. Ken Spalasso, who runs Super Sunday HQ, a site that tracks the best Super Bowl parties and events each year, says that "most of the big events are more than willing to customize a unique experience for high-rollers, but they like to be very discreet about these opportunities."
In other words, it's worth inquiring about what's possible. It may be more expensive and more exclusive than the US$17,500 VIP tickets for the Rolling Stone Party headlined by Diplo, Nas, Big Sean, and DJ Cassidy; the top-tier US$20,000 package for the always successful Leather and Laces party (this year with supermodels Emily Ratajkowski and Sara Sampaio hosting the Saturday night event); or the US$38,500 Premium Suite Package at the Maxim Party, with premium access to the Travis Scott and DJ Khaled performances.
The best party, though, is invite-only: the ESPN Super Bowl Party, hosted by Fergie and DJ Khaled in a 65,000-square-foot warehouse in the Houston Arts District. To get in, Spalasso recommends keeping an eye on reseller sites such as vividseats.com-rare standard-access tickets can sometimes be found for about US$1,250.)
As for the parties to avoid? Insiders say the Playboy and 1 Oak parties are on the decline this year.
Total budget so far: NZ$498,446

Sports swag that'll make super-fans cry with jealousy
What it'll cost: NZ$17,979
Autographed jerseys are usually kept behind museum-proof glass, so it won't go unnoticed when you wear your US$1,100 Tom Brady jersey, hand-signed by the quarterback himself, to NRG stadium. Add this US$12,000 souvenir helmet with the signatures of 43 football greats, and you might just outshine the action on the field.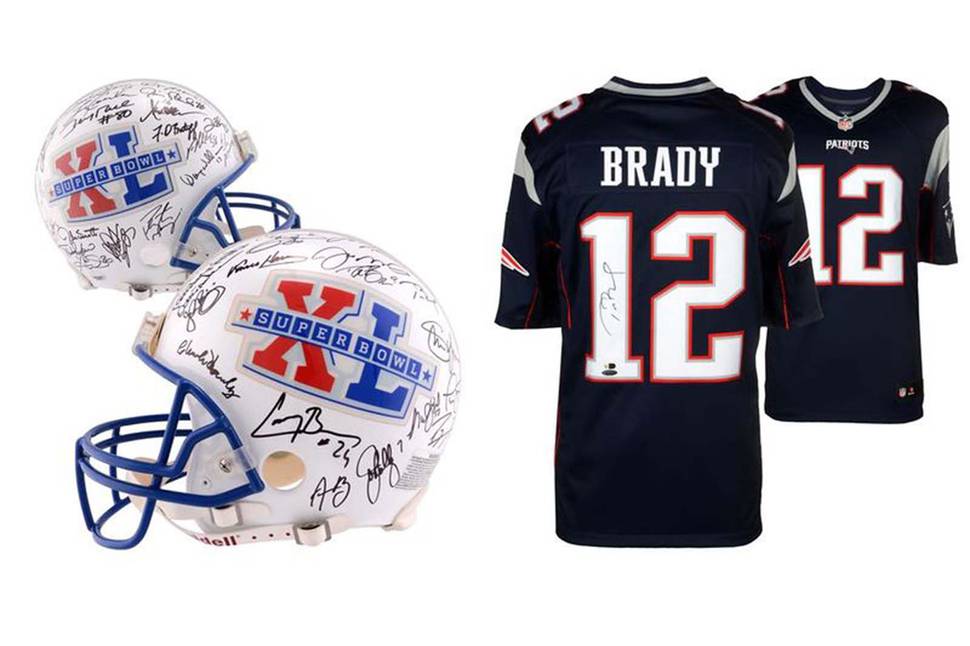 Total budget so far: NZ$516,298
Check out Houston's booming dining scene in style
What it'll cost: NZ$22,783 for two blowout meals
Plan to spend big at Houston's legacy steakhouse, Pappas, where it's easy for a group of 10 to spend US$15,000 on Porterhouses, foie gras appetizers, seafood towers, and double magnums of Château Mouton-Rothschild. (It takes a US$2,000 minimum to book the wine room for a private event-go that route for both privacy and exclusivity.) Going whole hog at Underbelly, Chris Shepherd's "new American Creole" hotspot, is far more affordable: US$1,600 can buy a family-style spread of slow-braised beef shanks, Cha Ca-style snapper, and Korean braised goat dumplings (plus booze) for a large group.
Total budget so far: NZ$539,012

Get in on Houston's biggest thrill
What it'll cost: NZ$13,723
Enough football. You and your friends can rent out Houston's motor speedway-a favourite of IndyCar and American LeMans drivers-and hit the track for US$7,700 per day. The rest of the fee covers such mandatory add-ons as the ambulance, fire rescue, and wrecker that, let's hope, you won't need.
Grand total: NZ$552,715 (US$402,780)