Black Caps stars Matt Henry, Mitchell Santner, Colin de Grandhomme and Jimmy Neesham have proudly worn the silver fern on some of cricket's greatest sporting arenas.
But today the quartet - who will take on Australia on Monday in the first Chappell-Hadlee Series one-day international at Eden Park - showed their skills to two of their greatest fans at a very special Kiwi pop-up cricket field.
Cricket-mad Christopher Brabant-Henry, 14, and his sister Regan, 7, were surprised when they came home from Rainbows End to discover the ultimate cricket set up and some of their Black Caps heroes in their Mangere backyard.
Christopher had no idea they would be there. He said he played cricket with the athletes all afternoon and his dream is to be a Black Cap when he grows up.
"It was wonderful to see everyone and have a good afternoon of cricket. It was a great moment and something I'll cherish."
Black Cap Jimmy Neesham said Christopher was speechless when he saw the professional cricketers. But they all gave him some tips and Neesham expected he'll be dominating at his next club game.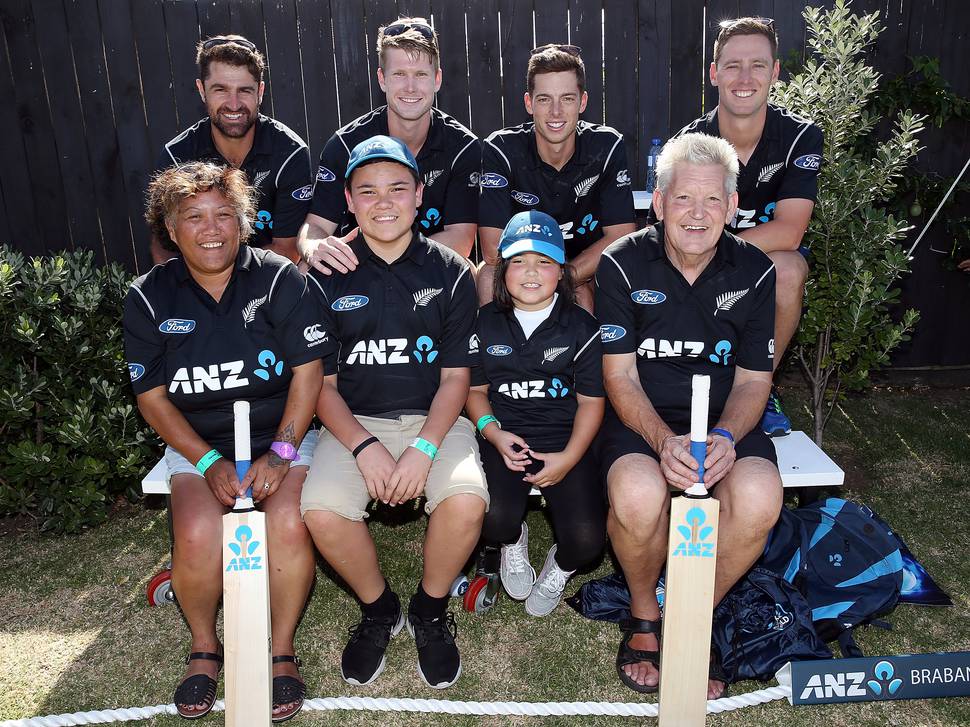 "He came around the corner and then ducked back. But he came back and we got into the cricket.
"It's a great opportunity to give back to a young cricket fan. He was pretty fizzed up about it."
Christopher's Dream Deliveries entry simply said "we love to play cricket in the backyard but we don't have any gear".
ANZ provided bespoke family uniforms, branded cricket gear including autographed cricket bats and everything needed for a cricket oval - a walk-on tunnel, scoreboard, grandstand for spectators and nets to avoid the neighbours having to return the occasional stray ball.
Dad Lynn Brabant-Henry was stoked he was able to surprise his children after ANZ contacted him to say Christopher had won the prize.
"We are out there playing as a family most nights, so to have something special like this appear in your backyard one afternoon is a fantastic surprise for the kids.
"A lot of work went into making this happen, thanks to everyone involved."
ANZ spokeswoman Sue McGregor said they have been supporting cricket from grassroots to elite in New Zealand for 19 years.
"When we received Christopher's request we thought 'we could help here'.
"Who knows, we may see Christopher in the Blackcaps strip in no time. We know sometimes all you need is just that little bit of extra help to achieve your dreams so we are committed to helping as many cricket fans as we can.
"The Brabant-Henry family were awarded their dream because they have shown such passion and commitment for the game and with the right support anyone can reach their full potential and achieve their dream."
The Dream Delivery programme has received hundreds of nominations this season. Since 2009 ANZ have awarded over $800,000 in cricket-related community grants and dream deliveries to support cricket players at all levels.
Applications for the 2016-2017 Dream Delivery is still open. Apply online via anz.co.nz/dreambig.