Even first-time UFC pay-per-view buyers could tell what Conor McGregor did to Eddie Alvarez at UFC 205 in New York was special.
To pick apart and brutally finish a fighter like Alvarez - a 32-year-old veteran of 32 fights who had only been knocked out once in his career - was simply remarkable.
For perhaps the first time in McGregor's career it saw him almost universally praised and respected by the MMA community. For once there was no serious debate about why the performance didn't mean anything or why the opponent was hand-picked.
Instead the Irish superstar, who added Alvarez's lightweight strap to the featherweight championship he ripped from Jose Aldo last year, was rightly hailed as a freak.
In the ensuing days some of the sharpest minds in the sport have attempted to put what they saw in perspective. This is a collection of the best quotes.
MCGREGOR'S COACH JOHN KAVANAGH
On the MMA Hour with Ariel Helwani
"I would say to any young fighter: watch everything in that fight. There's no wasted punches - but there's no wasted movement. Every step is for a reason. Every feint is for a reason. Every movement of his eyes is for a reason ... it was quite a beautiful fight.
"He's the best fighter on the planet right now.
"What really makes Conor stand apart ... is how calm (he is). His technical ability in that pressurised environment ... there's millions watching and he is the heel somewhat, people want to see him lose.
"Back in the day BJ Penn and Randy Couture have held two belts, but not simultaneously. But even that, I don't think you can do that anymore because the skill level is just so high now. For someone to try and win two belts now I think is nigh on impossible."
UFC COMMENTATOR JOE ROGAN
On the Joe Rogan Experience podcast
"It's almost bizarre how good Conor is. Almost bizarre how he picked apart Eddie Alvarez. Like magical. That's the word I want to use. He just touches motherf***ers with that left hand."
FORMER UFC HEAVYWEIGHT BRENDAN SCHAUB
On the Joe Rogan Experience podcast
"Have you ever seen Eddie Alvarez just get ... like they didn't even look like they were from the same planet. One guy looked like he was from Mars and the other just looked like he was a normal dude trying to figure it out.
"How calm was Conor? Just calm, upright and just waiting. And the accuracy of that combo that finally finished Eddie - that's what I think makes Conor so special is his accuracy when he throws punches. Eddie's moving as he's landing this stuff. I've never seen anything like it. Like you said, it was straight up magical. We've never seen a guy like this, we just haven't.
"He's a once-in-a-lifetime guy because there's no boundaries for him. He's like 'I'll fight Nate at 170, 145? Sure I'll merk Aldo in 13 seconds, and then I'll come to 155."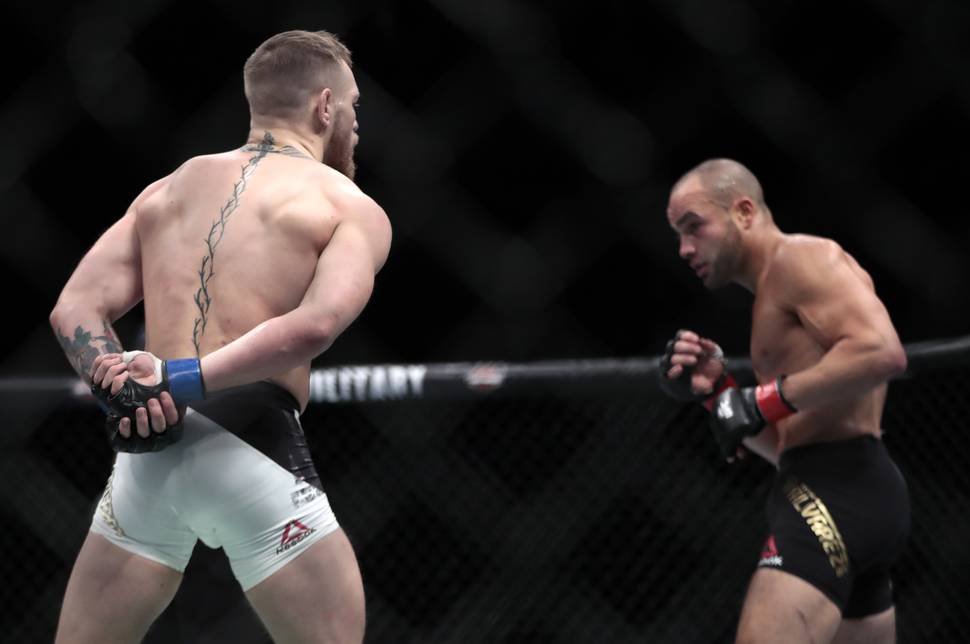 MCGREGOR'S FATHER, TONY
Via mixedmartialarts.com
"That's the thing about these sporting legends, they only come around once in a lifetime. There are great sports people who come around all the time, but the standout sports people they only come once in a lifetime and Conor is a standout sports personality.
"If you were to ask his coach John Kavanagh he'd say that no one has talent at all - it's just dedication. Obviously, they need to have the vision, the dedication, they have to take the knocks, they need to roll on and just dust themselves off and continue with it and get on.
"They need to follow the dream. Conor had the dream and he kept it very close to himself. No one knew he had the dream, but he followed it all the way through. He saw that dream, he had that dream over a decade ago and he never let it go."
ALVAREZ'S STRIKING COACH MARK HENRY
On The Luke Thomas Show per MMAFighting.com
"You cannot teach somebody how to swing like that. It takes hips, it takes a certain shoulder, it takes a flick of the wrist, there are so many tiny mechanics. What it takes to make an eyeball work is what it takes to make the perfect swing. Like Babe Ruth. I just compare Conor - his swing - to Babe Ruth. I always watch tape of it but to be that close and watch it was a whole other thing.
"It comes along once in a lifetime or once every hundred years or what not. I think God has just blessed him with a swing that I'll probably never see again. Before this fight, I would highly doubt him fighting Mayweather, but I think this dude can take out Mayweather. I'm not even joking."
"He knows his range so well. A punch could be an inch - less than that - centimetres from his face and he won't pull his head back at times because he knows it's not gonna hit," he said.
"So a lot of times he'll slide back his head and counter, but if you don't slide back your head, the punch comes even faster and there's time he won't even slip back his head because he knows it's not gonna hit him.
"And not even that, to go farther. Like that last four-punch combination he threw on Eddie, to know where his head is gonna be on all four moves. He just knows way ahead of time where you're gonna be. So many different things go into what he's doing. His eyes are so focused to just know where somebody's head is gonna be or tricking somebody where their head is gonna be, setting it up with your feet. What he does is just incredible."