He's a Super Bowl champion, but Houston Texans fans aren't happy with their new quarterback - Brock Osweiler.
It's not like the team is doing particualrly bad, sitting at 4-3 so far this season, but Osweiler himself is really struggling.
He ranks 30th in the NFL in passer rating, 29th in completion percentage and 32nd in yards per attempt.
Only Ryan Fitzpatrick and Blaine Gabbert have been worse statistically.
And now, one Texan fan has had enough, starting a GoFundMe page with the goal of raising enough money to buy out Osweiler's $72 million contract, which he singed last March.
Here's the objective laid out by Houston resident Ali A-g, who started the page:
"I am a die hard Texans fan and we need to get rid of Brock Osweiler or we're not going anywhere. He is a waste of 72 million and for a dollar a day we can get him out and make Deandre Hopkins happy."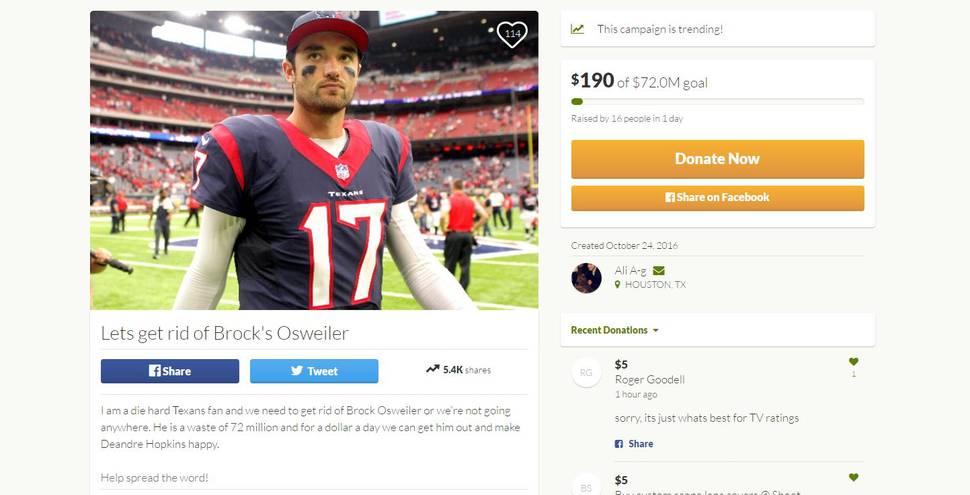 So far they've raised a whopping $190. Only $71,999,810 to go.
Unfortunately for Ali and the rest of Houston, simply raising $72 million won't help them get rid of the new QB.
The NFL has a CBA that makes "buying him out" impossible. Osweiler was guaranteed $37 million in the deal, which will prevent the Texans from parting ways with the struggling quarterback until 2018.
So put away your money, Houston, and just wait this thing out.
The good news is that Osweiler can only get better from here.