New Zealand's double Olympic gold medal-winning pair Eric Murray and Hamish Bond almost had their rowing relationship severed before reaching the London Games, they say.
Their new autobiography, The Kiwi Pair, claims Murray and his wife Jackie were called to a meeting with Bond, Rowing New Zealand selector Conrad Robertson, high performance manager Alan Cotter and coach Dick Tonks to discuss Murray's desire to return home for the birth of his first child prior to the 2011 world championships.
Murray said Bond was asked privately whether he wanted his crewmate kicked out so he could row with someone else.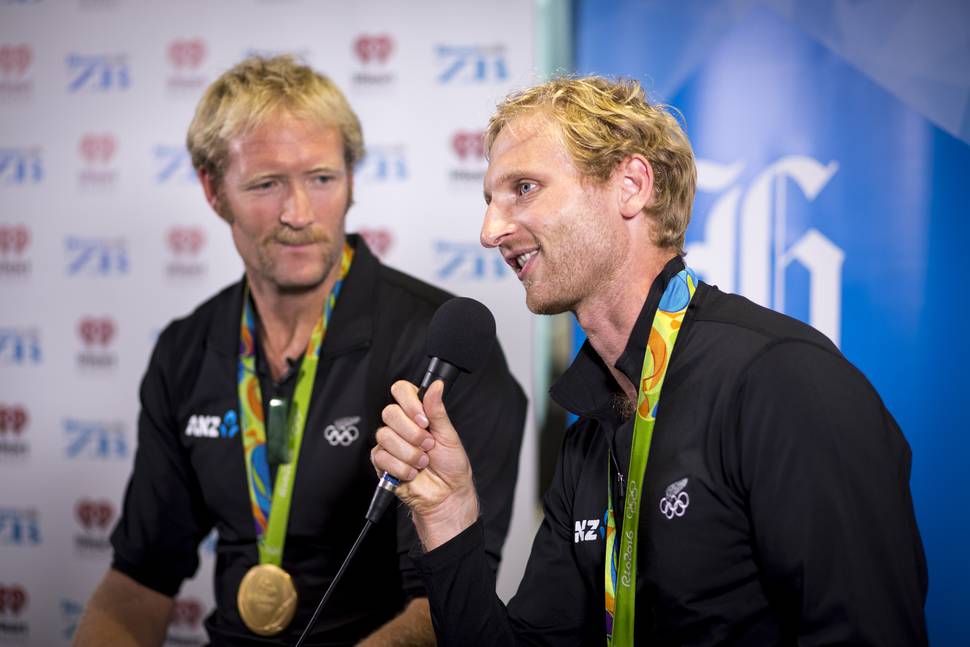 The book, written in collaboration with author Scotty Stevenson, is due out Friday.
"We were in breach of the unspoken contract," Murray wrote.
"I was told that I should be thinking about my career, not about having children; Jackie was ostensibly accused of being irresponsible, that the decision to have a child would ruin my career.
"We were talking about one week, and a week in which I would train at home so as to not throw our campaign out of kilter."
Murray wrote that Robertson, the convenor of selectors and a 1984 Olympic coxless four gold medallist, looked at him and said: "Men didn't come home from war just because women were having children."
"It was the most insane thing I had ever heard, in the worst meeting of my life," Murray said.
"To see my wife demeaned in that way because we'd chosen to have a baby was absolutely appalling."
Murray was humbled by the generosity of long-term rowing sponsors Derek and Judy Jones, who covered his travel costs.
The pair went on to win the world championships and maintain their unbeaten record until the present day.
"This is the first time it's been brought to my attention," Robertson said when contacted by the Herald today.
"We have many meetings with lots of crews, including the men's pair, for different reasons at various times. I can't recall this word-for-word at present but over the years there have been a number of issues that need serious discussion."
Robertson remains Rowing New Zealand's convenor of selectors and says he's been involved on the panel for 20 years.
Another controversial incident in the book details the pair's telling of their falling out with coach Tonks, also in the 2011 season.
Bond says he requested a training session off so he could spend a weekend with his now-wife Lizzie before a three-month campaign overseas.
Tonks didn't like the idea but Bond says he felt comfortable going ahead, given he hadn't missed a training session for anything other than injury in five seasons of elite rowing.
Later that day Tonks called a meeting with the pair and high performance manager Cotter, Bond says.
Bond and Murray allege Tonks burst through the door and exclaimed: "You blond-haired, arrogant, motherf***ing c***s! Who do you think you are!" in relation to them wanting time off.
"Those were the words that changed everything for me: the beginning of the end of any meaningful relationship I had had with Dick Tonks," Bond wrote.
Bond claimed Tonks listed all the things he did for them before "seasoning that list with a liberal sprinkling of spicy vernacular. My jaw was on the floor. I had never been spoken to like this in my life by anyone."
"With that, the rope of unfailing trust that tethered me to Dick Tonks was severed ... I could never see him in the same light again ... I felt absolutely betrayed."
The pair sought the counsel of former Olympic gold medallist Rob Waddell who had been coached by Tonks for several years.
Waddell suggested that they should stick with the status quo if they felt Tonks was their best opportunity of winning an Olympic gold medal.
"If there's backlash from that [the Tonks incident] so be it, you can't hide from that," Bond told the Herald.
"It reached a point where we were asked to compromise who we were as men. My response is 'you don't treat me like that and get away with it'.
"People might think 'what are you complaining about?' or 'what's the story there?' We didn't whinge or cry about it, but it got stored in the memory bank."
"But without those first four years would we have been able to collaborate on this campaign [with current coach Noel Donaldson]? Maybe, maybe not," added Murray.
Tonks responded to Herald inquiries by saying: "Thanks for the consideration, but I have a policy of not commenting on rowers' personalities and I'll stick to my principles."
Tonks coached Mahe Drysdale to a gold medal at the Rio Games, despite Rowing New Zealand terminating his employee contract for coaching Chinese crews on Lake Karapiro without permission last year.
Thanks to their negotiations with Drysdale and the New Zealand Athletes Federation, the governing body gave him a short-term contract.
Drysdale summed up the outcome: "If I'm pushed off the pontoon by Dick at Rio, then I've done everything I need to win gold."
Philippa Baker-Hogan, a triple world champion under Tonks in the 1990s, described the phenomenon of working with him in a Fairfax column last December during the stoush.
"A Tonks rower can have a smile a mile wide, simply from receiving a positive grunt from him after a killer workout; when other coaches will say a thousand words to demand the same respect.
"He is as happy coaching a committed young club rower as an international and if you really knew him, you would trust him with your life."
That sense of loyalty was shared by double Olympic champions Georgina Earl and Caroline Meyer.
"I wanted him to be there on the finish line to give him a hug, but apparently he couldn't watch," Earl said of their Beijing Games victory.
The same cannot be said for Bond and Murray.
"If he was man enough to come up and apologise I'd accept that, but in my eyes I don't think I did anything wrong," Bond said.
"Some people will read [the book] and not be happy their names have been brought in," Murray added. "The fact is that's how it happened, that's what we were upset with at the time, and ultimately these were driving factors in making our journey more successful."
Neither Bond nor Murray have decided on their rowing futures.
* This story has been amended after an earlier version reported a claim in the book that selector Barrie Mabbott was at the 2011 meeting to decide whether Eric Murray could return to New Zealand for the birth of his son before the 2011 World Rowing Championships. This claim was incorrect. Publisher Penguin Random House NZ now says Murray has confirmed that Mabbott wasn't at the meeting. The Herald is happy to correct the record.