Shaunae Miller of the Bahamas fell over the finish line in a desperate mess to claim a famous victory in the women's 400m final.
Miller appeared to dive for the finish line, but her desperate lunge has split public opinion on if her fall was intentional and if it should be allowed.
A photo finish was needed to show Miller (49.44 seconds) finished just 0.07 seconds ahead of American silver-medallist Allyson Felix (49.51 seconds), who finished the stronger of the pair.
Miller was spent.
Former Aussie middle distance runner Tamsyn Manou told Channel 7 it appears Miller's dive was not a deliberate act because she was struggling to lift her knees at all in the final 10m of the race.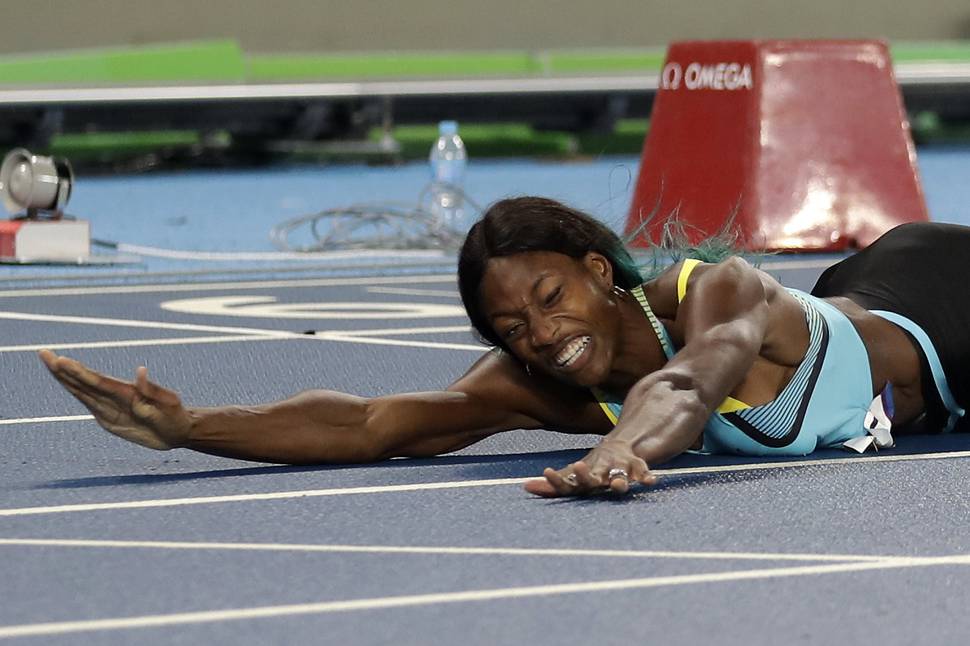 However, Channel 7 commentator Bruce McAvaney declared he did not like the idea that Miller may have benefited from her final lunge.
"I wish it hadn't happened to be honest," he said.
"It's an amazing race. She's run her heart out.
"For Felix it was the biggest dip in the world.
"I've got to be honest, I don't think it's the way a race should finish.
"Anyway it has and it's for no fault of either runner."
Manou defended the Bahama runner's collapse.
"It looks like she gave her everything," she said.
"Miller was spent. It looks like she had nothing more to give. She crashed to the track as an Olympic champion.
"I think it looks like she is diving for the line, but you can see her knee-lift in the last 10m getting lower and lower off the ground."
Miller told Channel 7 she doesn't know if her fall was intentional or not.
"To tell you the truth I don't know what happened," she said.
"My legs started to get a little heavy. I just wanted it so bad.
"This is the moment I have been waiting for.
"I just gave it my all. I am just so happy, so grateful, such emotions I just can't say. I've been going through so much this year. Everyone at home will all be celebrating right now."
Jamaican Shericka Jackson won bronze.
Miller, 22, could not move after falling to the deck over the finish line and did not even react once it became official that she was the new women's 400m Olympic champion.
She very nearly didn't.
Her fall was the only thing that stopped her being overrun by Felix after entering the final 100m with a huge lead.
The gap between Miller and Felix appeared as much as 5m when they hit the final straight.
Felix won the 400m at the world championships last year and was planning to run the 200m and 400m double in Rio, but was hampered by an ankle injury at the U.S. trials and didn't make the team for the 200m.
She won the 200m in London four years ago.
Felix now has seven Olympic medals, including three silvers. She could still run both the 4x100m and the 4x400m relays in Rio.
The 30-year-old American entered the games as one of six women with four Olympic gold medals in track and field.