We're counting down New Zealand's 25 greatest Olympians. Today, Sir Russell Coutts. Scroll to the bottom to find out how we came up with the list.
• Gold: Sailing, Finn Open, Los Angeles, 1984
Over an extraordinary yachting career, it is Russell Coutts' accomplishments in the America's Cup world that tend to pull focus.
But Coutts also ranks among the country's greatest Olympians, carving out a place in New Zealand Olympic history aged just 22 when he topped the podium in the Finn class at his first Games.
Coutts was brilliant throughout the regatta, recording finishes of 1-7-2-2-21-3-5, but what made his victory so memorable were the multiple dramas that played out at the event.
For a few days in the summer of 1984, Coutts had the most talked about rear end on Long Beach, California.
Over the course of the regatta he developed painful boils on his bottom - not a great experience, you would imagine, while engaged in a sport where you're often sitting in the wet, with salt literally being rubbed into your wounds.
The unfortunate affliction had become a daily topic as the world's media focused on the tight battle for gold that was developing between the young New Zealander and hometown favourite John Bertrand (not to be confused with the Australian sailing great of the same name).
Coutts was in bad shape by the final race, wearing nappies to provide extra padding and to lessen the discomfort.
Needing to finish ahead of Bertrand in the final race to secure the gold medal, the young Kiwi, who was barely rated a chance among his heavyweight competitors in the lead-up to the Olympics, showed incredible resilience and composure to get the job done on the final day, finishing three places ahead of the American.
You could argue the decisive moment of the regatta actually came on day one, when Bertrand was disqualified after clipping Coutts' bow on port tack.
Bertrand had crossed the line first in that race and, hypothetically, if he hadn't received the penalty, his total would have bettered Coutts' eventual winning score of 34.7. Bertrand accumulated 37 points and Canadian Terry Neilson was third on 37.6.
Which is all pretty exciting, but it's nothing compared to what lay in wait for Coutts after the final race.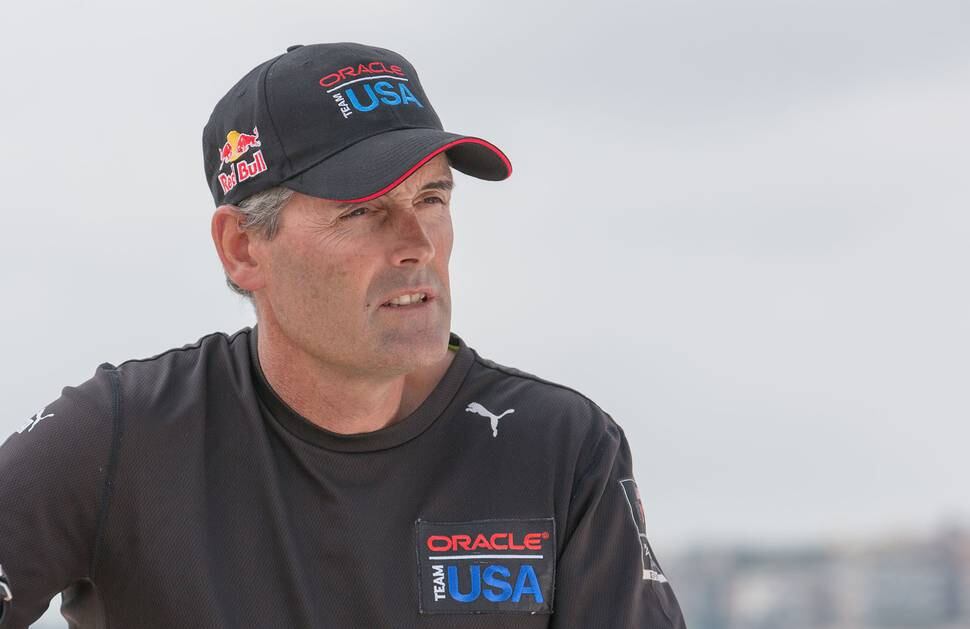 Moments after a triumphant Coutts was carried onto the beach in his boat by his Kiwi team-mates, he was singled out for a "random" weight check of his gear. Some conspiracy theories suggest disgruntled local organisers were behind the move, but whatever the reason, Coutts endured a nervous wait for confirmation of his win.
The first weigh-in put Coutts' gear over the 20kg limit, and his medal in instant jeopardy. A second weigh-in was requested, but the result was the same. Finally, Coutts asked that the items be weighed individually - the total came back at a smidge over 19kg and New Zealand's first Olympic gold in a single-handed class was confirmed.
In his typical understated manner, Coutts summed up the moment: "That was a bit close ... I'm sure pleased that is over."
Biography: Sir Russell Coutts
• Widely regarded as New Zealand's greatest yachtsmen
• Grew up in Wellington, before moving to Dunedin, where he honed his sailing talent at the Ravensbourne Boating Club
• After winning gold in Los Angeles, went on to compile a remarkable record on the world match racing circuit
• Skippered Team New Zealand to a 5-0 "Blackwash" over Stars and Stripes at the 1995 America's Cup - the first of Coutts' four America's Cup wins under three different flags
• Now heads the America's Cup Events Authority - the organisation charged with running the 35th America's Cup in Bermuda on behalf of defenders Oracle.
How we did it
This list was drawn up by expert Herald and Radio Sport journalists from our team covering the Rio Olympics.
It wasn't easy, partly because of the number of fantastic feats over the last century or so and partly because of the difficulty of comparing performances across sports and eras.
The first ground rule was that only gold medallists would be considered. That was tough considering the likes of Nick Willis (silver, 2008), Dick Quax (silver, 1976), Paul Kingsman (bronze, 1988) and Bevan Docherty (silver and bronze, 2004 & 2008) provided some of our most memorable Olympic moments.
We also agreed potential success in Rio wouldn't be taken into account. The list was also restricted to the Summer Olympics, otherwise Annelise Coberger, our own Winter Olympics medallist may have featured quite prominently.
Each member of the panel wrote their own list before we came together to thrash it out five at a time. It was a head-scratcher, but in a good way because it was a celebration of success.
List so far
• No 25: Alan Thompson, gold medal kayaker
• No 24: Norman Read, gold medal walker
• No 23: Ted Morgan