The Warriors will learn tomorrow how long they will be without Roger Tuivasa-Sheck with the gun fullback undergoing scans on the knee injury sustained in Saturday night's 24-20 NRL win over the Bulldogs in Wellington.
Tuivasa-Sheck twisted his left knee awkwardly in a tackle in the ninth minute but had the leg strapped and tried to continue on before it buckled under him on his next attempted carry.
It was initially thought the 22-year-old had suffered a season-ending ACL injury but the club is hopeful it is not as bad as first feared and that it may be a medial ligament problem.
"Whether or not it's internal damage or whether he just got a really bad knock on it and made the knee a little bit unstable, we're unsure at this point," Warriors defence coach Justin Morgan told Radio Sport.
Either way, the Kiwis international is facing a stint in the Warriors rehab room and also likely to miss the upcoming transtasman test at Newcastle on May 6.
The problem of who will take his place at club level is easily solved for Warriors head coach Andrew McFadden, with Tui Lolohea starring after making the shift from five-eighth to fullback once Tuivasa-Sheck departed after just 16 minutes, and the 21-year-old could also come into Kiwis coach Stephen Kearney's calculations.
Buoyed by his rise in status as a playmaker, after being brought in off the right wing to join the spine, Lolohea threatened with every touch and darted out of dummyhalf to score the try that regained the lead over Canterbury in the 50th minute.
The result was the ideal response from the Warriors following last week's limp home loss to Manly , and built on the back of an energetic and much-improved forward display.
After being slow out of the blocks over the first six rounds they enjoyed their best start of the season and reproduced that effort and commitment after halftime despite being behind 14-8.
After making just four runs against Manly, restored halfback Shaun Johnson was more involved and at the forefront of their attack, playing a part in four tries and kicking smartly to keep the Bulldogs pinned deep in the corners in the second-half.
McFadden praised his side's commitment and their tenacity to shake off adversity and maintain their focus to dispose of one of the competition's heavyweight sides.
"It certainly tests your character to be able to do that," he said.
"I don't think I've had too many games here where we've come from behind, particularly against a quality side like the Bulldogs.
"The way we stuck at it, we were patient, we took our opportunities when we got them and then we were desperate defensively right at the end there.
"We've been under lots of pressure, there's lots of expectation with us, and it's hard.
"It's challenging for the players and for them to deliver that performance tonight that shows the character that we have. But we have to back it up."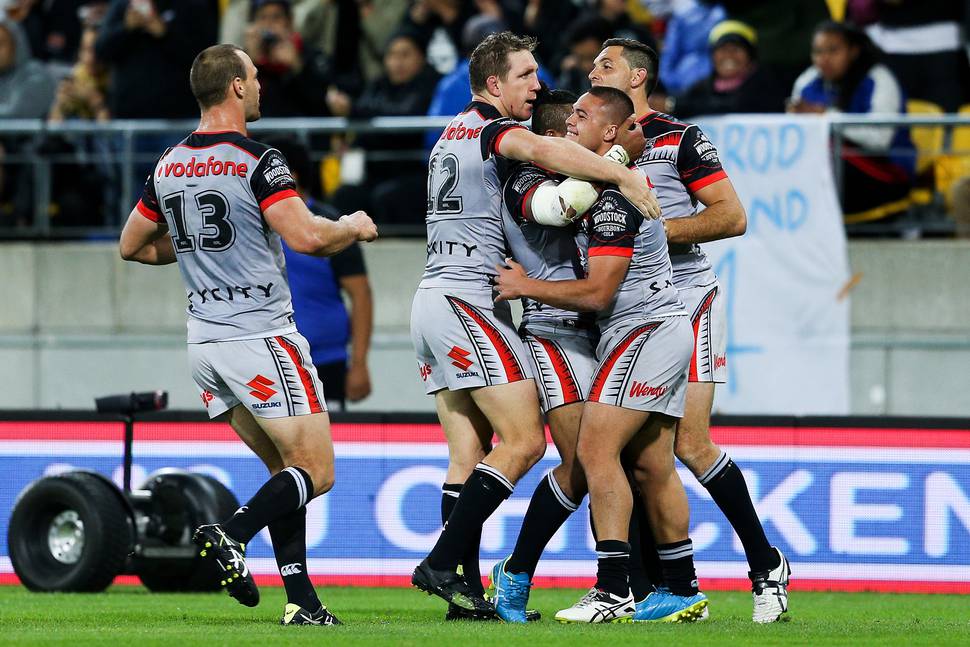 Despite the improvements, unforced errors continued to plague them and they had to survive a nervous last few minutes after Bulldogs centre Kerrod Holland crossed for his second try to put the game back in the balance, but committed defence kept them at bay.
"Again, we managed to find a hard way to do it.
"There were unforced errors coming out of our own end, [which] just put huge amounts of pressure on us.
"But we had to build some belief off coming from behind. It could have been tough for us but we managed to find a way to win so it was a really important victory for us."