All Blacks fans know better than most not to take anything for granted at World Cups but many punters were feeling more confident this week about their side's chances of winning the tournament.
As many as 52 per cent of all bets placed at the TAB on the overall winner in the last seven days were on the All Blacks, with Australia a distant second with 14 per cent.
It comes on the back of New Zealand's 62-13 quarter-final demolition of France, when they exorcised the demons of 2007.
Argentina had not previously been much of a factor on the TAB's chart but nine per cent of punters backed the Pumas this week, marginally behind South Africa's 11 per cent. The remainder of bets over the last seven days were placed before last weekend's quarter-finals on teams subsequently eliminated.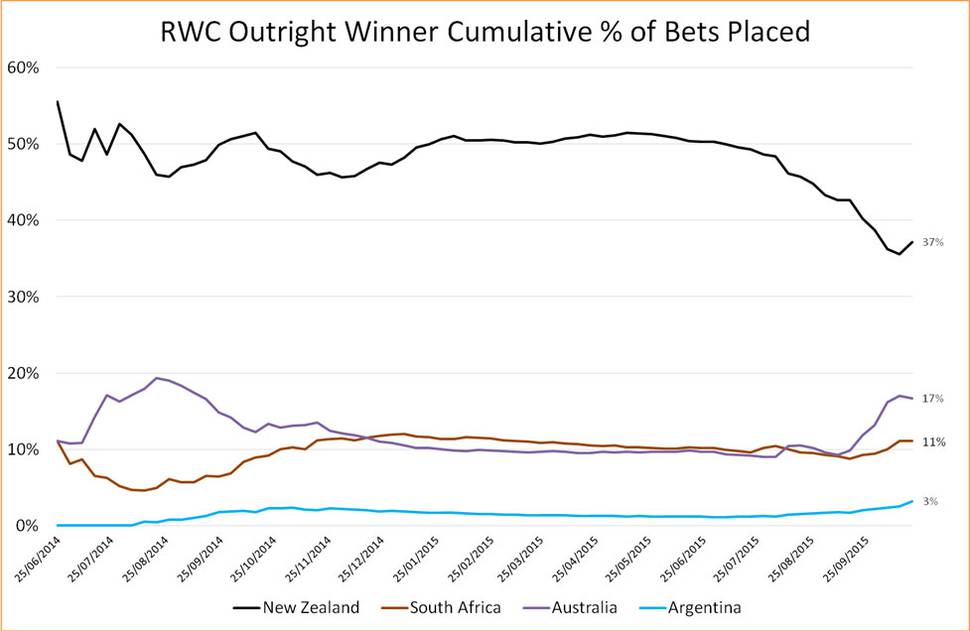 The TAB have been charting who punters think will win the World Cup based on the number of bets for the overall winner.
Their takings over the last seven days now means 37 per cent of all bets taken since the World Cup markets opened in July 2014 are on the All Blacks to win. That number peaked at 56 per cent soon after the markets opened and was at 43 per cent on the eve of the tournament.
Australia are still second favourites with punters overall, with 17 per cent of bets placed on the Wallabies since betting opened. South Africa are on 11 per cent and Argentina three.
The All Blacks take on the Springboks in the first semifinal on Sunday morning and Australia tackle Argentina on Monday morning.
Where the bets went this week (total number of bets):
NZ: 52 per cent (last week 32)
Australia: 14 (23)
South Africa: 11 (20)
Argentina 9