Ma'a Nonu doesn't want this week to be about him. Makes him uneasy to be the centre of attention; for his peers and coaches to publicly laud him.
The All Blacks are one week away from a World Cup quarterfinal, now, says Nonu is not the time for him to steal the show.
He's genuine about that, but because he once wore eye shadow, not everyone will believe him. That's the thing about being an All Black - play 99 tests and wear eye shadow once...and for some people, the latter makes the more lasting impression.
There will most likely be a contingent who don't ever get a good read on Nonu: who allow that one act alone to form their character assessment. Or who haven't been able to forgive his nomadic years where he seemed to be roaming from one Super Rugby franchise to the next, trying to fill the whole in his heart that was created when he was sacked by the Hurricanes.
The idea that Nonu is self-effacing, shy and genuinely reluctant to be singled out will be rejected as unlikely.
But Nonu is a man of contrasts. He's complex and engaging; capable of surprising even those who have known him for years. He most definitely can't be categorised as one thing: as either shy or flamboyant because in the space of a minute, he can be both.
His Super Rugby meandering was perhaps driven by self-interest yet he couldn't be labelled self-interested. Last year when his arm was broken, he pitched up at a Wellington primary school, virtually announced with a desire to cook sausages for the kids.
And when the All Blacks were in London for their opening two games of this World Cup, he, literally, gave the shirt off his back to a souvenir hunter who had been waiting outside the hotel for days on end.
If Nonu has to have a description to sum him up it would be random. But not when he plays: that's when he's anything but random.
Nonu has been the All Blacks' get out jail card for eight seasons now. He's been the man, regardless of opponent, weather or situation, who has smashed the All Blacks over the gainline and given them a chance to build their game. It's thankless, selfless work that demonstrates his strength - both physical and mental - and willingness to play for others.
His longevity is testament to his discipline and work ethic which is up there with McCaw's.
"He's an interesting character," says All Black coach Steve Hansen of Nonu.
"The first conversation I ever had with him was me telling him that I didn't think he was fit enough and we wanted him to go to the Sevens.
"He went there and changed himself. He went from being a blockbusting, hard running centre to being a really fit centre who as a result of that could play for long periods into the game. He's developed his skills over the period: he's a beautiful passing centre now as well as a blockbusting runner.
"He's grown into a leader within the group. He doesn't say a lot but when he does, it is right on the money. He asks a lot of himself and cares a lot about the team and we care a lot about him."
That depth of feeling Nonu has for the All Blacks can't ever be doubted. He's had many opportunities throughout his career to walk away from New Zealand. Yet he never has.
He came closest in 2007 when he was first choice second-five at the end of 2006 and didn't make the World Cup squad in 2007.
Each time he came close, though, something stopped him signing elsewhere. Each time he really searched his soul, he knew he wanted to be a great All Black as much to prove that he could be one as to actually be one.
Who would know when exactly he could be considered a great All Black but certainly long before this morning. Winning his 100th cap, though, brings it home: provides a timely reminder that Nonu can walk into the Pantheon of greats.
His achievement elevates him into an elite group of just five other All Black centurions - McCaw, Mils Muliaina, Dan Carter, Tony Woodcock and Keven Mealamu.
His name sits comfortably in that company even if he feels he doesn't. "I'm lost for words really. To be a part of that group and among those players...
"I don't want it to be a big thing. We are at a World Cup, an important stage of the tournament and we have got an opposition who love to play rugby."
He says he'll reflect on what it all means after the tournament. Or maybe in 10 years or never. And if he never sits down to think about what he achieved as an All Black, what kind of mark he left in history, it wouldn't be a surprise. He is, after all, random.
It's easy to imagine he's probably not any more comfortable about his achievement being acknowledged in private - which undoubtedly will as winning 100 caps is one of those occasions that has to be appropriately marked.
As Hansen says: "It's a huge achievement to play just once for the All Blacks."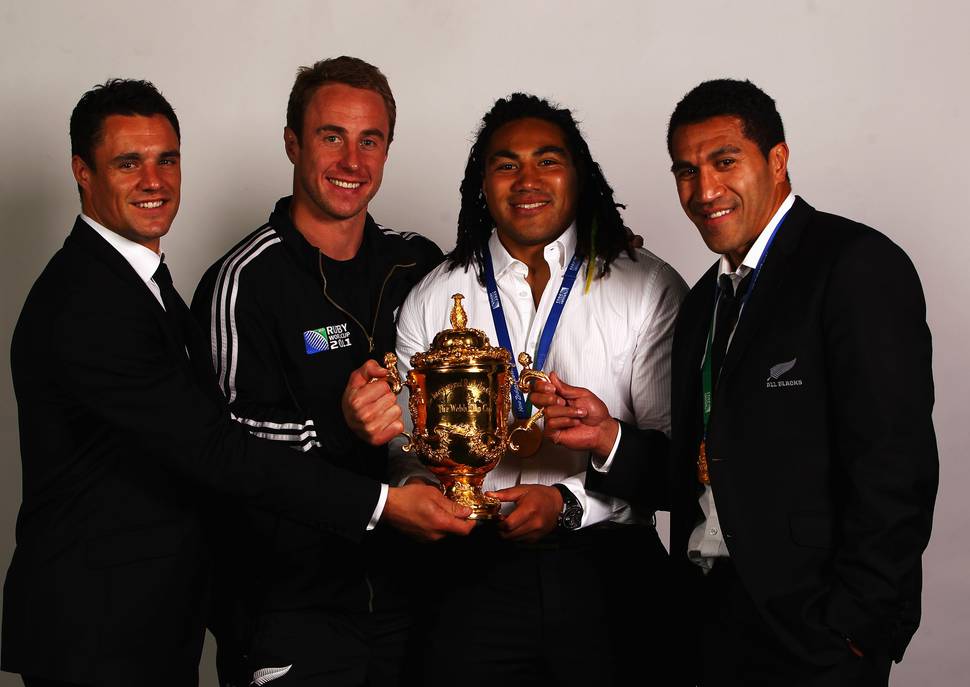 One man who has been with Nonu for most of the last 12 years is Daniel Carter. The Nonu-Conrad Smith partnership is a world record combination, but the Carter- Nonu axis has been just as prominent in the All Blacks' success during the last decade.
Carter, the consummate professional, would never say this, but his performances and body language to suggest that his preferred second-five is Nonu. Those two just click well, have a high degree of comfort with another and deep mutual respect.
"I have been really impressed by Ma'a and the career he has had," says Carter.
"I have been pretty fortunate to have played a lot of rugby alongside him and to see his growth has been amazing. Earlier on in his career he was in and out of the All Blacks which would have been really tough for him.
"But he's been a huge part of this side since he established himself in 2008 and he's been a key member of the squad.
"He's a world leading players and what really helps playing alongside Ma'a doing my job is that he has become a vocal player. He gives me a lot of direction. He is my eyes and ears playing outside me. He tells me what he's seeing and that helps with my option-taking."
Nonu doesn't it want to be all about him this morning, but to some extent it has to be - winning 100 caps is not a random achievement.