Scott Dixon's last-gasp win today to claim the IndyCar championship has solidified his case as the best driver in the history of the championship.
Dixon's championship win was the fourth in his stellar career, tying him with Scotland's Dario Franchitti as holding the most IndyCar titles since the revamped series started in 1996.
After winning his debut title in 2003, Dixon also picked up championships in 2008 and 2013 to go with today's triumph, with his four successes tied with Franchitti and one ahead of Sam Hornish Jr - the trio being the only drivers to have won the championship more than once.
National Championships (1996-present)
Scott Dixon 4 (2003, 2008, 2013, 2015)
Dario Franchitti 4 (2007, 2009, 2010, 2011)
Sam Hornish, Jr. 3 (2001, 2002, 2006)
However, Dixon's dominance is the most noticeable in the overall win standings, having a massive lead at the top of the pile.
IndyCar wins (1996-present)
1. Scott Dixon 37
2. Hélio Castroneves 23
3. Will Power 23
4. Dario Franchitti 21
5. Sam Hornish, Jr. 19
6. Tony Kanaan 16
7. Dan Wheldon 16
8. Ryan Hunter-Reay 14
Dixon has won 60% more than his next closest rival in the 19 years of the IndyCar competition, and rates extremely highly amongst that elite competition when judging by wins per start.
Wins per start:
1. Will Power 23 wins in 122 starts - 18.8%
2. Scott Dixon 37 wins in 215 starts - 17.2%
3. Sam Hornish, Jr. 19 wins in 116 starts - 16.4%
4. Dario Franchitti 21 wins in 151 starts - 13.9%
5. Dan Wheldon 16 wins in 128 starts - 12.5%
6. Hélio Castroneves 23 wins in 219 starts - 10.5%
7. Ryan Hunter-Reay 14 wins in 140 starts, 10%
8. Tony Kanaan 16 wins in 204 starts - 7.8%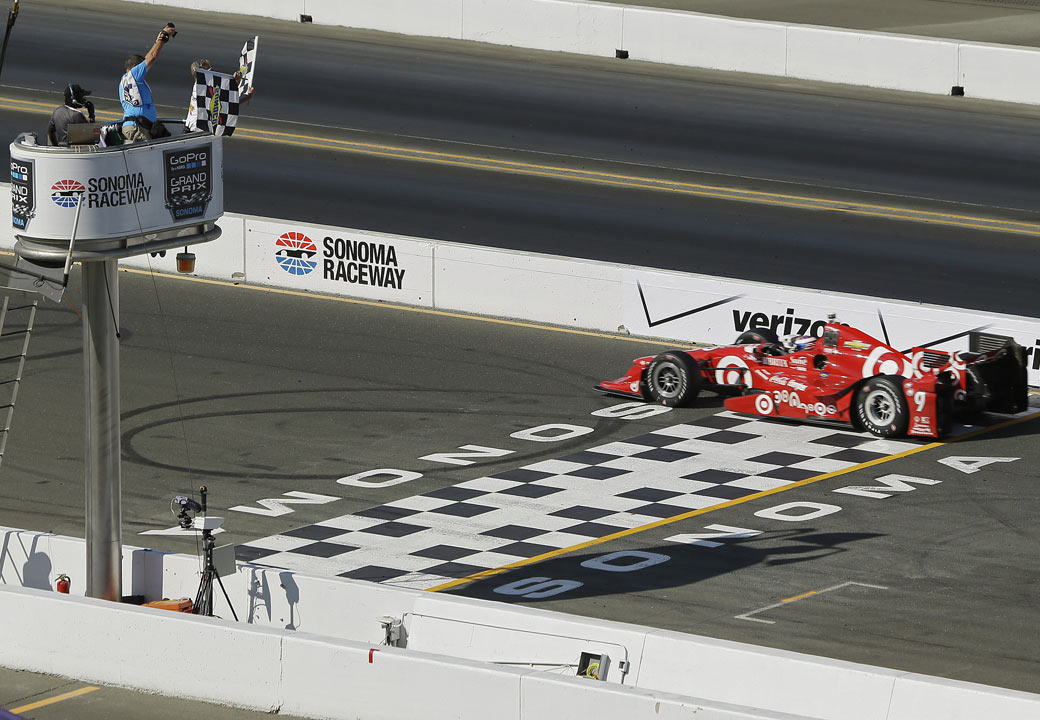 Scott Dixon crosses the finish line to win the title. Photo / AP
Including all previous iterations of the IndyCar competition, Dixon is fifth all time in wins, with his 38 total victories (Dixon won one CART title in 2001) behind only A. J. Foyt (67), Mario Andretti (52), Michael Andretti (42) and Al Unser, Sr. (39). Dixon has also stood atop the podium more than any other non-American in American Championship Car history.
Perhaps the only check not in Dixon's favour is his record in the prestigious Indianapolis 500, with his one victory in 2008 being overshadowed by Castroneves and Franchitti, who have both won three times apiece.
However, the one-off nature of that event means Dixon's four championships and huge lead in the overall win tally puts him well out in front in the race to be crowned the best driver in the history of the IndyCar competition.