Thousands of people turned out to farewell rugby great Jerry Collins at Te Rauparaha Arena in Porirua.
Jerry, 34, and his Canadian partner Alana Madill, 35, were killed in a car accident in southern France on June 5. Their baby daughter Ayla remains in a serious condition in hospital in Montpellier.
Send us your tributes and messages on social media using #jerrycollins
1.10pm The service closed with Father Collins reciting a prayer.
Collins' casket has been carried out of Te Rauparaha Arena by a group of pall bearers including Tana Umaga, Chris Masoe and Ma'a Nonu.
1.05pm Collins' father To'omata Frank Collins is now speaking.
It was obvious how much his son was loved, he said.
At times the crowd erupted in laughter as Mr Collins spoke.
Collins' uncle, Fr Lu Collins, is also speaking on behalf of the family.
He described Collins as a child at heart.
"When he comes onto the field he is such a mature experienced person in his career.
"Jerry has given us a message - life is so sweet and yet so short.
"So love the life to the best you can. Do not waste the life you're living now.
"There is only one life, there is only one chance, and nobody dies twice."
12.54pm
She spoke of her brother's huge heart.
"One thing we know about Jerry, he has a huge heart. He's giving and he often shows it in a unique way."
A rugby player herself, Brenda spoke about how her brother would message her words of advice while he was on sports trips overseas.
"He told me, if you never make mistakes, you will never learn, and you will never get better."
Jerry cared a lot, he cared for us girls.
"The last few days we've realised the impact he's had on not only us but everyone."
12.46pm The crowd is laughing as Brenda shares stories of her memories of growing up with her brother.
12.42pm A section of the service has been given in Samoan.
Collins' mother Galuia, and his sisters Tiana, Brenda and Helen are now paying tribute.
"These past 12 days have been the toughest days we've ever had to face," his sister Brenda said.
"There's not enough words to describe the comfort we have found."
Collins was proud of where he came from, she said.
12.22pm Collins' cousin is now performing a song at at the service.
12.16pm Masoe said Collins used his arms and body to shield baby Ayla in the car crash that took his and Ms Madill's life.
"That's the man he was.
"I'm so proud of how you touched the lives of many and I'm so grateful to have had you in my life."
Collins' uncle Nanai To'omaga is now paying tribute to his nephew.
12.10pm Friend and former All Black Chris Masoe is now speaking.
He said they were "best mates and brothers".
"Not many people can change the man called 'the terminator', but the beautiful Alana and baby Ayla did that, and stole his heart big time."
12.04pm
"I took it for granted I could get ahold of him when I wanted... I took it for granted that he would always be around because I thought he would be.
"I rest easy in the knowledge that he found love."
Umaga said Collins' family would always be there for baby Ayla, as part of her large extended family.
"Rest easy. Rest in love. Love you bro," Umaga said.
12.02pm "As people have said, Jerry was a unique person. I was fortunate enough to be related to him," Umaga said.
"He didn't mince his words. If he liked you, you knew that. If he didn't, you knew that too."
Umaga also spoke of how Collins wanted to continue to play rugby for a long time.
"As long as his mum, dad and family were looked after he would keep playing rugby."
11.58am
Former All Black captain, and Collins' cousin, Tana Umaga has started to speak.
11.54am Collins' partner Alana Madill's father, Darrell, and sister Nora have now begun to pay tribute to Collins.
Darrell said his wife, Ms Madill's mother, was in France taking care of baby Ayla.
Alana described Collins as "the most interesting man I have ever met", her father said.
"He was somebody we had a lot of confidence in."
"I just wanted to pass on the impact Jerry had on us. When we went to France... to be with Ayla it was overwhelming that complete strangers would come up to us and burst into tears," he said.
Collins was an amazing father and loved Ayla dearly, he said.
"As long as she was awake, he carried her in his arms all the time."
11.53am Norths president Ron Wood spoke of young Collins as a skinny Island boy who showed raw talent from his earliest playing days.
11.52am Jerry's manager of some 14 years, Tim Castle, spoke of the pair's informal business partnership.
"We never signed a contract. There was never any need to."
Intuition and unspoken understandings drove the relationship.
Mr Castle spoke of meeting a "mischievous" Collins in the days when the young rugby star was frequently before the sport's judiciary for his robust tackling.
Collins "rejected any notion of being a cult figure" and was respected just for being himself, Mr Castle said.
"Of course Jerry had some trouble times...Who in this world doesn't?"
It was touching and joyful to see Collins find peace and happiness in recent months with Alana and their baby daughter Ayla, Mr Castle said.
"He deserves to be at peace. He was my friend."
11.50am
Mr Wood said: "Jerry was a true blue. If he couldn't play he would run the water, or come in and give a motivational speech."
Collins was a city idol and a "legacy to Porirua City", he said.
It was an honour to lift the "king of Porirua" on their shoulders, and out of Porirua Park at a special service on Monday, Mr Wood said.
11.48am Norths rugby club president Rob Wood said it was a privilege to pay tribute at Collins' service on behalf of the family.
"We as a club are hurting deeply."
Collins' death had "rocked" the country and the world, he said.
"Jerry was our legend at Norths."
Collins started at the club when he was a "skinny 7-year-old", he said.
"He immediately showed the raw talent - he loved to run with the ball in hand, and of course he loved to tackle."
He continued: "The enormous contribution he's given our club single handedly changed the mindset of this community."
11.32am The Holy Family Choir are now performing a hymn.
11.30am "I had the privilege of having Jerry's trust, confidence and his love."
He said Collins gave him the gift of wonderful friendship for the last decade.
"He deserves to be at peace. He was my friend.
"Travel safely my friend."
11.24am "He taught us all how to cherish each other and how to value difference," Mr Castle said.
Collins forged relationships and connections and friendships across generations, Mr Castle said.
"A wicked, mischievous young man, Jerry rejected any notion of being a cult figure. He was respected and admired for just being himself.
"In sport, as in life, he was a giant, yet with the most gentle and generous inner soul," Mr Castle said.
He also revealed that Collins was invited to take part in TV3's Dancing With the Stars.
11.08am
Mr Castle said many people had now reflected on the life and times of Collins.
"During our normal working days, since that day, many of us suddenly stopped what we were doing and drifted into memories of where and when we first met Jerry," he said.
Collins had the power to "change, uplift and re shape the lives of others, and history shows he did so", he said.
11.05am Collins' manager and close friend Tim Castle will now pay tribute to the former All Black.
11.02am Smith said Collins' passing had "cast a shadow".
"His passing showed us all there's more to life than sports. It is just a game.
"In the two weeks of grief we've witnessed, we realise what an impact he had in the game.
"In his own unique way he left the world a better place," Smith said.
10.58am Reverend Nove Vailaau from the EFKS church in Porirua has delivered an eloquent tribute, quoting from Ecclesiastes.
He also discussed Samoan concepts of fa'asinomaga and tupu'anga, or ancestry and identity.
The Reverend raised a few laughs when he said he once thought Collins and a friend could be future church ministers.
Those hopes were dashed as it grew clear Collins dreamed of becoming an All Black.
"What a colourful character you were," All Blacks manager Darren Shand told the crowd.
Ma'a Nonu has raised the roof with stories of Collins' exploits.
"He would have a drink with anyone and everyone," Nonu said.
"JC when he used to get drunk, he would bite people."
After Nonu's speech, the Hurricanes team stood up in their black and yellow tracksuits, singing the team song.
Hurricanes captain Conrad Smith said there had been over 200 Hurricanes players.
"But I think everyone would agree when you think of the Hurricanes you think of Tana, Cully and Jerry.
"He's one of the legends," Smith said.
10.54am
Nonu continued: "We loved playing for the Hurricanes, but most of all we loved playing for each other.
"He was all about community. He would have a drink with everyone and anyone. He never forgot the little people.
"JC never forgot where he came from."
"Thank you for everything you've done for the brothers and me JC. You'll never be forgotten," he said.
After Nonu finished speaking, the Hurricanes stood to perform a song they had written.
10.48pm Ma'a Nonu is now speaking on behalf of the Hurricanes.
"On behalf of the past and present Hurricanes family, we'd like to express our deepest sympathy," he said.
The All Black said he had the "absolute pleasure" of playing with Collins.
Nonu described Collins as: "Ruthless, fearless, brave, courageous, a leader and, most of all, in JC's words, he was a soldier."
The crowd is laughing as Nonu shares memories of time spent with Collins while on tour in South Africa.
"I loved JC. During the early stages of my career I sort of adopted his attitude," he said.
10.42am Mr Shand continued: "I think with Jerry he knew himself really well. He knew why he stood for.
"He was very comfortable in his own skin... He just generally wanted to meet people from all cultures and all ways of life."
"In summing up [Collins was a] great brother, a great All Black.
"Jerry you filled up that All Black jersey."
You'll be deeply missed, never forgotten. Rest well my brother."
10.40am All Blacks manager Darren Shand has begun to pay tribute to Collins.
Mr Shand said it was a "great privilege" to be representing the New Zealand 'rugby family' at today's service.
He said the "love and support" of the 'rugby family' was with family and friends of Collins and Ms Madill at this time.
"Your impact was massive for the All Blacks. You added to the legacy.
"You set a benchmark for mental toughness."
Mr Shand said Collins was "unique" and "distinctive"."
We can all see the physical nature you brought to the game... We were lucky enough to see your gentle side."
10.36am
Students of the EFKS Sunday School are now performing a hymn.
10.26amReverend Nove Vailaau from EFKS Porirua was next to pay tribute.
He said Jerry was one of the many sons and daughters of the church community.
"Jerry entertained his sports fans around the world by a team sport of rugby," Rev Vailaau said.
"... He had a powerful determination to win."
10.26am Mr Leggett said the outpouring of grief was unprecedented in Porirua's history.
He raised laughter when recalling Collins' on-field exploits.
The sound of Collins tackling an opponent was "like air being sucked out of a lilo."
He also recalled how Collins never missed a chance to play for his beloved Norths, sometimes only hours after turning out for the Hurricanes.
10.22am
"Nobody makes us prouder than coming from Porirua than Jerry Collins," Mr Leggett said.
He described Collins as "funny", "charming", "engaging", and "smart".
"Jerry never forgot where he came from ... we never missed the chance to say 'Jerry Collins, he's a Porirua Boy'."
10.12am Eight St Patrick's College students carried Jerry's coffin in, draped in a Norths flag as the Holy Family Samoan Choir sang the entrance hymn at 10am.
Father Lu Collins has opened the service with a prayer.As part of his prayer, he asked that baby Ayla "pull through these hard times".
Helen, Collins' youngest sister, has welcomed everyone to the arena.
"Don't be sad. Be happy," another speaker said.
To laughter, the crowd has been told speakers should be conscious of time, because there's only a limited amount of time - and food - available.
Porirua Mayor Nick Leggett has begun to pay tribute to Collins.
He said there had been an out pouring of grief in the community "unlike anything we have ever seen".
10.06am
Collins' youngest sister, Helen, has welcomed family, friends and Alana Madill's family to the service for her brother, who she described as a "young buck".
10am The funeral for rugby star Jerry Collins has begun.
The crowd is standing as the Holy Family Samoan Choir perform an entrance hymn.
9.53am Te Rauparaha Arena is now close to capacity as people continue to arrive for today's service.
9.52am
9.49am
Former All Black great Michael Jones has arrived for today's service
9.25am Around 1000 people have now arrived at Te Rauparaha Arena, for today's service which will begin soon.
Former All Black and current Hurricanes prop John Schwalger, who also played for Norths, has arrived.
All Blacks TJ Perenara, Liam Messam and Sonny Bill Williams, and former internationals Hosea Gear, Piri Weepu, Hika Elliot and Ross Filipo have just arrived.
All Blacks manager Darren Shand is also at the arena.
Former All Blacks, who were also teammates of Collins, Chris Jack, Reuben Thorne and Aaron Mauger have arrived.
Rugby commentator Ken Laban is also here.
Former All Blacks Mils Muliaina, Keith Robinson and Isaia Toeava have arrived, as well as former Hurricane Faifili Levave.
The Hurricanes squad has also slowly made there way inside the arena.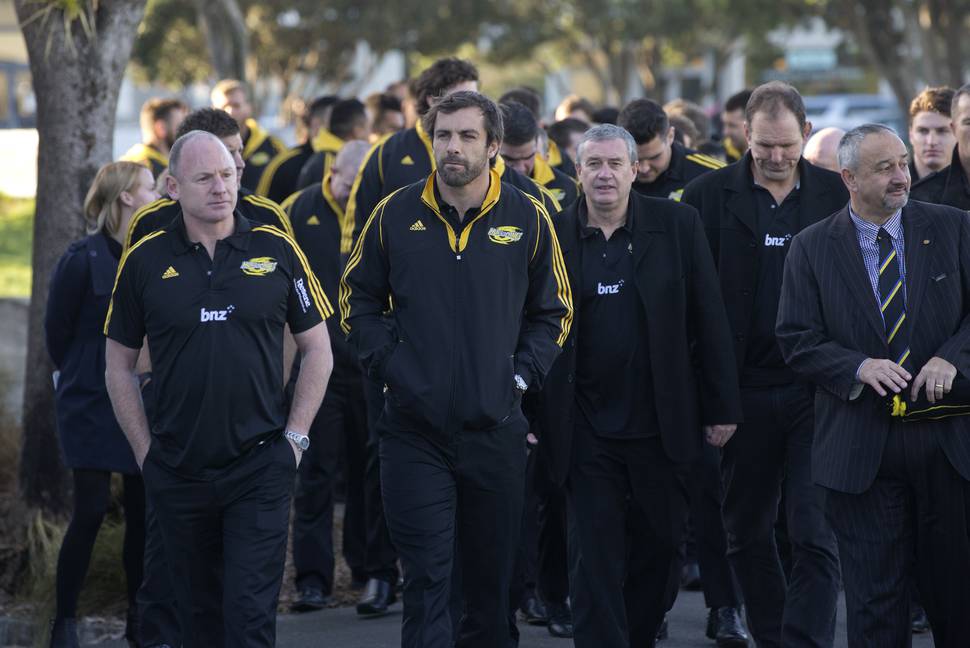 9.20am
Current All Blacks Tony Woodcock and Keven Mealamu are outside the arena.
Over a thousand people are now inside, waiting for the service to begin.
Former Hurricanes Daryl Lilley and Brent Thompson have arrived.
Richie McCaw and Dan Carter have both arrived at the arena.
9.15am
Former Hurricanes coach Colin Cooper has also arrived at the arena.
Local man, Sio Posiano is standing at the entrance to the arena, waving an All Blacks flag and a Samoan flag.
Students from Scots College in Wellington are also in attendance.
Mourners wearing blue and white, the colours of the Norths rugby club, are also arrivingSio Posiano is standing at the arena holding two flags - one All Blacks flag and one of Western Samoa with Collins' autograph.
Mr Posiano is a good friend of Collins' father, Frank.
"Jerry's like an idol to us. I'm missing him so badly. I have to be here. It's his last day."
Mr Posiano said he would attend Collins' burial later today.
"I brought my own shovel, gumboots."
Mr Posiano said the cold didn't bother him.
"It's good to stand here. I'll be here (for) another couple of hours."
9.05am Members of Collins' family including his mother, sister, father and uncle will pay tribute at today's service.
President of the Northern United Football Club, Ron Woods, and former All Blacks, Tana Umaga and Chris Masoe, will also speak.
Members of Alana Madill's family will also pay tribute.
The Hurricanes are also expected to attend, and past and present players are expected to pay their tributes during the service.
Sam Faalago, a relative of Collins' mum Galuia, said the huge public turnout for the former All Black in recent days was heartening for the family.
Mr Faalago said he was at Mrs Collins' home last night.
People were stopping by the house to offer their support and "pay their respects".
Mr Faalogo said it was clear from early on that Collins would grow up to play rugby, since he came from a family of rugby players.
8.12am Former All Black Jonah Lomu, 40, has arrived at the arena.
8.06am Students from St Patrick's College in Wellington, Collins' old school, have arrived in their blue uniforms to be ushers.
They're expected to pay tribute to the rugby star, probably with a haka.
More of Collins' extended family arrived at the arena. Some are signing tributes and writing messages at the shrine erected to Collins on the arena ground floor.
Family members had come from a private funeral and were largely dressed in black, including one group wearing T-shirts emblazoned with Collins' face and the words "Legends never die". A private ceremony was held inside the clubrooms for family, friends and former teammates, including Tana Umaga and Piri Weepu, to celebrate his life. The rugby great was then carried out on to the Porirua Park pitch for one final time.
8.00am
Motorists have been warned that delays are expected from 9am to 3pm in Porirua City.
7.55am Sola Luisa Fasitua from Island Bay is among the Collins family members already at the arena.
She woke up at 4.30am and travelled from Island Bay.
The family have had a big input into preparations for today's service.
Mrs Fasitua's husband is a cousin of Collins' mum.
The family have had a big input into preparations for today's service.
Mrs Fasitua's husband is a cousin of Collins' mum.
She said the main part of the service would probably take 90 minutes. She expected speakers would include Collins' uncle Nanai Ioane Toomaga.
Apart from family, a few local school students have arrived at Te Rauparaha arena.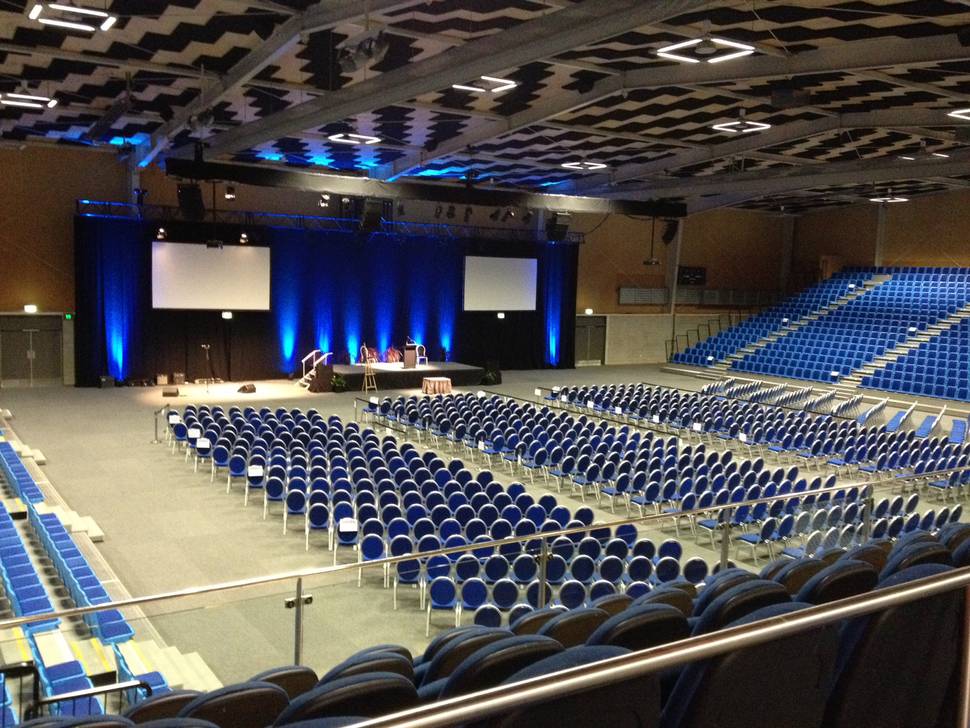 6.30am
Collins' agent Tim Castle has confirmed Alana's father Darrell and older sister Nora will attend the service.
Former All Black and Northern United (Norths) club coaching co-ordinator Stephen Bachop yesterday said another big crowd was expected after the huge turnout for Collins at Sunday's memorial walk and the Norths events on Monday night.
All Blacks manager Darren Shand has been invited to speak at the service.
A spokesman for the All Blacks said the Collins family was running the funeral service and arranging speakers.
However, details of who will speak at the funeral are not expected to be released until shortly before the service.
Meanwhile, Ms Madill and Collins' baby daughter Ayla remained in a stable but "worrying" condition yesterday, French authorities said.
Donors have pledged more than $40,000 to the Jerry Collins Memorial Fund on the Givealittle website.
Minister of Pacific Peoples, Peseta Sam Lotu-Iiga said the funeral was sure to be a "huge occasion" for the local Porirua community, as well as for the wider Samoan and Pacific community.