CONTENT:
Part Three:
The Chase
Ken Rutherford:
I was probably a bit complacent between innings. It wasn't a c'est la vie attitude, but I thought we were in control at the halfway mark and it didn't matter if Johnny Smith in row A, seat B, with six cans of DB Draught down the hatch had come out to field.
Take away the batting of Crowe and the hitting of Greatbatch, the major talking point of NZ's World Cup campaign was the use of Dipak Patel as a new-ball bowler, a role he continues in the semifinal (albeit this time, 1-50 off his 10, with less success).History might have painted this as a brilliantly conceived strategy, but for teammates it came out of the blue. Going into the opening match against Australia, Patel had not played an ODI for 15 months.

Larsen:
Whether it was intentional or unintentional I don't know, but the wider squad weren't informed by Wally and Marty until basically just before the game so there was an element of surprise and I guess if it was intentional then it probably wasn't a bad move. It was such a radical move because it simply didn't happen back then. Before we knew it we were out in the field and Dip had the ball in his hand.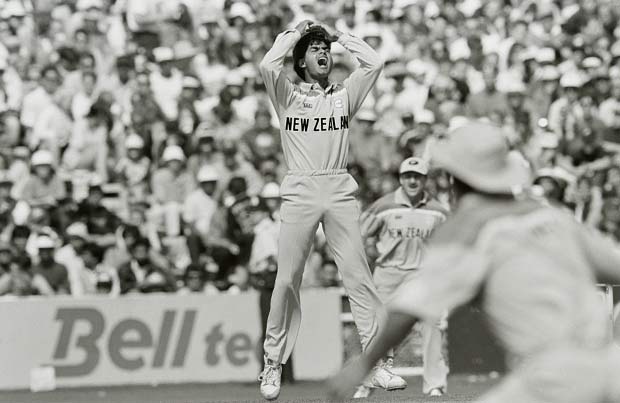 Dipak Patel reacts after a missed chance in the Pakistan innings. Photo / Herald archives.

Dipak Patel:
Wally [Lees] and Hogan [Crowe] had discussed it well before. We went to the opening in Sydney and on our last day there, flying back, Warren in his own little way mentioned: 'Just imagine you're opening the bowling in the World Cup.' Martin came up to me before the team meeting started the night before the opening game and advised me I was in the playing XI but also if we were bowling second I'd be opening. It was a bit of a shock to the system, but he gave me total confidence.
Geoff Marsh, Australian opener
It didn't really surprise us, but the fact is when a spinner opens the bowling you've got to slow him down and he was bang, bang, bang. Before we knew it he'd bowled a number of overs, and bowled them well, and we were overs down.
Patel:
Marty didn't want me opening as a defensive move, and gave me the freedom of setting my own fields. It was certainly a confidence boost for me that the captain and coach wanted to use me as an attacking option.
NZ started their defence of 262 well, with dangerous left-hander Aamer Sohail dismissed for 14 with the total at 30. Legendary skipper Imran Khan joined breezy opener Ramiz Raja at the crease, but the scoring was largely kept in check.

Watson:
I was pretty fired up for it. I remember keeping Imran in check for a while and later managed to knock over Wasim [Akram]. It got to a point where people were so behind us they clapped every dot ball. They started doing that in the South Africa game. Maybe it came from no-one expecting us to do any good, but that amount of support, it really lifts you.
One of the reasons given for NZ's success at the tournament was because our pitches played into the hands of the bulk of the bowling attack. The combination of Watson, Larsen, Harris and Rod Latham (who did not play in the semis), became known as dibbly, dobbly, wibbly and wobbly.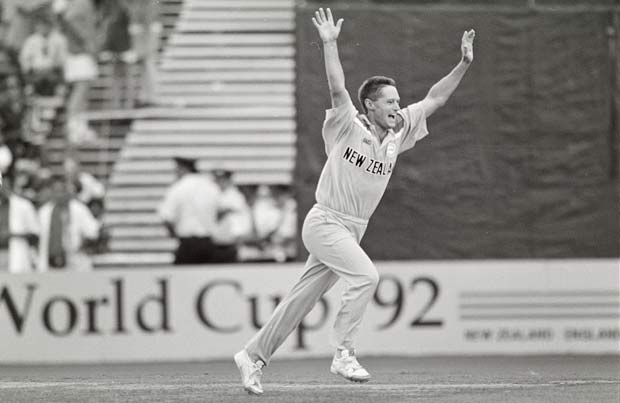 Gavin Larsen celebrates the wicket of Saleem Malik. Photo / Herald archives

Larsen:
It was a chuckle. It gained quite a bit of momentum in itself. What I do know is Willie wasn't impressed. He often got lumped into it. Three of us [Larsen, Harris and Latham] turned into a quartet. He didn't enjoy that (laughs). I thought it was done with a bit of affection. Harry and Bunker [Latham] bowling at their pace, taking the gas off the ball and at Eden Park in particular it was playing low and slow. I was maybe 5kmph faster than them but we were tailormade for those conditions.
We got unfairly labelled as a country in terms of slow, low pitches. Eden Park yes, it didn't have any real pace and did tend to hit you on the knee roll instead of the thigh pad, but there were some belters. McLean Park had pace and carry. Lancaster Park and Carisbrook ditto. The Basin was a very good cricket pitch and we played a great game against England that day and totally suffocated them. Hamilton might have been a bit on the slow side. But we had four games at Eden Park, a good chunky percentage and you could say that played into our hands.
NZ were carving out a reputation as an excellent fielding side, a facet of the game that was frustrating Pakistan as they looked to make inroads. In Chris Harris they had a player vying with South Africa's Jonty Rhodes and Australia's Mark Waugh for the title of best fielder in the world.

Harris:
It was more an attitude thing. I look on my career and thought no matter how good you are batting or bowling you generally spend more time in your career fielding than anything else. Just because of my upbringing with two older brothers I spent a lot of time fielding so I had to learn pretty quickly to try and get some enjoyment out of that. I'd set little challenges and try to be involved in the game as much as I could.
Imran Khan had a well-earned reputation as an inspirational leader and Javed Miandad was a brilliant scrapper, but both struggled in the early stages of their innings. Imran made a painstaking 93-ball 44 and Salim Malik came and went for 1, putting NZ right in the box seat.

Danny Morrison:
We got ahead of ourselves and thought we could be making history. I remember the light-heartedness of it all, but Wright had a bit of a frown on and Crowe wrote notes for him at the drinks break. Before Inzamam cut loose I have a lasting memory of the crowd chanting: "We're on our way to Melbourne." It was so dangerous pre-empting that while a Mexican wave delivered cups in the air.
Ah yes, the crowd. If everybody who claims they were at Eden Park that day was actually there, the venerable ground's capacity would need to be close to 500,000. But one person that was definitely there was Jarrod Wright, nowadays an editor, and he was certain who was going to win.

Jarrod Wright:
I was 16. I went to the game with two school mates and we watched a lot of the game looking straight down the pitch from the old Auckland Rugby Union offices in the South Stand (my dad used to work for them). In those days 262 was what we all thought was an unassailable total.
At the 1992 Cricket World Cup New Zealand developed slow bowling and openers with big attacking shots as a tactic to win. Join Sir Richard Hadlee, Ken Rutherford and Mark Greatbatch as they recall those matches with Coach Warren Lees and opener Rod Latham.
Morrison:
We fought back after Imran had got them behind the eight-ball and used up a lot of deliveries. Inzy came in, who I'd knocked over cheaply in Christchurch during the round robin game. We were right in it.
At that point, the absence of Crowe wasn't a huge talking point, certainly not among the crowd who increasingly felt that a NZ win was becoming an inevitability. What they hadn't factored in was the brilliance of a 22-year-old from Multan who would turn the World Cup on its head.

Jarrod Wright:
We thought we had it made. And we did for a while, but along came Inzamam. He seemed like a giant out there.
Crowe quickly became an agitated spectator when he saw the damage being wrought upon his previously unhittable bunch of dibbly-dobblies.

Morrison:
I was there with [physiotherapist] Mark Plummer who had Crowey on ice. I came off to replace the wetsuit-type material with Velcro that I'd tied around my groin. I kept getting fresh ones with more Deep Heat on them so I could get through without spasming. There was Crowey sitting upright on the physio table writing notes obviously in a bit of angst. It was difficult for Wrighty to take the reins in that situation and it was unfair to blame him. You can't. We were like a horse losing its jockey.
Watson:
When Martin went off I don't think any of us thought, 'Gee that's the game gone,' albeit he played a huge part. You had to be pragmatic. Wrighty [John Wright] was an experienced campaigner and you had Smithy [Ian Smith] there as well.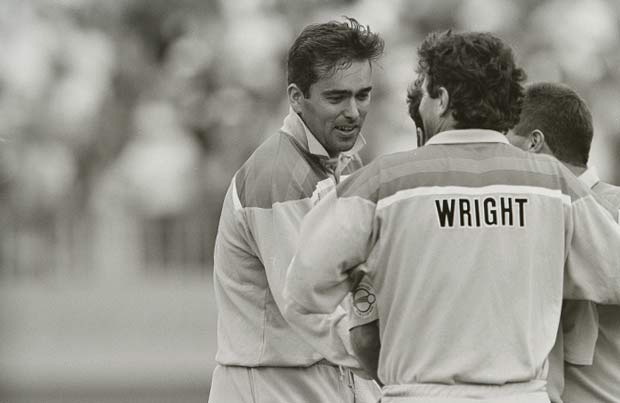 Willie Watson celebrates a wicket with stand-in captain John Wright. Photo / Herald archives

Lees:
If anything, I felt the senior players didn't offer a lot, either because they were completely confident in what we were doing and thought they'd shut up, or they had decided they would simply concentrate on playing the best they could.
Morrison:
I wouldn't say it was panic but Wrighty was a bit flummoxed because Crowe knew all the right strings to pull at the right time over the tournament because you had all these idiosyncrasies to work through.
Jones:
No disrespect to John. It was a very hard situation. Chris bowled 10 overs for 70. He probably shouldn't have bowled out but he'd done an unbelievable job earlier. I'm not sitting here scratching my head about it.
Harris:
I remember looking up at the board with about 10 overs to go and they needed up about 90 or 100. That was a pretty hard ask then but the way Javed Miandad and Inzamam were going there was a real possibility we could lose. I thought if they played well they could possibly get there.
Larsen:
Inzy was the one guy we didn't know much about. What we didn't do, which they do these days, was video analysis and drilling into the strengths and weaknesses of your opposition. Guys like myself and Harry, we just kept it simple.
Rutherford:
If there was one hole in our approach it was that we didn't really know Inzamam. That's not a criticism of team management because then you didn't have the same degree of video analysis. He played out of his skin. Our bowling attack had a bit of sameness about it. Once he started hitting one, he started hitting them all, especially on the short Eden Park boundaries.
Greatbatch:
John Wright tried his best. We were under the pump when Inzy went nuts and we couldn't find a way to squeeze him enough.
Larsen:
When Inzy came in tactically we were a bit naive. We attempted to strangle him by not having sweepers out. Twice I remember he hit the ball through our field on the fifth or sixth ball of an over. We had become proficient at strangling batsmen from balls one through four, then putting square leg and cover back out, or maybe a long off. If they took a single so be it, but you'd limit the damage for the over. It gave the young guy a little bit of momentum; all of a sudden it was like, 'Oh my god.' He's gone from second gear in almost the blink of an eye, and it became a runaway train.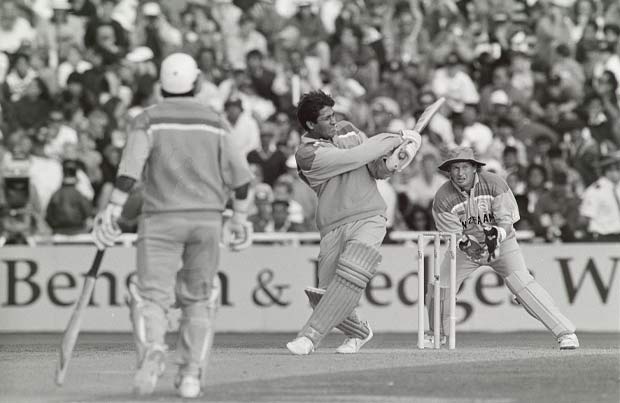 Inzamam-ul-Haq turned the semifinal on its head scoring 60 from just 37 balls. Photo / Herald archives

Watson:
I'm not sure Inzamam really came on the radar. It was more about keeping Javed, Ramiz and Imran in check. Inzamam came out of the blue. Chris Harris was our best bowler in the tournament and he went for 72 in that last game. Inzamam wrestled it away. That's the thing with Pakistan, they can hit it to parts of the ground that you just can't defend through the great use of their wrists.
Morrison:
It was a subcontinental side and the surface started to play a bit like what they are used to. They had to wait and they can work you and tweak you just using their wrists. I wasn't bowling enough decent slower balls; I hadn't developed it to anywhere near the level of a couple of years later. My only variations were bowling wide of the crease. I got neutralised with no extra pace when I tried to bowl quicker. It just slid onto the bat nicely. Javed squirted the ball around and Moin finished off the job. I remember him chipping Harry into the crowd over the old players' tunnel.
Rutherford:
I just look at the way Javed ran that partnership and controlled the innings. He was unbelievable. He knew where the finishing line was and loved a scrap. You took your hat off to them in that last half hour.
Greatbatch:
Everyone talks about Inzy's knock and 60-odd off 30 balls is impressive, but everyone forgets Javed Miandad. He was the master of their destiny. He was involved in three big partnerships, with Imran, Inzy and Moin Khan.
Moin Khan:
The inspiration came to me from Inzamam, the way he dominated. I was just thinking, 'When the match finishes, I need to be there.' The match finished when I hit the last ball [of the 49th over] for four off Willie Watson. It was a typical sweep shot. Before that, I hit a six off Chris Harris, the first international six of my life. It was a very short boundary and I was thinking if I got a good ball in my range then I could place it out towards that shorter boundary.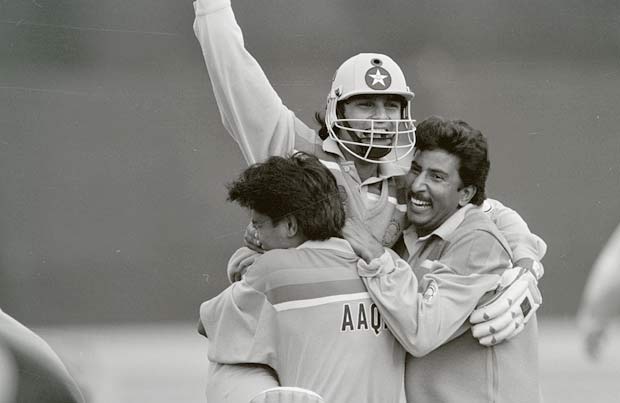 Pakistan celebrate their remarkable chase. A week later they would be world champions. Photo / Herald archives

Part Four:
Post-Match
Watson:
The lap of the ground was a bit of a daze. All I remember was how much we were supported. It all happened quickly and it was a case of trying to let the magnitude sink in.
Moin Khan:
It was a great feeling but at the same time so many people in the surroundings were weeping and crying. They were also expecting their nation to win, but that was our day.
Larsen:
I remember the big strong rugby boy from Canterbury, Roddy 'Bunker' Latham, walking around with tears in his eyes. Stockley Smith, who'd played a hell of a lot of cricket, was similar. I had glistening eyes. We did a lap to thank the crowd, and the penny dropped: 'Shit, the dream's over.' A 45-minute period of Inzy and the dream of the bright lights, the MCG, the World Cup final had been whipped away from us. We had this belief we could go the whole way if we'd played against England. We'd demolished them at the Basin, they were an ageing team and we were on top of our game. If ever we were going to win a World Cup I do believe that was the one.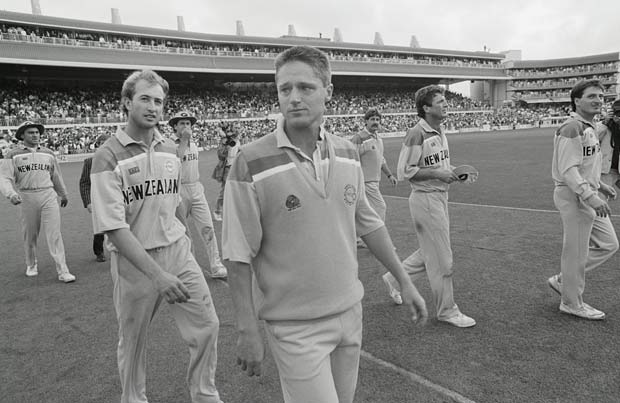 Gavin Larsen and Chris Harris walk around Eden Park following the semifinal defeat. Photo / Herald archive

Watson:
Afterwards we went in [the dressing room] and it was pretty quiet for a long while. You've got to remember, in those days there were no lights and it was all over by 6 o'clock. Our partners came in and after an hour some of the media came down.
Harris:
The easiest way to sum it up was that in 1992 I was a young guy and hoping to have a long career after that, thinking there would be more opportunities. I probably didn't realise how big it was to win the World Cup then. I was 22, it was my second year of international cricket. Seeing other guys like Roddy and Gav with tears in their eyes, and Wally and Hogan. If I had my time again I'd probably have had tears in my eyes as well.
Lees:
It was a stunned silence, heads in hands, lots of hugging.
Morrison:
We were stunned mullets.
Rutherford:
In those days at Eden Park that was a record run chase. I remember saying to Rod Latham over a cold beer afterwards: 'How the hell did we lose that?' It was disbelief rather than rank disappointment. You sat back and thought, '262, Eden Park, our bowling attack, perfect conditions, what happened?'
Larsen:
Marty Crowe's hamstring. That simply was the difference. I'll probably take that to my grave. If he hadn't torn his hammy and wasn't consigned to lying on Mark Plummer's physio table for three hours, with respect to Wrighty - and I'm not having a dig because he was thrown in the deep end big time - we would have played in that final because I believe Marty, with his absolute grasp of the tactics we had employed, 260 would have been too much for Pakistan that day.
Greatbatch:
It was pretty emotional. We were in the dressing rooms with family and supporters and it was mentioned that we didn't get what we wanted but we gave it a good crack and should be proud of that.
Jones:
We had a few drinks that night and reminisced a little bit over the last few weeks. You know it went quickly. We probably cried a bit into our beer a little bit too.
Lees:
Tears come from a lot of other things. The pressure was off. We were saying goodbye to the closest group of people I'd been involved with, and it had been the closest emotional support I'd ever felt.
Meanwhile, on the happy side of the corridor, things were getting lively.

Moin Khan:
Everybody was dancing after winning the semifinal and some of the pictures came up in the news with our shirts off. We were dancing and spraying water at each other because in our culture you don't celebrate with the champagne [laughs]. We enjoyed the moment and the legendary Pakistani sufi singer Nusrat Fateh Ali Khan was on the stereo.
He was an inspiration; we listened to his songs throughout the tournament and danced when we won.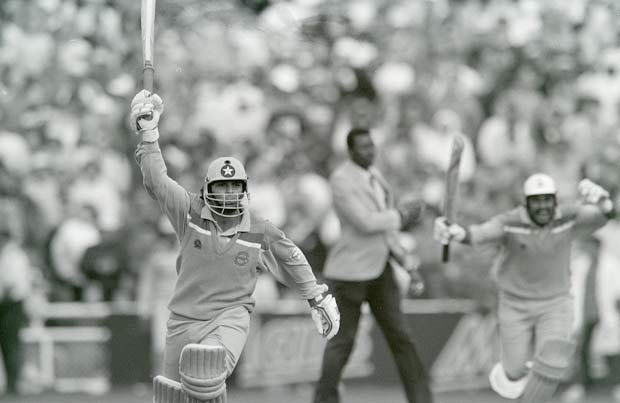 The Herald didn't seem overly wrought by the loss. The New Zealand ironman dominated the front and lead sports pages on the Monday following the loss. On an inside page lead, veteran cricket writer D.J. Cameron seemed more troubled by the behaviour of the lensmen and women.
"New Zealand's World Cup cricket campaign ended on a muted, sombre note at Eden Park on Saturday evening - and with a tiresome horde of photographers not even allowing the New Zealanders the dignity of paying, unhindered, their last and gracious tribute to the spectators," he wrote.
In another story, Wright was at pains to say his side hadn't panicked, but there were already rumblings of recriminations, which, it has to be said, last to this day.

Rutherford:
I don't believe you can attach specific blame to anyone; it's been poorly portrayed over the years in the second innings how things could have been done differently. That's not fair. In sport, everyone knows how to do things differently once you've lost. Wright came on to do the job and the bowling attack knew how to bowl in those conditions. To me that gave the side confidence. The bowlers knew when they were going to bowl and we knew where we were going to field. I think you've got to say a couple of Pakistanis simply played well.
Harris:
No question Martin getting injured was the crucial thing. Nothing against John Wright, he was thrown in the deep end and he did what he thought was the right thing. It didn't matter who it was, Wright, Andrew Jones, whoever. Martin was in such good form that most decisions he made seemed to come off. He had the happy knack in that tournament of making decisions that may have seemed bizarre to outsiders but worked for us.
The team dispersed with little fanfare, as was the norm in those days.

Greatbatch:
I went to Fiji for a bit of R&R. I was learning to dive and late one day I was walking back to my place when I walked past a hut and heard what sounded like the BBC. I poked my head in and asked what was going on. He said he was listening to the World Cup final but was going to bed and I could borrow his radio for the night. I took it back to my bure and much to the disgust of my girlfriend at the time, sat out on the deck and listened to it. I heard Wasim clean up Allan Lamb and Chris Lewis in consecutive balls to basically win the World Cup.
On an island in the middle of the Melanesian Pacific, Greatbatch was left to ponder, as he and his teammates have done ever since, the eternal question: "What might have been?"

Larsen:
If I had to rank it, it would be my No 1 experience without doubt. What crystallises it for me is now as part of the Local Organising Committee for 2015, the people who remember it vividly and want to talk about 1992. In Kaitaia, on the trophy tour, I had two or three older people come up and say, 'I was on the terraces that day.' It was fantastic for us, but as a country it was a pretty amazing month.
The final word or, more accurately, question, is left to a wistful batsman.

Rutherford:
I wonder if it'd be a larger or smaller part of the folklore if we actually had won?
SCOREBOARD
New Zealand
Mark Greatbatch b Aaqib Javed 17 (22)
John Wright c Rameez Raja b Mushtaq Ahmed 13 (44)
Andrew Jones lbw b Mushtaq Ahmed 21 (53)
Martin Crowe run out (Saleem Malik/Moin Khan) 91 (83)
Ken Rutherford c Moin Khan b Wasim Akram 50 (68)
Chris Harris st Moin Khan b Iqbal Sikander 13 (12)
Ian Smith not out 18 (10)
Dipak Patel lbw b Wasim Akram 8 (6)
Gavin Larsen bout out 8 (6)
Extras 23
Total 262 for seven (50 overs)
Did not bat: Danny Morrison, Willie Watson
Bowling
Wasim Akram 2-40
Aaqib Javed 1-45
Mushtaq Ahmed 2-40
Imran Khan 0-59
Iqbal Sikander 1-56
Aamer Sohail 0-11
Pakistan
Aamer Sohail c Jones b Patel 14 (20)
Rameez Raja c Morrison b Watson 44 (55)
Imran Khan c Larsen b Harris 44 (93)
Javed Miandad not out 57 (69)
Saleem Malik c sub (R Latham) b Larsen 1 (2)
Inzamam-ul-Haq run out (Harris) 60 (37)
Wasim Akram b Watson 9 (8)
Moin Khan not out 20 (11)
Extras 15
Total 264 for 6 (49 overs)
Did not bat: Mushtaq Ahmed, Iqbal Sikander, Aaqib Javed
Bowling
Dipak Patel 1-50
Danny Morrison 0-55
Willie Watson 2-39
Gavin Larsen 1-34
Chris Harris 1-72