Did you see Cruden on Saturday night? Email us here.
Aaron Cruden has spoken out after being dropped from the All Blacks squad for the away leg of the Rugby Championship for disciplinary reasons, saying "he is deeply embarrassed" by his lack of judgement.
Cruden's been left at home by All Blacks management after missing the flight to Argentina after a late night drinking session in Auckland on Saturday.
Coach Steve Hansen said as a consequence he's been left home and will not join the squad for the tests against the Pumas and Springboks.
In a statement released this afternoon, Cruden said he made "a poor decision regarding the limits of his alcohol intake" while out for an informal dinner in Auckland.
"This has resulted in the unacceptable action of me being absent from All Blacks assembly on Sunday morning and thus missing the team flight to Argentina.
He said he was "deeply embarrassed" and he has "never been more disappointed" in himself.
"I have not only let myself down, but most importantly, I have let my team down.
"I carry the burden of shame and disappointment and I am deeply apologetic to my team, to my family, and also the New Zealand public.
"I have no excuses. I have been working really hard over the past few years at gaining respect on the field as well as off the field and am devastated I have dropped my own high personal standards, as well as the standards set by New Zealand Rugby.
"I accept full responsibility for my actions and the penalty of missing the next two games, and I will work with New Zealand Rugby to undertake any other disciplinary action to work through this situation."
Hansen said Cruden's actions were out of character.
Hansen said they didn't have a curfew but said Cruden "was out drinking and didn't get there on time" in regards to missing the flight to Argentina.
"He understands there has to be a consequence for his actions. Once we get this out of the way, he'll be coming back into the group when we go to Brisbane," Hansen said from Argentina.
"It's certainly out of character and he's disappointed as are we. It's not what we stand for and it's not what he stands for. I guess we all make mistakes and like our children, we love our children, but sometimes we don't like their behaviour.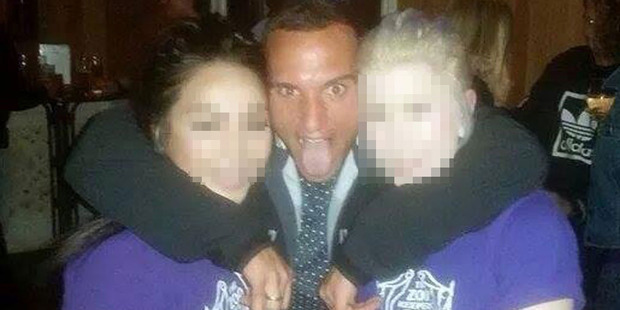 The Zookeepers' Son put this photo on Facebook, saying it was good to have 'Men in Black' partying at the bar. Photo / Facebook
"The team is well aware that when we don't get it right there is a consequence and he's paid the price for that," Hansen added.
"As silly as it might sound, the adversary created by one of the players having a mistake, in this case it's Cruden, usually brings the group tighter and focuses really well. We've talked, we've now put it behind us and we're getting on with it."
The Zookeeper's Son in Royal Oak posted photos on their Facebook page of All Blacks attending the pub and restaurant on Saturday - including Cruden, Aaron Smith, Kieran Read, Brodie Retallick, Sam Whitelock, Conrad Smith, Wyatt Crockett and Sam Cane.
"The 'Men In Black' dined and partied with us last night..thanks guys! Great to see you again!" the post read.
Canterbury first five-eighth Tom Taylor has been called into the All Blacks squad as a replacement for Cruden. Taylor played the last of his three tests against Japan last season.
The All Blacks coach confirmed that Dan Carter was not an option to join the team in Argentina saying they wanted him to play out the ITM Cup for Canterbury. Carter is expected to make his return from a leg injury this week.
New Zealand Rugby Union boss Steve Tew backed Hansen's call to leave Cruden in New Zealand.
"That's a decision I support completely. We are disappointed as we have high standards for this team."
"He's (Cruden) obviously deeply disappointed and accepting of the consequences. He is disappointed he made a poor decision.

"An incident like this with Aaron Cruden is very out of character. We've treated it on its merits."
Tew added that Cruden is free to play ITM Cup for the Manawatu Turbos.
Cruden has started six of the seven All Blacks tests this season. Beauden Barrett started against Argentina at McLean Park and is expected to take up the number 10 jersey again on Sunday.
Colin Slade is the other first five-eighth option in the touring squad and made an appearance off the bench in Napier when Cruden missed the test through injury.
"Both Beauden and Sladey get an opportunity and I'm sure they'll get excited by that and do a good job," Hansen said.
Cruden appeared shocked when approached at his home in Hamilton and did not answer questions.
His agent Bruce Sharrock, who was also at Cruden's home, said he was "having a debrief" with his client about what had happened and would not discuss the matter further.
- Additional reporting James Ihaka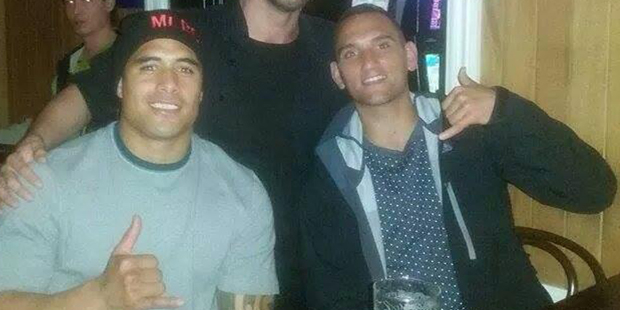 Aaron Smith and Aaron Cruden at the Zookeeper's Son in Royal Oak. Photo / Facebook