10 years ago on Tuesday at the 2004 Olympic Games in Athens
Hamish Carter and Bevan Docherty rewrote history
They became only the second New Zealand duo to go gold-silver in an Olympic event. This is their story.
TABLE OF CONTENTS:
Heading out of the water, Hamish Carter was 30 seconds behind the leaders but he didn't panic. Carter and Docherty knew the race was going to be decided on the bike and that is where they made their move.
The bike - 40km
Richmond
I was riding in a string of athletes and the noise... the Swiss cowbells, the German flags. About two-thirds up the hill all I heard was, 'get on my wheel'. It was Hamish and he was tap dancing up this hill. Everyone was in a grind, in a push, he was just tap dancing his way up this climb. I got out of my saddle, tried to put the power on and there was nothing there.
Carter
I rode the first lap quite hard. I felt like I rode it a bit hard but 10 minutes later I realised how fit I was because I was like, 'man, I feel pretty good'. On the first lap there were a couple of attacks but when we went up the hill for the second time, everything calmed down because everyone was like, 'f***, that's a hard hill' and it was really, really hot. Guys became incredibly cautious because, every time we got to the hill, it became a huge effort to get up it each time. Without really instigating anything, a breakaway formed and we distanced ourselves from the rest of the field.
Andrew Johns (Great Britain)
I saw this break go but I was on Rasmus Henning's wheel and was waiting for him to bridge it but he didn't. He had won the test event and was extremely fast on a bike but I found out later he's not very good on steep hills. The gap opened and opened. I didn't panic but I thought, 'that's the group, it's now or never'. I felt good on the bike and had been training specifically for that. I did the descent and looked around and, 'holy shit, it's Bevan and Hamish, Olivier Marceau, no one is going to catch us. Let's do it'. Straight away we started working well together. We had the six best bike riders in the sport in that break so no one was going to catch us. No one skipped a turn, the whole ride.
Carter
It was a good-sized group. It was manageable. It was a group of people you could trust. I say trust because there are some guys who pretend to be tired on the bike and then run really fast. This group was an honest group. On the last lap or so AJ stopped taking turns and I know him really well. He copped a bit of abuse. It came to the point where he was rooted and he couldn't do any more. When he came off the bike, he was dropped instantly. But at the time I was worried because, if AJ was fresh and saving himself, we were in trouble. We had ridden quite hard.
Docherty
As soon as that breakaway happened, I did my best to make sure that group stayed away. I felt like I worked a little harder than some of the other guys to make it happen. That was fine. I was in a position where I could win a medal because that's what I wanted. In hindsight, maybe I shouldn't have worked as hard on the bike and conserved a little bit more energy but you never know. That might have changed the attitude of the group. It's a fine line. I did what I needed to do to win a medal.
Johns
It was perfect. The only guys I was worried about were Hamish and Bevan.
Docherty
Hamish and I were trying to keep the momentum of the group going. We were egging each other on and helping each other out.
Carter
It was good [to have Bevan there] but it didn't make any difference. We weren't working together. It never occurred to me. There were just five other guys. We were allies until we got off the bike and then it was war. That's how it is.
Brendan Telfer (TVNZ commentator)
I remember Kris jumping around like a firecracker the closer they got to the finish line. When we went to the breaks and took the headphones off we would have a chat and he was getting more and more excited, 'we are going to win this, we are going to win this'. I remember saying to him, 'Kris, calm down, I have been calling races with New Zealand athletes at Olympic Games for 25 years and, time and time again, I see them go out strongly, show their hand and then get run down'.
Gemmell
I just knew how good they were and who they were up against. The race was breaking apart in exactly the way we all spoke about leading into it. For me, it was obvious it was going to go the way it did. Three of the guys in that group couldn't run out of sight on a foggy night, so you're not worried about them. The guys behind were losing time because the strongest cyclists were in the front and willing to work. The guys in the second and third chase group might have been faster runners but were putting in the work going up the hill so weren't going to catch up.
Bone
I was just sitting at home watching it on TV with my wife and I said, 'my god, these guys are going to do it'. This was before they got off the bike. They just looked so, so smooth. Every time they went up the hill and others were falling apart, you knew straight away it was going to be the downfall of every athlete because every time they hit the hill they didn't try to ride away. They were just smooth and rolled over it.
Carter
We were just trying to keep it together, not get ahead of ourselves. At one point my front wheel rubbed someone else's - it might have been AJ's. If you crashed at that point, your race was over. I remember someone saying, 'just everyone calm down'. We were relying on each other. We knew the break was the break and it was the ideal size to have away.
Whitfield
I hesitated when the breakaway went. I nearly bridged it with Simon Thompson but he crashed and we were done. It was over. We had a lot of passengers in our pack. There were a couple of guys in there who were like, 'I just want to beat Simon Whitfield'. I thought that was bizarre. We just rolled around. Nathan Richmond was chasing, which was also bizarre to see. A Kiwi chasing a Kiwi. I understand it's an individual race but at the time I was like, 'what is this guy doing?'
Carter
The last couple of times up the hill I definitely noticed I was getting control of the race. People were starting to get tired so I didn't need to ride hard. I was just thinking, without really trying, 'this is going my way'. You have to be patient because if I had attacked on the bike I would have been out on my own and that would have been a disaster and this group wasn't riding slowly. A young Hamish Carter might have tried to show the dominance I thought I had but that would have been a mistake. I missed a turn every now and then, pretending to be tired. If you never miss a turn people think, 'shit, this guy isn't tired'. Last time up the hill I definitely could have dropped everyone but I was conserving energy. I still had a 10km run to come and you don't know how people are feeling.
Johns
On the bike I was thinking, 'I can win this thing'. Out of the rest of the group, I thought Bevan would be the one to challenge. In 2003, I was winning everything but I had a big bike accident later that year and fell at 55kmh. I had some huge back issues and was never the same after that. I was holding it together. As soon as I got off the bike, my whole lower back locked up. It was the first step. I hobbled to the end in 16th.
style="padding: 0.6em 0; border-bottom:1px solid #c2c2c0; border-top:1px solid #c2c2c0; margin-right:4em;">Times after the bike leg
style="padding-bottom: 0.6em; border-bottom:1px solid #c2c2c0; margin-right:4em;">Hamish Carter (NZL) - 01.19.02 1st
style="padding-bottom: 0.6em; border-bottom:1px solid #c2c2c0; margin-right:4em;">Sven Riederer (SUI) - 01.19.02 1st
style="padding-bottom: 0.6em; border-bottom:1px solid #c2c2c0; margin-right:4em;">Bevan Docherty (NZL) - 01.19.04 3rd
style="padding-bottom: 0.6em; border-bottom:1px solid #c2c2c0; margin-right:4em;">Nathan Richmond (NZL) - 01.20.52 Chasing bunch
The run - 10km
Carter and Docherty had made their move on the bike but with the Athens heat continuing to rise and a young Swiss on the heals - they were still a long way from making history.
Docherty
I worked a little harder than I should have on the bike so, for the first half of the run, I was on the back foot. I was really struggling. For the first 5km it was just a matter of hanging on as long as I could. You just have to dig deep and try to ignore the pain. Hamish certainly went out at a very strong pace.
Carter
Bevan was a quicker starter. I had anticipated him putting a gap on us out of that transition and breaking away but had a slow transition so I got the jump on him. I didn't try to run hard out of transition but, the form I was in, I did. I just ran away and off I went. I had a small gap and Pilone was yelling, 'wait, don't', so I slowed down. Bevan and Sven caught up and I went to the back of the group to watch how they were running for a couple of kilometres. I just wanted to suss out the situation I was in. That was quite hard because I wanted to go. I was aware it was a really hot day but I needed to see how Bevan was feeling because he's a quality athlete and I couldn't take anything for granted. I knew Sven probably wasn't the issue. I knew Bevan was going to be the main threat.
Sven Riederer (Switzerland)
My plan was to stay with Hamish and Bevan. I was 23. It was just an honour to run in their slipstream.
Docherty
It took about 5km until I was able to gather a bit more composure. From that point on, I felt like I was able to race again as opposed to just hanging on. It was good I came right but it would have been better to start the 10km in control. It was a matter of putting myself in a medal position and it happened early on in the run.
Riederer
Hamish and Bevan were too strong. I was just trying to defend the Olympic medal.
Docherty
I was certainly worried about Sven, and also Hamish, but my biggest concern was Greg Bennett who was running us down in fourth. My goal was to win an Olympic medal so I didn't really want the pace to slow down too much and for it to become a tactical race. It was just a matter of keeping that pace so he didn't catch us.
Carter
With about 3km to go we were all running quite tactically. I think we could have run a lot quicker but Greg wasn't going to catch us. It came down to a bit of cat and mouse for the last 6km. We didn't run that quickly but there were three of us and three medals. It was a case of biding your time and waiting.
Elliott
On the last lap of the run it was pretty clear we were going to win two medals. Pilone and I were standing, looking at each other going, 'holy f***, these boys are going to absolutely nail it'. It was pretty clear they were going to run away from Riederer because it looked like he was giving it everything while the other two were comfortable. No one was going to catch them.
Docherty
I made the initial surge with about 1km to go in the hope of dropping Sven. He had been hanging on the whole time and we were able to drop him relatively easily.
Carter
Bevan attacked and had done a couple of surges before that. When he attacked, I went with him. The lift in pace wasn't too hard. I still felt in control. As we both got away he said, 'hey, we've dropped the Swiss guy and we are going to get a medal'. It cracked me up. I was thinking, 'I wouldn't be talking because, when you talk, you lose a breath and more than likely your body is going to flood with lactic acid'. As soon as Bevan made that comment, I attacked and went over the top. That's when I put everything down. If he was with me with 200m to go, he would probably have beaten me so I brought the finish line back quite a bit to say, 'the race finishes there, get there as fast as you can'. It was great execution of technique and speed when you are really, really tired.
Elliott
I said to Bevan the night before, 'have a great day, you've done all the work'. The one thing I probably didn't say to him was, 'back yourself in a sprint like you did at the world champs' and that was the difference between gold and silver, that he didn't back himself to be there. He was probably more worried about keeping a medal than winning a gold medal. That showed Hamish's maturity compared to Bevan and where they were in their careers.
Docherty
In hindsight, maybe I should have gone into it with the goal of winning gold. It was my first Olympics and my goal was to win an Olympic medal and I achieved that. I was super happy to have achieved that. It was a special moment not only for me but also Hamish and New Zealand. To cross the finish line and very quickly realise I was part of one of the most memorable sporting moments in New Zealand sporting history, let alone triathlon history, was pretty cool. It was a life-changer for me. A dream come true.
Carter
I expected him to come back after my attack. I thought he would catch up because we hadn't really gone to war yet. And we didn't. When I realised I had dropped him, I went again to extend again. I was still quite clinical. I was still trying to run to the finish line but it suddenly comes to the realisation that the performance you have delivered is good enough to win the race. It's amazing. It's everything you have worked towards for a very long time. You spend your whole life dreaming about what it will be like and try to prepare for it but when you get to it, it's nothing you can comprehend. It's too hard to imagine. It's a great feeling and never goes away. It also verifies everything you have done in the past.
Bone
When Hamish made that break, I said, 'go, you mother, go'. I broke down. It was such an emotional time.
Gemmell
I wasn't allowed to say anything. [Telfer] took total control over the last 30 seconds. It was hilarious. About four minutes before it happened, just after Hamish started to break away, he reached across and started to admit I got it right but said, 'I'm going to call this in'. With 300-400m to go, he put his hand on the lazy button and just cut me completely and took over. You don't hear a word from me. Right at the end he let his button off and you just hear me giving a bit of a cheer.
Telfer
I had been broadcasting at Olympic Games since 1976 and the only gold medal I had ever called involving a New Zealander was the hockey gold in Montreal in 1976. For a long time among TVNZ commentators, people said Telfer was jinxed. The worst example was Craig Barrett in the 50km walk in Kuala Lumpur in 1998. I remember sitting there with John Davies after about 48kms with Barrett well ahead and I turned to John and said, 'John, we're going to call our first gold medal at any Games' and, almost on cue, Craig Barrett fell over. When Carter won it was like I had broken my drought, and I got two for the price of one.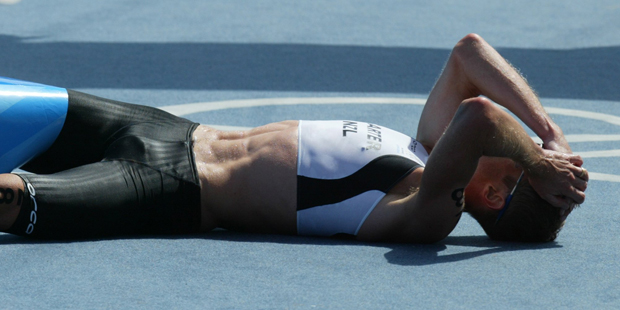 Carter collapses to the ground after he won gold. Photo / Mark Mitchell

Carter
I collapsed at the finish line and got told off by an official for lying down because it was a bad look for the sport. Bevan came in and it was quite cool he was there. He was really happy, I was really happy. I don't know if I would have been as happy as him if I had got second but I also understand why. And we had achieved something quite special on that day. It still remains. I couldn't have done it without him and the fact there were two New Zealanders there made it more special.
YouTube: Carter and Docherty finish one-two

Saville
When Hamish came down the finish line and it was clear he was going to win, he looked absolutely buggered, absolutely exhausted. He staggered around a bit. Sarah Ulmer was standing on the opposite side to us and he went over to hug her. I had a red hat on, the Philadelphia Phillies. It wasn't a baseball cap, more like a cricket floppy. It stood out like dog's nuts. I yelled out to him and he came across. I was live on radio so got the first interview, which was fantastic. I think my first question was, 'can you believe you're an Olympic gold medallist?' He almost fell to his knees. He was still completely exhausted and said, 'no, I can't believe what I've done'. It was probably one of the best broadcasting experiences I have ever had.
Docherty
My family was in the crowd so I did my best to head over and see Mum and Dad and my sister. My dad always wanted an All Black for a son. Winning an Olympic medal in front of my parents, I think he forgave me.
Elliott
Pilone and I danced around the carpark for about five minutes. We stayed out to watch Nathan finish.
Richmond
I was in survival mode. They had this board, much like a road worker's board, with flashing lights. It said current time and temperature. Underneath it said, temperature in 10 minutes and that number was always bigger than what it was currently. '10.56am, 38.6 degrees. Temperature in 10 minutes, 41.2 degrees.' If that's not a mind-bugger, I don't know what is. I don't recall the last 1km of the race. I finished like Craig Barrett. I collapsed. I was completely exhausted and came to with a couple of IVs. I was on a medical stretcher and that's when I realised the whole campaign was over. I had no idea what the guys had done. When I came to, I said, 'how did they go, how did they go?' Pilone said, 'bloody good, the boy has done it'. It hadn't been a positive day for me but to hear that and to see the excitement in someone like Pilone, who doesn't normally show emotion, was telling.
Bone
Then the phone started ringing. Right through the race, the phone kept ringing or people were texting. I couldn't keep up with it and didn't try to because I was engrossed in the TV.
Whitfield
I crossed the line and was so disappointed. It wasn't a fun experience. Our team fell apart. We were a disaster going in, but I learned a lot. I really didn't give it everything I had. My whole attitude changed after that. You do all that training and you couldn't be bothered performing. I crossed the finish line and just sort of stood there, looked a little dazed. When I realised Hamish had won, there's this great picture. It looks like we're making out as we embrace with these huge smiles. I couldn't have been happier for him.
Thompson
There are guys you want to win and guys you don't want to win because they are from countries that are a bit suspect. Both Hamish and Bevan were good guys and were clean. I was pretty pleased they had put it together.
Richmond
Leaving the finishing pen, I was bombarded by supporters who thought I had won the gold medal because I was in the New Zealand uniform. They wanted photos and autographs. Not many of them could speak English so you just roll with it not realising until later how wrong they got it.
Medal ceremony
Carter and Docherty stood together as the New Zealand national anthem played.
Carter
When you finish, you get manhandled through interviews and the medal ceremony. I called Marissa when I was in the back of the stand just before the medal ceremony. I said, 'I did it'. She was in pieces, as I was. Shit, this has really happened. The announcer was like, 'the medal ceremony for the triathlon'. We were just about to walk out when someone said, 'you can't take your phone' and took it off me. I didn't get it back for three days.
Docherty
I wasn't too sure whether I should be singing up there. I think Hamish was crying and I was just super happy. It was just a lot of joy for me to be up there listening to the New Zealand national anthem.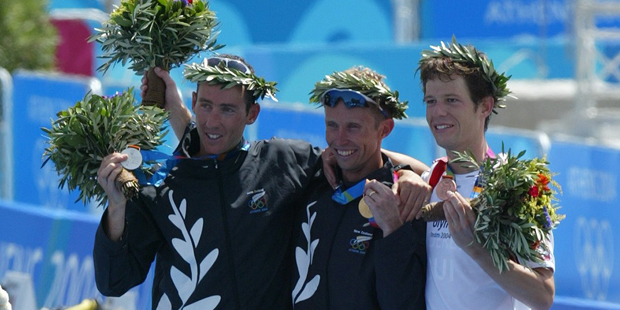 Carter, Docherty and Riederer stand on the podium after the men's triathlon. Photo / Mark Mitchell

Carter
We had been in drug testing for two-and-a-half hours. We also did the press conference. Then we were driven across Athens to go on live TV with Paul Holmes. We were starving at that point and Nathan came back with about 10 Big Macs. We were so hungry.
Gemmell
They came back to the IBC with their medals. When they arrived, I went outside and gave them a hug. At those times, you can get a bit overcome with emotion. Bevan said, and it's something I will never forget, 'I couldn't have done it without you and you know you would have been there'. He didn't have to say it but I will never forget it.
Carter
The team haka was more special than the medal ceremony. You get back to the village and the team came out. They were there to celebrate your success. They all had their own performances to deliver and they took time out to celebrate yours. It's not just about your performance any more. It's what it means to everyone else. It's quite remarkable, really.
YouTube: New Zealand team perform haka

Elliott
We hadn't even thought about it because it had been a blur from the end of the race. When we walked down the boulevard, we could see half the team there waiting. It was pretty neat and what makes New Zealand special. Hamish and Bevan just stood there. They didn't know what to say so I stepped forward and said something on their behalf. I finished up saying, 'if you see a triathlete lying on the ground over the next 24 hours, please pick him up and bring him home'.
Docherty
One of the biggest issues for us was that, for some reason, alcohol was a banned substance at that particular Olympics for triathletes. We had no idea why. We got management onto the phone to try to clarify that as quickly as possible so we were able to celebrate and have as many drinks as we possibly could as soon as possible. We just wanted that restriction lifted so we could celebrate. And we certainly did.
Elliott
Alcohol was regarded as a performance-enhancing drug or a banned substance. [Chef de mission] Dave Currie came up and said he had spoken to someone and found out that wasn't going to be an issue post-competition. The boys didn't need alcohol. Success does that to you.
Carter
We went out that night. We had a couple of beers but you don't really need any. Going out is more about the fact you can't sleep and you are just buzzing. At that point it was over, and you can let go.
Elliott
We went out that night to the Heineken House. Hamish and Bevan were just buggered. After a while the boys came up and said it was time to go. We piled into a taxi. There were about six of us in there and the taxi driver had the Olympic medals in his hand as he was driving along the motorway back to the village.
Richmond
It wasn't about the gold medal for Hamish. It wasn't about the physical medal. We shared a room. Bevan went back and very carefully put his medal into the engraved wooden box and put it under lock and key. Hamish threw his medal on the bed. It bounced off and landed on the floor and stayed there for three days. For three days, the cleaners had to work around it.
Carter
I remember waking up the next morning and seeing it and it hit me that it had really happened. But it wasn't about the medal. It was about what I could look back on and think about that performance. The medal becomes who you are. You think you have this whole career, and you've done all these races, but suddenly you have this one race on this one day which defines you. That's both good and bad. If you consider that before the race, it would be so overwhelming, you would never race like that. You have to separate yourself from it.
Richmond
We were sitting on the balcony, sipping away on our Champagne. I said, 'that was f***ing awesome, mate'. And he was just fizzing, flicking his wedding ring. He was there but not quite there. He went, 'yeah, it was cool'.
Gemmell
I know Bevan made some mistakes. I don't think Hamish made one mistake. I'm not saying Bevan lost the gold but Hamish definitely won it. He did everything right on the day. He worked when he needed to, didn't work when he didn't need to. He raced the perfect race.
Carter
I don't think anyone could have beaten me on that day. It's a reasonably arrogant thing to say because if we had come back the next day and done it again it's highly likely someone would have beaten me. On that day, I don't think they could have.
Final results:


Hamish Carter (NZL) - 1:51:06 1st


Bevan Docherty (NZL) - 1:51:14 2nd


Sven Riederer (SUI) - 1:51:32 3rd


Simon Thompson(AUS) - 1:52:47 10th


Simon Whitfield (CAN) - 1:53:15 11th


Andrew Johns (GBR) - 1:54:15 16th


Nathan Richmond (NZL) - 1:58:00 33rd


alt="" src="http://media.nzherald.co.nz/webcontent/infographics/424/nzhfrontpage.jpg" style="height:auto; max-width:100%; width:100
he Herald front page on August 27, 200