76-year-old uses "mind-blowing" technology to learn new building methods.
Jim Stuart has had two big culture shocks in his life - from working in a Queen St bank to being a farmer in Australia and when he first experienced 3-D printing.
Stuart, 76, is a resident of Highlands retirement village and an enthusiastic member of a team of retirees banding together to learn about 21st century methods of building a hi-tech, sustainable greenhouse.
It's part of a drive by village owners Metlifecare to demonstrate retirement villages are more than the "rest homes" of old - and are full of energetic and engaged people in a busy community.
Highlands residents are learning about using CNC (computer numerical control) cutting to produce the basic componentry of a greenhouse. Another Metlifecare project at The Orchards village in Glenfield involves residents using 3-D printers to make cookie cutters in the image of family, friends or celebrities - and they will then bake the cookies for consumption.
Both projects involve planning and training sessions at Mind Lab where the residents were introduced to new-age technologies, something which excited Stuart.
"I'm interested in building rather than planting," he says. "In fact, I'd say I'm the opposite of anyone who can be described as having a 'green thumb' - I think I have a 'black thumb'.
"What really grabs me is getting to grips with technology like the 3-D printer and CNC and the modern ways of development - particularly the 3-D printing.
"It's an amazing thing. My nephew works for a spar making company and they are producing mast fittings out of titanium from a 3-D printer. It blows my mind - titanium is a very hard metal and you can produce it out of a printer....? I have to know how that works."
Making things work has been a large part of Stuart's life. Apart from his stint for a Queen St bank, he has been an industrial mechanic, a home appliance mechanic and a maintenance engineer.
But he made something else work - his daughter and son-in-law's foray into farming - when he emigrated to Australia.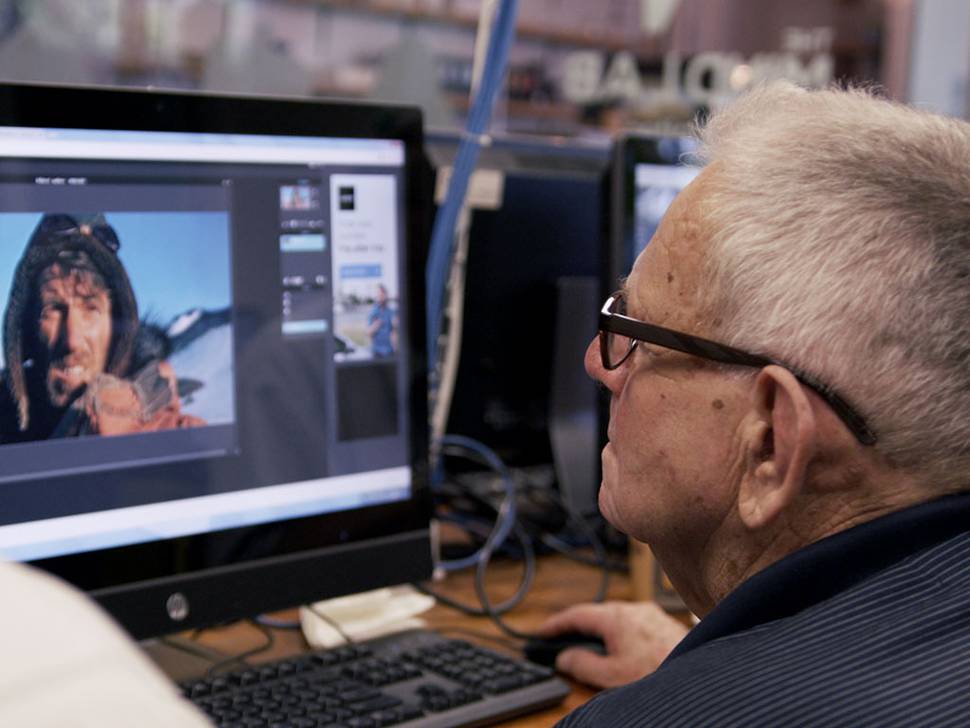 "They'd been sharemilkers in the Waikato and wanted their own farm," he says. "I didn't know one end of a cow from the other but we decided to look around and see what was on the market. We couldn't find anything affordable here.
"So we looked in Australia and found a place in south-west Victoria, quite close to the South Australian border. It became obvious the place [originally 360 acres] was too much for them on their own - so we [he and wife Linda] went to live close by and I essentially became a farm labourer."
He brought the cows in for milking, milked them, did repairs around the farm, fencing and fed out. In the end, the dubious economics affecting Australian dairying at the time won out.
"We grew the farm - because you had to be big to survive in those days," he says. "A lot of Aussie farmers were existing on handouts to survive; we bought some more land next door, knocked it into shape, bulldozed the land and buildings and re-built them and put in a big rotary shed.
"But the amount we were getting for the milk didn't cover the costs of producing it."
Then his health began to falter, heart and other problems forcing him to slow down and eventually return to New Zealand. The farm was ultimately sold to a large forestry concern who wanted the land and his daughter and son-in-law went into other occupations.
But the end of the Australian chapter of his life did not mean he lost interest in the art of making and repairing things - the impetus behind the Maker Movement, the collective term for the worldwide convergence of traditional do-it-yourself fans, artisans and electronics-savvy, new age DIYers.
The Maker Movement also inspired the Metlifecare projects in the two villages; the company was aware of skills learned and practised by one generation - but which are often missing a generation or two later.
Stuart is a prime example. After recuperating, he opened a small business in Auckland, doing home repairs for landlords and real estate agents as Auckland's property market expanded.
He is also an accomplished boat builder with dinghies, a 32-foot cruising catamaran and a small keeler to his credit - and he skilfully produced 40 crosses for the village as part of their marking of Anzac Day this year.
"So I know how a lot of things are done or, rather, I know how we used to do them. But modern stuff like 3-D printing and CNC cutting - I am very keen on seeing how they work."
Read more on the Maker Movement here
Pop in to experience Metlifecare first hand - find a village near you.