About 80 people gathered outside the former Manukau council chambers this morning to protest against a Fletcher Construction plan to build 480 houses on land containing ancestral Maori burial caves at Mangere.
The group carried banners and chanted calls for more consultation as five Auckland Council-appointed commissioners started a three-day hearing on the proposal.
Fletcher executives, led by Residential chief executive Ken Lotu-Iiga, arrived before the protest started.
The company's lawyer Sue Simons told commissioners that Maori occupation of the site dated back to "at least the middle of the 14th century".
European settlers used stones cleared from volcanic fields to build walls after the Maori occupants were forced to leave during the land wars of the 1860s.
But she said the land had already been included within the Metropolitan Urban Limit and zoned for future urban use by an Environment Court decision in 2011.
The site has now been designated a Special Housing Area, which meant only adjacent landowners had to be notified of the housing proposal. Normal appeal rights against the commissioners' decision do not apply, she said.
Fletcher's experts are giving evidence today and groups opposing the plan will be heard tomorrow.
Father interrupts planning hearing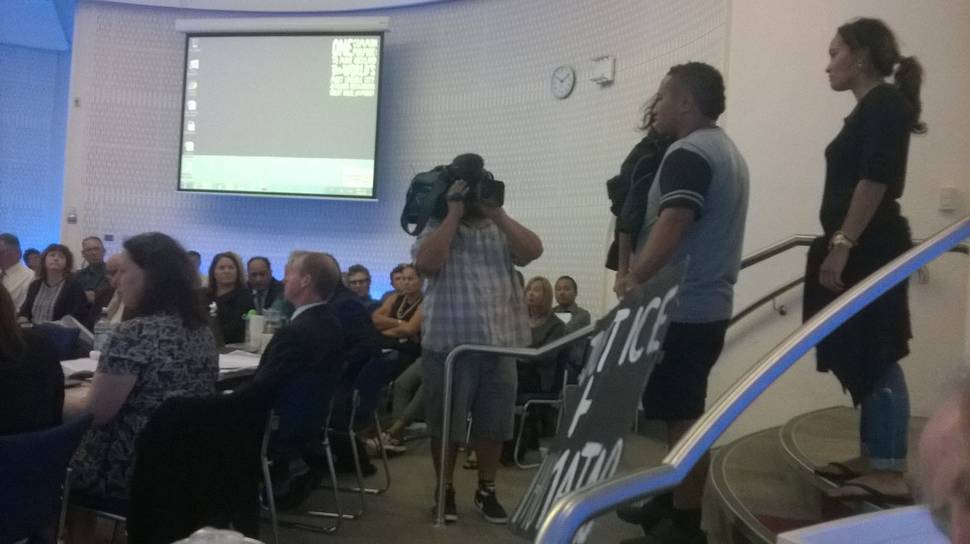 A young father carrying his 3-year-old daughter broke into the planning hearing today and warned commissioners that they would "get it" if they approved the new housing project.
The young man, who gave his name only as Popata, said he came down from Kaitaia to support relatives at Mangere opposing the project.
He walked into the planning hearing with his daughter Wai o Te Marama and a banner saying "Affordable homes -- Yeh right!!!!"
"Hey, hey, hey," he told the five commissioners. "If you want to develop this land, go right ahead and you will see 200 of us occupying our land at Ihumatao.
"How would you like it if these fellows came to your burial ground and built on top of your ancestors?
"How would you like it if they built a house on top of your children? That's not right, eh?"
He added: "Our friends here and our relations here will carry on protesting and yous are going to get it when you come to Ihumatao."
He left quietly after making his short speech and security officers were not called.
Fletcher lawyer Sue Simons earlier told the hearing that all known burial caves on the site would be protected within public open space.
"The proposal provides for the protection, within a reserve contribution which will provide a buffer around the Otuataua Stonefields Historic Reserve, of burial caves, the lower slopes of nearby volcanic cone pa, the first Wallace homestead site and some of the stone walls," she said.
"Other heritage features within the housing development area (the midden, the rest of the stone walls and drainage elements) would be destroyed.
"However, adverse effects on historic heritage will be mitigated through a range of measures including the development of a discovery protocol, a reserve management plan, establishment of a protective covenant for (the Wallace homestead), repair and restoration of stone walls where feasible, archaeological investigation and recording to recover information relating to the history of the area, and provision of public amenities within the reserve."