Ahead of their Super Rugby match against the Jaguares at Rotorua International Stadium, a group of Chiefs players dropped in at the Rotorua Boys' High School Rugby Academy to offer some valuable words of wisdom to the next generation of stars.
It was a special homecoming for Raukura old boys Liam Messam and Te Toiroa Tahuriorangi, who honed their skills at the school as teenagers. They were joined by teammates Tyler Ardron, who played for the Bay of Plenty Steamers in the ITM Cup last year, and Marty McKenzie.
After being welcomed with a passionate, booming haka, they spoke to the students about what it took to be a professional rugby player.
Ardron spoke about the importance of remaining focused on goals as a rugby player.
"You're going to have all your friends going out in the weekend and doing lots of things that seem really fun. But, if you're going to make a commitment to play sports for a living, you probably have to make those choices pretty early on, whether you're going to go with your friends and maybe get in a bit of trouble, or stay on the straight and make sure you give yourself the best chance of getting to this stage," he said.
Messam said, regardless of talent, the key to success was the amount of effort put in.
"It's not rocket science, it's just effort. That's all it comes down to. If you guys can put in the effort and hard work, you can be sitting exactly where these boys are today. It's the effort that will get you seen, especially in the professional environment. Coaches don't look at the X-factor or talent, they look at who works hard and does what is best for the team.
"You only see the end product on the Friday or Saturday when we play, but it's all that hard work in between, all the sacrifices that we make, that you guys don't see," he said.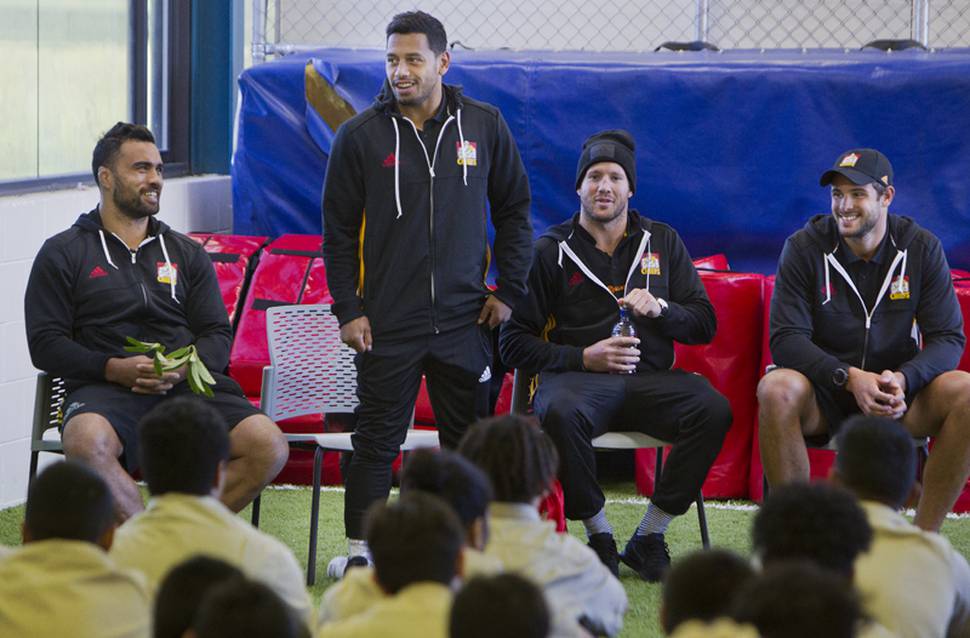 Tahuriorangi said he learned the hard way that effective nutrition was just as important as what he did on the training ground.
"There are probably some Maori and Polynesian boys here who love their kai and I was the same when I was your age. When I was at school I wanted to hit 95kg and the fastest way was to go down the road to McDonald's. It didn't help with the fitness and as you get into the professional stages of rugby that takes a toll.
"Just try and manage your kai around your training, get the right kai in there," he said.