When I look at the Blues-Brumbies encounter tonight, one player dominates my thinking and should play a big part in John Kirwan's game planning - Matt Toomua. In this chalkboard column I will tell you 1) why he is such a threat on defence, 2) why he is more of a threat on attack than he is given credit for and, 3) what the blues should be looking to do to counter his defensive ability.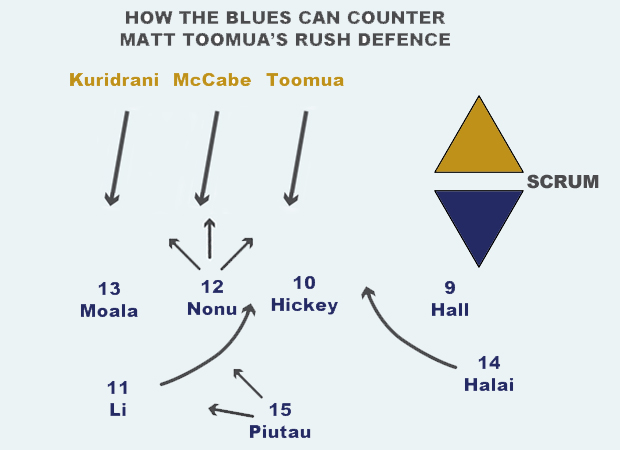 Hickey needs his wings on his inside and outside shoulders, forcing Toomua to make decisions every time on defence.
1. The Brumbies have very quick inside line-speed on defence. This is driven by Toomua. Particularly off scrum and lineout, he is given licence to get up quickly to put pressure on the opposition first- and second-fives.
This is unusual because it can lead to holes on both the inside and outside, but when he goes the others go with him. They trust him to make the right decisions. He gets there, he gets there quickly and he makes the right decisions. His timing is immaculate. It is hard to think of a time when the refs have deemed him offside.
What his line-speed does is squeeze the transition time between the attacking halfback and first-five. That tends to lead to the first-five taking more depth. This, in turn, takes away the advantage line and means the attacking forwards are either tracking laterally or even backwards to the first breakdown. All attacking impetus - or front-foot ball as we like to call it - is lost.
One more thing, Toomua can hit. When you see first-fives charge up quickly, it is often to force attackers back inside where the flankers will make the tackles. As a general rule, first-five is not a breed that enjoys tackling, but Toomua is a fierce defender. He does not avoid contact, he seeks it. Rarely do you see attacking teams pouring through his channel.
He is a defensive weapon.

Toomua tackles Damian De Allende of the Stormers. Photo / Getty Images
2. Toomua plays about as flat as any No 10 I've seen. He can bust the line and does it in an aggressive way, rather than through fancy footwork.
Because he plays so flat, he's also creating opportunities for another straight and hard runner, Pat McCabe. For a player who is far from flashy, McCabe has hit a lot of holes this year and that is down to Toomua playing so flat that he has already taken the defending flankers out of play.
Their philosophy on attack is almost the reversal of what they are doing on defence and puts huge pressure on opposition loosies to get into the game.
I believe the Brumbies have sat down as a team and have decided that the first breakdown is where the war will be won. They want to be the team going forward to that engagement whether they have the ball or not. It is sound thinking; when the Brumbies get go-forward, they are a very hard team to stop.
3. Toomua and the Brumbies are not infallible. Nobody or no gameplan is.
I expect the Blues wings to play a huge part if they are to go to Canberra and come away with the points.
With Toomua up in novice No 10 Simon Hickey's face all night, he is going to need Tevita Li and Frank Halai on his inside and outside shoulders from set play.
What's more, Charles Piutau needs to be a second-man option he can run in behind the line.
The more decisions you make Toomua make on defence, the better.
What you need is some hesitancy on the Brumbies' part. They know that Ma'a Nonu is going to offer hard and straight lines on Hickey's outside and unless the Blues can mix it up, they'll be able to defend it easily enough.
If they have Li and Halai looming up as short-ball options, suddenly Nonu is much more of a threat.
Whichever way you look at it, an enthralling encounter is in store, with the Brumbies first-five at the centre of it.