Jet sprint racing is all about high powered, fast-paced action but when it comes to results - consistency is key.
That is something Rotorua's Nick Berryman knows all too well after consistent performances resulted in he and his navigator, Amanda Kittow, finishing third overall in this month's World Series Jet Sprints.
The pair, racing as team RiverJet, were third in round one, in Keith, Australia, and second in round two at Cabarita Beach on Australia's Tweed Coast.
Overall, New Zealand's Peter Caughey, a seven-time world champion, was second and Australia's Phonsy Mullan took the title.
Berryman said, after finishing second to Caughey in the New Zealand series earlier this year, he felt his efforts in the world series proved it was no fluke.
"Peter won the first round and crashed in the second round, his steering wheel came off. Phonsy ended up taking second and first so he was the winner overall.
"This is a world series with people from Canada, Australia, the US and New Zealand. To pull off a third, consistently running in the top three, is incredible. It sort of cemented our spot on the world stage and confirmed we were there for a reason."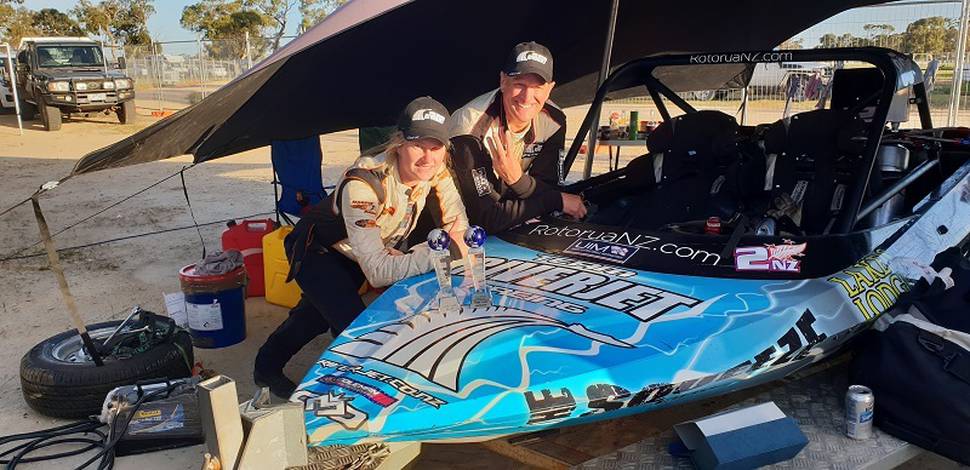 He said the key to his team's success was the hours of preparation they put into the boat.
"There's no point going into an event unprepared. A lot of the boats we were racing were faster, but it's like any race - you can be quick down the straight but you've got to get round the corners. Some of them were going faster and crashing, catching on fire, breaking down, blowing motors.
"We had an eight month preparation on our boat. We spent 80 hours just on the bottom of the boat, getting the surface right and putting a slip coat on it. We spent another 100 hours building the motor, we probably spent about 300 hours all up preparing the boat."
After some tight finishes between the top three in round one, the competitors were put to the test in round two with a challenging course.
In jet sprint racing, teams are given the course map in the lead-up to race day and must memorise the rotations around a set of islands.
"It was a completely different track with nine Islands which made for a very confusing rotation. It was very hard to navigate at the speeds we were doing and caused many headaches for the Aussie teams as well.
"We were not the fastest on each round but kept in the race due to consistency. We were finally into the top six and laid down our best time of the day, hoping for a repeat of the week before for a top three finish.
"Luckily for team RiverJet, one boat crashed out, one caught fire and could not be repaired in time and another's twin turbo blew up so again we progressed into another top three final."
The pair ended up second to Mullan, a remarkable result for a relatively unknown team from Rotorua working on a small budget.
Berryman has been racing for about 12 years and said he loved "the thrill".
"There's nothing as exciting. These boats go from 0-100km/h in about 1.6 seconds, they're quicker than a jet fighter or a Nascar off the mark. It's just the thrill and the excitement and that V8 sound."
Next up for team RiverJet is the New Zealand Jet Sprint Championship, which starts in Whanganui on December 27.
2018/19 New Zealand Jet Sprint Series
Round 1: Whanganui, December 27
Round 2: Waitara, January 20
Round 3: Meremere, February 16
Round 4: Hastings, March 3
Round 5: Wanganui, March 30
Round 6: Wanaka, April 20