While, arguably, the results of pre-season matches do not matter, it is always nice to get a win in the bag early.
And win the Warriors did against the Melbourne Storm at Rotorua International Stadium today, overcoming a slow start to outscore their opponents 20-14.
Despite fielding a side lacking in NRL experience, the Melbourne Storm had a couple of famous names playing in the halves - Billy Walters, son of Queensland legend Kevin Walters, and Cooper Johns, son of New South Wales legend and Rugby League Immortal Andrew Johns.
Three minutes into the game it was Walters who sparked the first breakaway. He broke through a disorganised Warriors defensive line near halfway and found centre Justin Olam in support. He drew the last defender and put his winger Matt Sopa-Lawler over in the corner.
The Warriors began to build pressure with a period of possession in the Storm 20m. Eighteen minutes in, on the back of a penalty and a forced turnover, they made it count through centre Solomone Kata who was guided into a gap by half Mason Lino to tie it up at 4-all.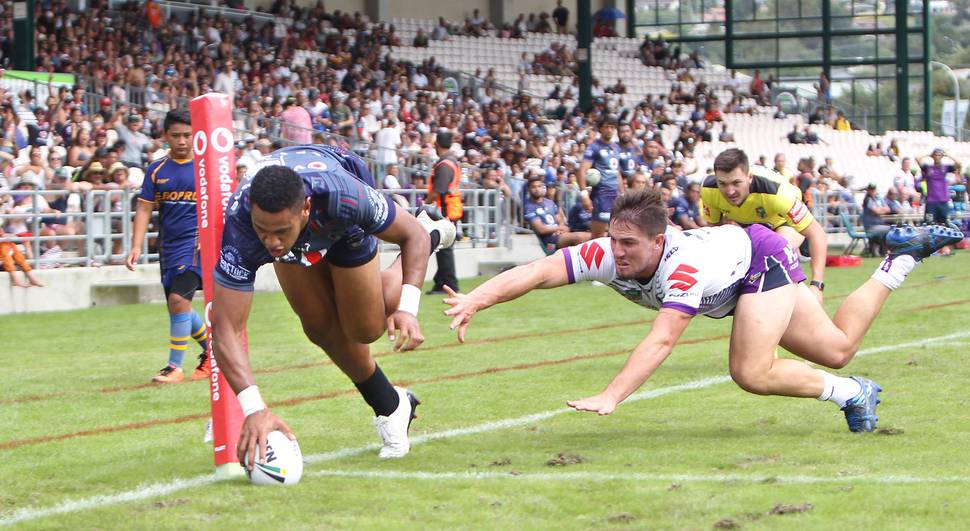 Half an hour in the Warriors were able to stroll down field on the back of consecutive penalties and take the lead for the first time. Once in the Storm 20m they showed great hands to shift the ball right and put expert finisher David Fusitua over in the corner. Lino nailed the sideline conversion to make it 10-4, a lead they held onto until halftime.
Early in the second half the Storm invited further pressure from the Warriors, first by failing to control the kick-off and then by giving away a penalty on their own 30m. The Warriors made the most of the invitation as Ligi Sao ran onto a well weighted grubber from Lino to score under the posts. Lino converted to extend the lead to 16-4.
With 20 minutes left to play Melbourne were in again through hooker Harry Grant, who did his best impression of a bulldozer to score under the posts out of dummy-half.
Leading by six and with 15 minutes left to play, Warriors winger Ken Maumalo knocked on a bomb 10m from his own line, gifting the Storm a chance to get back in the game. The Warriors defensive line held strong, however, to keep them out.
Minutes later the Warriors were in again. After forcing a turnover inside the Storm 30m they shifted the ball right where winger Lewis Soosemea had an overlap, created by fullback Hayze Perham coming into the attacking line, and strolled over in the corner to make it 20-10.
The Storm scored a third try, through winger Ryan Papenhuyzen, late in the game, but it was too little, too late against what was a far more experienced Warriors side.