From one legend to another, Rotorua's Inia Maxwell has shared a slice of his whenua with All Black legend Piri Weepu for Māori Television.
In season two of Piri's Tiki Tour the rugby great sets out on a different kind of tour around Aotearoa to see whether his skills on the field are matched in gathering kai.
Weepu takes us along for the ride as he travels around Aotearoa meeting hearty, local characters as they guide him through what they do best; diving, hunting, fishing and general foraging.
Maxwell (Ngāti Rangiwewehi), the prominent kapa haka expert who has also served as the cultural advisor on major films like Invictus, was given the chance to show off his fishing skills but he said the only thing that wasn't awesome was the weather.
"It took us two hours to get a bite ... It was a bit hard because you want to show New Zealand that you can fish so I hope it comes across the weather wasn't exactly easy.
"We couldn't get out the first day so that's when I had to deploy the Rotorua plan."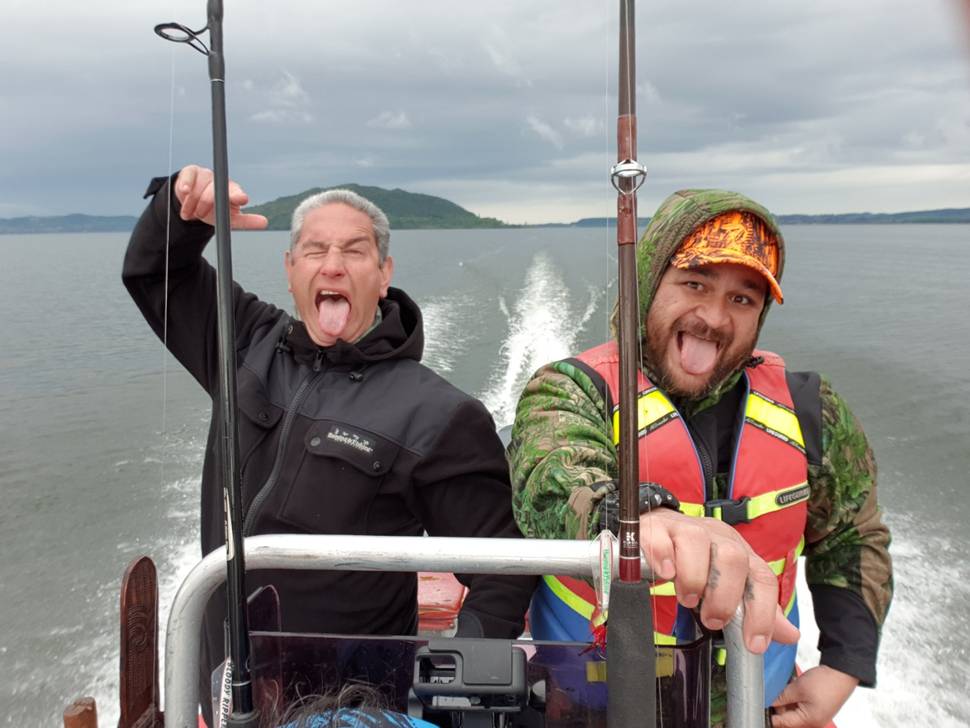 Weepu was a professional rugby player for 16 years and chalked up 72 tests for the All Blacks but since retiring from rugby he has found a new passion for diving, hunting and the great outdoors.
After doing some quick thinking Maxwell found Weepu's middle name, Awahou, online and realised it held a connection to the awa (river) on his father's side.
"I took him to the puna or where the spring is and he got in there and I said, 'Awahou meet Awahou'.
"It was pretty special to share something that has been a major part of my life and say 'that's your middle name bro'."
Maxwell said his parents had instilled the idea that culture should always be shared.
"If you don't share our culture and it is not being talked about then it is being lost."
But the overall highlight for Maxwell was actually catching a trout through the grisly conditions Lake Rotorua presented on that day.
"We caught a lot of weeds, or I must've been knocking the fish on the head with the lure."
To find out just how many trout were served for dinner that night you can catch it tonight on Māori Television at 8.30pm.