With only hours remaining in 2018, the annual road toll stands at 376, two fewer than last year's death count.
One person was killed in a crash in Otago which also caused serious injuries to a second person today, in one of a number of serious traffic accidents around the country.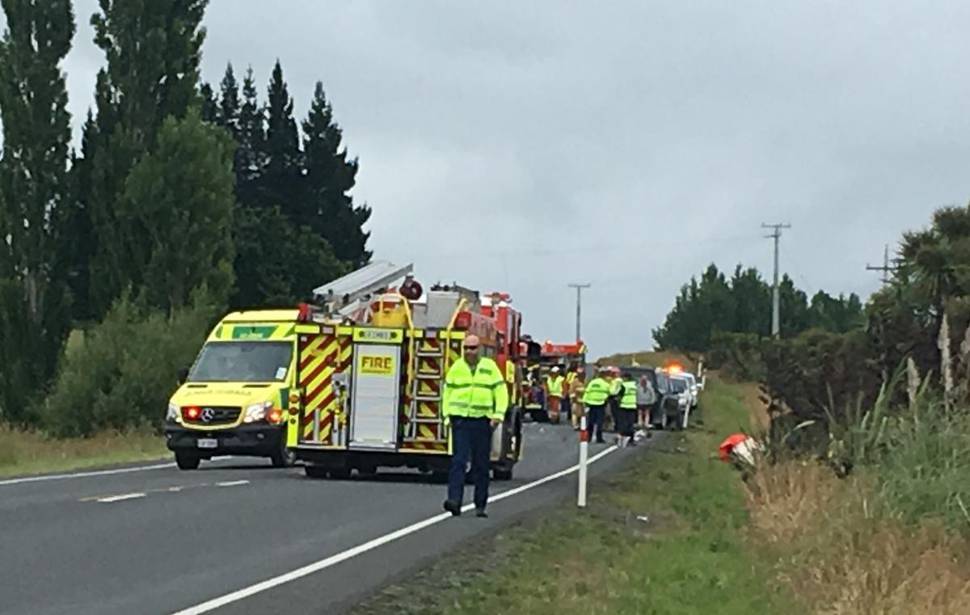 The fatal accident happened on State Highway 1, north of Waihola, at 1.30pm and follows several other serious crashes which have closed highways around the country.
They include:
• Napier-Taupo Highway (SH5): Two people injured, including an elderly woman, when two cars collided at 12.17pm. Road closed.
• State Highway 1 near Karapiro: Five people taken to Waikato Hospital with minor to serious injuries. Road closed.
• State Highway 20B in Auckland: Closed in both directions following a crash at 2.05pm. Reports of moderate injuries.
• Matamata: One person injured when a car hit a pole
• State Highway 3, Mōkau: Three people injured, two seriously after two car crash at 7.42am. Road closed.
A Fire and Emergency New Zealand (Fenz) spokesman told Otago Daily Times they were on their way to the Otago crash.
A St John spokesman said they arrived on the scene as of 1.50pm. One person was killed and another seriously injured person remained trapped, the spokesman said.
A police spokesman said they and emergency services were attending the crash and diversions were in place around Titri Rd.
The NZTA said a "serious incident" had been reported to emergency services in this area and delays were possible.
Further north several people have been injured and motorists are experiencing delays following accidents on two North Island state highways.
State Highway 1 is closed in the Karapiro area between Cambridge and Tirau.
The NZ Transport Agency has asked people to avoid the area and said detours were being set up. Traffic delays are occurring.
St John said five people had been taken to Waikato Hospital, one suffering serious injuries, and the others minor injuries.
State Highway 5 - the Napier-Taupō highway - is closed following a head-on crash.
Police said they were called to the SH5 crash at 12.17pm.
The crash, which happened about midday, was about 15km south of the Rangitaiki Tavern - 50km from Taupō and 50km from Napier - and was reported to have involved two cars.
Two helicopters were being sent to the scene and it was understood at least two people were trapped in the vehicles.
One of those trapped was an elderly woman with serious injuries.
It is understood traffic is backed up for several kilometres behind the crash site.
In Matamata one person has been injured after a car hit a pole.