There were purple balloons, wigs and beards, face paint, T-shirts and even underwear as Rotorua residents biked through the city raising awareness for dementia.
More than 30 people took part in the Purple Bike Ride to acknowledge the end of Dementia-Friendly Awareness Week today.
Dementia affects 2.6 per cent of people across New Zealand and that number is set to increase as the population ages.
The most common form of dementia is Alzheimer's disease, but it comes in a range of forms which all differ slightly.
For one of the event organisers, Rachel Doelman, lewy body dementia is an illness which hits close to home.
"My dad had Parkinson's and was later diagnosed with lewy body dementia at the age of 53."
Lewy body dementia is often associated with Parkinson's and is the form of dementia Robin Williams had been diagnosed with, Doelman said.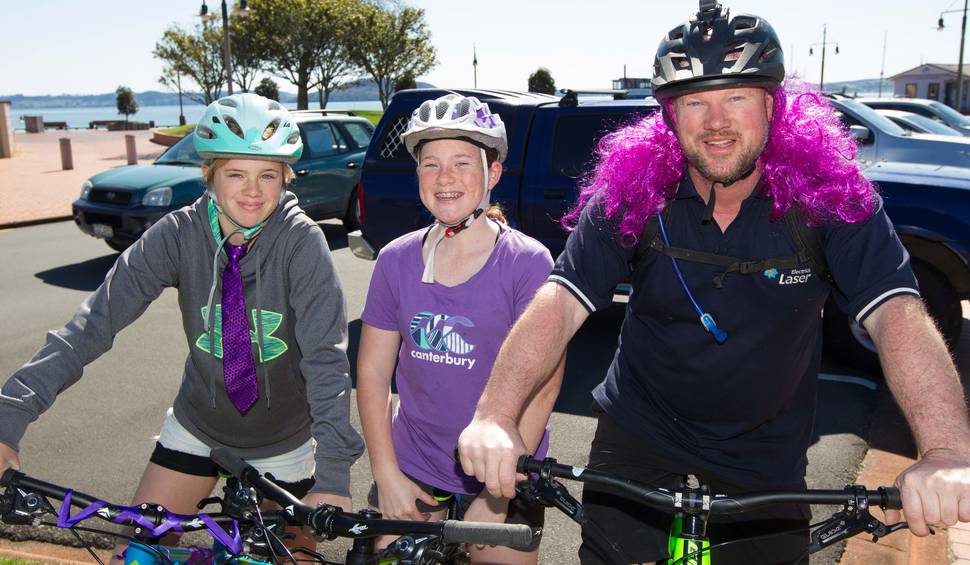 "We've had beautiful weather today and had a really good time raising awareness of this disease."
Tim Haughey had brought his daughters Carly, 13, and Emma, 14, to take part in the day's ride.
"We've got dementia running in the family, and really it could happen to anyone, you just can't tell.
"This has been an awesome day."
Carly said it had been a relaxing and fun ride around the city, which took them through Kuirau Park and along the Green Corridor, ending at the Lakefront.
They had all donned their purple and the girls thought their dad's purple wig was "pretty fashionable".
"At least he has hair for the day," Emma said.
Rotorua mayor Steve Chadwick and deputy mayor Dave Donaldson also supported the day.
Donaldson had dug out his purple socks for the occasion.
"I am a lot more aware and have learned a lot more about dementia now than when I started," he said.
"It's going to be a growing issue, so it was nice to see a good group getting out here in support.
Chadwick said it had been lovely and she "couldn't have asked for a better day".
"We actually ran into a bit of congestion on the Green Corridor, and even through Kuirau Park, there were lots of people out and about.
"It was good to hear lots of people asking why we were all in purple and being able to spread the message out."
She said it had been a lovely group to ride with and she was impressed by the effort people had gone to get dressed up.
"All of these little bits do count."
The Cycling Without Age team is seeking more volunteers to pilot the city's three trishaws so elderly members of the community can get out on a bike ride too.
To get involved contact Melvyn Bowen on mel.bowen@xtra.co.nz.