With Hawaii's famously active young volcano Kīlauea explosively erupting last month, and Guatemala's Volcan de Fuego now leaving at least 65 people dead, Kiwis might wonder whether it's possible to predict a big blow here.
Perched on the south-western edge of the Pacific Ring of Fire, which includes more than three quarters of the planet's volcanoes, New Zealand has likely been home to active volcanism since its infancy.
Volcanic remnants and geothermal hot-spots can be seen right across our landscape, but in recent times, our only eruptions have taken place within the Taupō Volcanic Zone and the Kermadec Arc - Mt Taranaki's last activity was in 1854.
Strikingly though, New Zealand is where the world's most violent volcanic eruption happened within the last 5000 years.
Known as the Taupō Eruption, or sometimes referred to as the Hatepe Eruption, the 180AD event would have created effects visible in China and Rome and fired a devastating 1.5km-high pyroclastic flow that covered the landscape with ash and pumice for a distance of 80km.
Gigantic structures like the Taupō volcano are sometimes called "supervolcanoes" and have long been the focus of one of New Zealand's most respected scientists, Victoria University geologist Professor Colin Wilson.
Ahead of a nationwide speaking tour that kicks off next month, Wilson talked volcanoes with science reporter Jamie Morton.
We've heard much of the term "supervolcano" lately. I understand some volcanologists get grumpy when the term is used incorrectly, if at all. What exactly defines a supervolcano?
If you are a stickler for accuracy, a supervolcano is one that has seen a supereruption at some stage in its history.
The choice of what makes a supereruption is generally accepted as 1,000,000,000,000,000kg of magma being erupted.
This amount is a bit hard to think of so volcanologists convert it into volumes, where it amounts to about 430 cubic kilometres of molten rock (magma) or around 1000 cubic kilometres of pumice and ash material.
If you want to see what that much material looks like, that's enough to bury the whole of New Zealand under 3.7 metres of material - or the Auckland supercity area under about a kilometre of material.
So, in total, there's been 10 eruptions of that size in the world over the last 2.6 million years - which is what geologists like to think of as "modern times" - one in Argentina, two in Indonesia, three in the US and four in New Zealand.
Other countries with explosive volcanoes want to get on the supervolcano bandwagon, but don't quite make the grade.
Mind you, even an eruption one hundredth of the size of a supereruption can cause a lot of issues in today's world, and there's lots of volcanoes globally that are capable of eruptions of that size.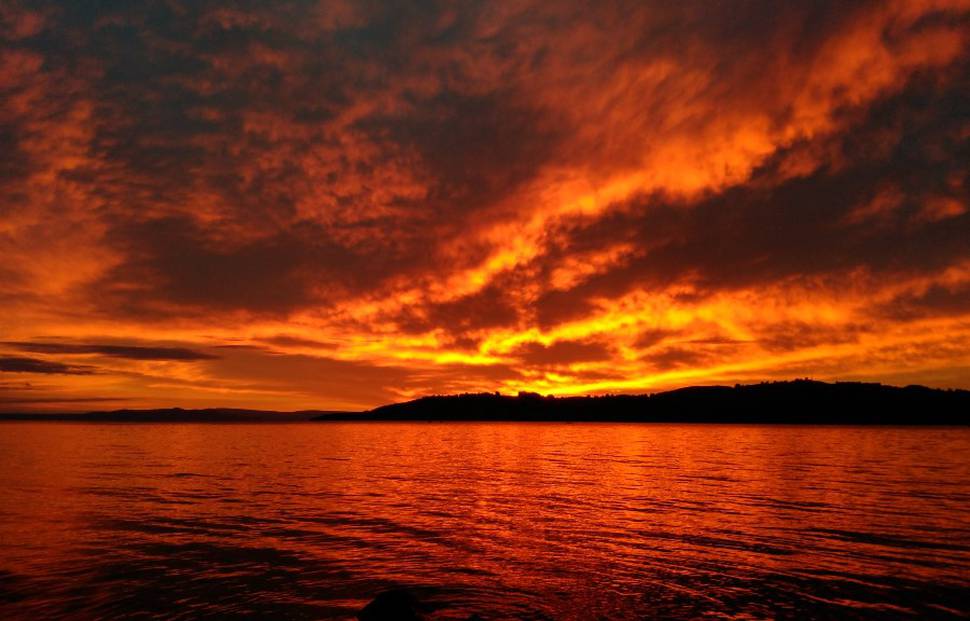 Perhaps our best-known example of such a structure in New Zealand is Taupō. Much of your work has involved trying to understand how such systems have behaved in the past. From that work, what can we say about what might happen in the future? Could New Zealand see another large-scale Taupō eruption, and if so, could this occur without much warning?
When we look at the past history of Taupō, the main lesson we learn is that it varies a lot.
There are large eruptions and there are small eruptions jumbled in together.
The volcano appears to be able to erupt twice within 10 to 20 years, but also can see periods of many thousands of years when nothing happens that leaves any trace for us to find.
We are in one of those quiet periods at the moment – it could last another few thousand years, or it could end in a few years' time.
Any future eruption is most likely to be modest in size, based on the record of eruptions in the past.
There is only a very low possibility of a large eruption, and we anticipate that there should be a warning time that would allow preparations to be made.
Much more likely in the next years to decades is the situation where there is unrest, and decisions have to be made about what is going on and whether such unrest will lead to an eruption.
In nearly all such cases we expect the unrest to reduce back down without an eruption, but the aim is to reduce the uncertainty around the one time that unrest is heading into eruption.
Scientists think of the whole area of volcanic activity between Kawerau and Tokaanu as one single but complex supervolcano system, which last saw a bout of unrest at Taupō in 2008. How much is there left to learn about this system?
Despite all the work that has been done, there still is an awful lot to learn.
In its size and activity, this New Zealand system - call it central Taupō Volcanic Zone, for convenience - can be considered as equivalent to Yellowstone, although somewhat more volcanically active but with less vigorous hydrothermal activity.
The eruptive history of the central Taupō Volcanic Zone is still not well known - too many deposits have been washed away, or turned into soil, or are buried - and there is much still to be discovered.
There is in addition an incredibly complicated situation where this area is also being stretched by the plate boundary processes in the North Island, and so the roles of volcanic activity and faulting are not yet well understood.
There is plenty to learn yet.
Your work also involves looking at tipping points that can take supervolcanoes from a dormant state to an active one. How do these come about?
We use the phrase "tipping points" as an easy way of explaining a complicated chain of events at volcanoes like Taupō.
We understand from the records of pumice and ash deposits that Taupō has produced roughly 30 eruptions in 26,000 years - but with highly variable times between eruptions.
We know from the historic record that Taupō experiences periods of unrest every few decades.
So, for about, say, every 30 periods of unrest, on average there is one that turns into an eruption.
What's the difference? That is the tipping point.
That is when an eruption becomes inevitable.
The challenge is: can we define what the tipping point is before we actually experience one during an eruption?
There's a lot of hype surrounding supervolcanoes, particularly the Yellowstone Caldera in the US. The slightest bit of activity can trigger panic and over-reaction. Does that add extra pressure on scientists such as yourselves to reduce much of the uncertainty?
Very much so, although it is important to realise that Yellowstone is a hotbed of hype - try putting "yellowstone eruption imminent" into Google - and that New Zealanders tend to have a more rational approach to the possibilities of volcanic eruptions, and other kinds of natural hazards.
The central aim of our current research programme [ECLIPSE - Eruption or Catastrophe: Learning to Implement Preparedness for future Supervolcano Eruptions, supported by MBIE] is to reduce the uncertainty around unrest and possible future activity at volcanoes of the type that produce large explosive eruptions.
We are using a partnership approach in ECLIPSE with Iwi, emergency management agencies, communities and GeoNet to be better prepared as a team together for the next unrest event.
We are using the central Taupō Volcanic Zone as a model, but linking with Italian researchers - who have the Campi Flegrei system to cope with, along with a population at risk about the same as that of New Zealand - and workers in the US Geological Survey who have oversight of Yellowstone and Long Valley.
The way the world works now, any progress by us on understanding how such volcanic systems work, reducing the associated uncertainties, and improving the quality of advice in unrest or eruption events will lead to less unnecessary over-reaction or panic.

From what's happened in the past few decades, we're all well aware of what can happen at the Central North Island volcanoes, along with White Island. But do you think the same level of awareness exists around the many risks that come with the Auckland Volcanic Field?
Yes, very much so.
There has been running for about ten years a programme called DEVORA which has the aim of understanding and mitigating the risks that come with building your largest city smack on top of a volcanic field that last erupted only about 500 years ago.
The DEVORA and ECLIPSE programmes - sorry, every funding proposal needs a snazzy acronym - have parallel aims in raising the awareness of all the people who would be affected by any kind of reactivation of these volcanoes.
We know from surveys that people in Auckland understand that it's a volcano, and actually think it's a little more likely to erupt than it possibly actually is.
The big challenge in the Auckland situation is that we don't know where the next eruption will be, and it's very hard to be prepared for all eventualities for a future eruption in such a crowded urban area.
• More information about Wilson's tour, presented in partnership between Royal Society Te Apārangi, GNS Science, EQC and Victoria University of Wellington, can be found here.