The Hits Rotorua Beach Dig saw hundreds of kids digging around in the sun to win themselves a prize.
Hundreds of numbered sticks were buried in the sand at Hannah's Bay and this morning the race was on, sand flying everywhere, as each child had the opportunity to find their two.
Melanie Frost was getting hands on helping Caeden Edwards, 3, Rylen Edwards, 4, and Kade Newton, 4, to find their sticks.
"It's been a really good morning, we got here nice and early to make sure we were registered," Frost said.
"It was actually surprisingly hard, but we all managed to find our sticks."
All of the kids had sand in their hair, but were eager to collect their prizes.
They said the chocolate was definitely their favourite prize and Caeden and Kade had really enjoyed the digging.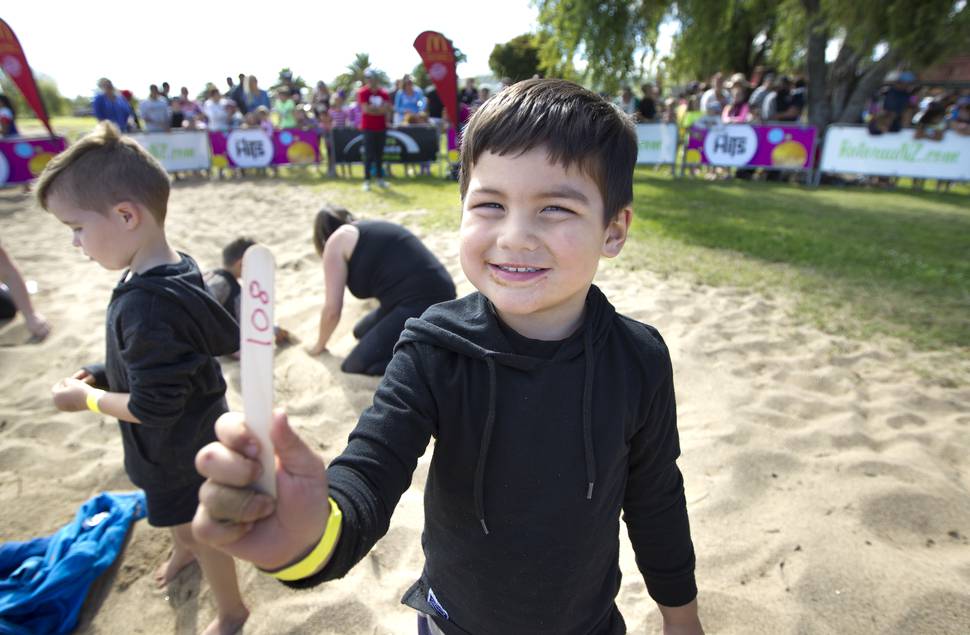 Event organiser Bryce Morris said it was a good day for it and the weather had certainly come to the party.
"Kids have been excited to claim their prizes.
"It's great to have so many to give away, thanks to our sponsors McDonald's Rotorua, Melt - Festival of Chocolate, Reduced to Clear, Reading Cinema, Rainbow Springs and more."
The Hits presenter Paul Hickey said it had been a fantastic day and the beautiful weather had helped.

"It's neat to see so many families out and about enjoying themselves.
"It's a fun morning and it's great to see all the kids getting a nice little treat."
Hickey said there had been a lot of smiles and no naughty behaviour.
"It was nice to see everyone enjoying themselves and I am super happy to see the parents playing a part in that."