The little elves at the Rotorua Daily Post Christmas Appeal workshop have received a large delivery as companies get in behind the cause.
Yesterday the team at Kimberly Clark New Zealand delivered six pallets of goodies to Rotorua and they aren't the only business reaching out.
The appeal is being run in conjuction with partners including Rotorua police and the Salvation Army.
Rotorua police Constable Marc van Krieken said when he sent the emails out asking for help he definitely didn't expect such an overwhelming response.
"I definitely did not expect the quantity of stuff they gave us.
"I was thinking maybe one or two companies would send us a box, but never six pallets."
Van Krieken said with his own 2-year-old he had learnt nappies are expensive and it was great to see the companies getting on board and working towards the common goal.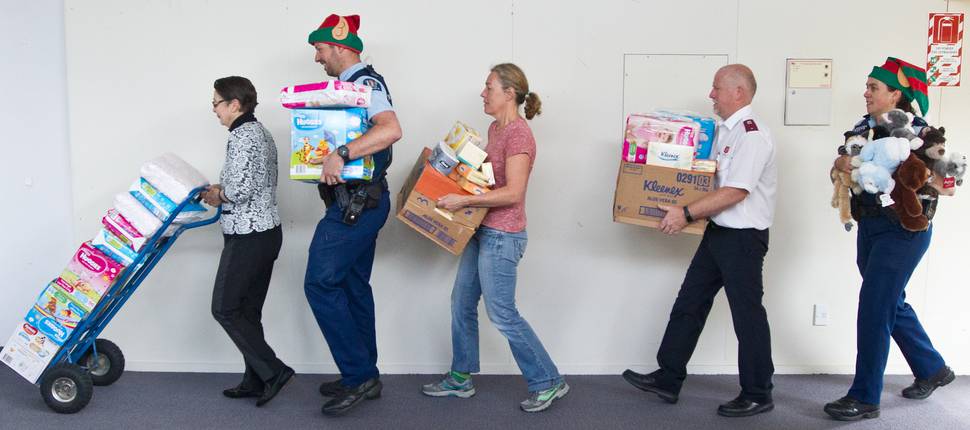 So far Kimberly Clark New Zealand has donated boxes of tissues, baby wipes, nappies, pads and tampons, The Body Shop has donated 250 50ml tubs of body butter, Sanitarium has donated 100 1.2kg boxes of Weetbix and Antics toy company has donated boxes of stuffed toys.
Kimberly Clark New Zealand general manager Liz Metz said they were just happy to be helping Kiwi babies.
"We heard that Rotorua police, Salvation Army and your team were putting together this outreach and we wanted to help.
"We love helping anyone that's in need, particularly through this holiday season."
Metz said the company was committed to providing Kiwis with a better life.
"I am sure there are other businesses out there whose views are similar and it would be great to see them do them same."
Rotorua Salvation Army officer Ralph Overbye said they were still after lots of food deliveries.
"We want more none perishables, that food will last us well into the second half of the next year."
Rotorua police Constable Viv Sutton said they also wanted to see more items that could help make Christmas special.
"We'd like to see chocolate, nice biscuits, napkins and Christmas crackers.
"Anything that can really help them to celebrate."