While the Rotorua Lakes Council worked though a small agenda at the final council meeting of its three-year term, the real focus was on the departure of long-serving councillor Glenys Searancke.
Today's meeting was the last before the new council will be sworn in after the elections at the end of October and saw the council's chief financial officer Thomas Colle update councillors on progress towards the council's annual report.
The full and final report will be signed off by the new council after it has been sworn in, but Mr Colle said the council was on track to come out $1.4 million better than budget and had no intention to borrow any unbudgeted money in the next two years.
Councillors also signed off on previous decisions made at committee level - the transfer of Tamatea St to Te Tahuna Trust, a land exchange on Pererika St, a contract update for the library and children's health hub project and the adoption of the council's new solid waste bylaw.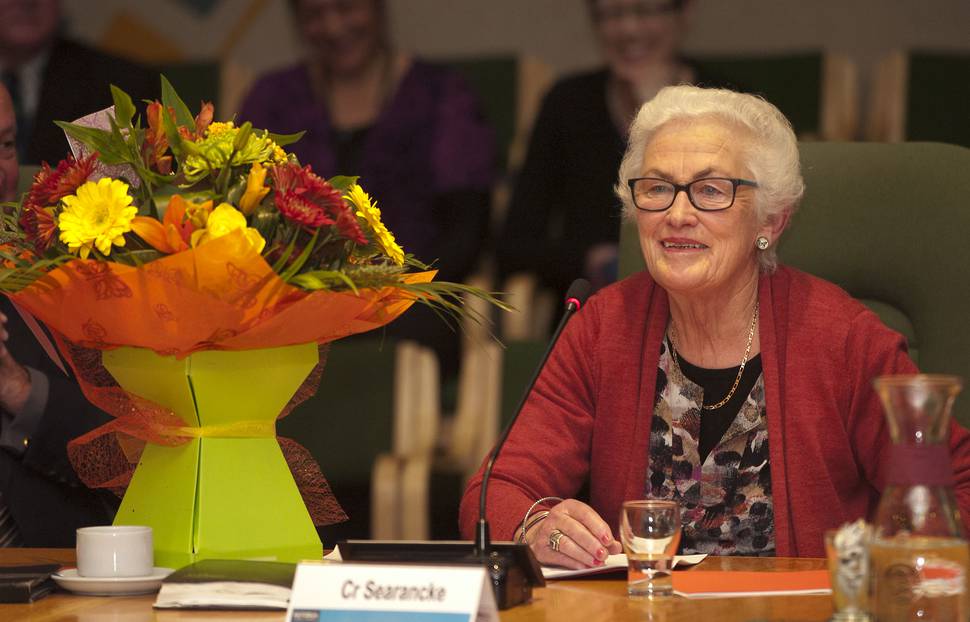 Once that was out of the way, all 11 councillors at the meeting, and Rotorua mayor Steve Chadwick, paid tribute to Mrs Searancke's 30 years of work for the community as a councillor praising her work ethic, knowledge and dedication to the people of Rotorua.
Council staff presented her with a large bouquet of flowers saying she had been a pleasure to work with over the years and would be missed.
Before mayor Steve Chadwick opened the meeting up to pay tribute to Mrs Searancke she reminded councillors there was an election on the horizon, wished all candidates the best of luck and praised staff for their hard work over the last three years.
"The incoming council will also mark and celebrate the contributions of all who have served our community ... there could be a lot of changes to the faces around this council table," she said.
Councillor Rob Kent said Mrs Searancke's vast experience could not be matched by anyone at the council table put together.
"It's been an honour to serve with you, an honour to learn from you and I wish you well in your retirement."

Councillor Merepeka Raukawa-Tait said Mrs Searancke was a role model for women politicians.
"I don't think you realise that. Thirty years ago there would have been few women going into local body politics ... you set the trail for women to aspire to political office and I thank you for that."
Mrs Searancke made a short speech before bowing out, but said she left with mixed feelings and would remain busy in the community.
The council then moved into a confidential session where councillors discussed the selection of independent commissioners for Resource Management Act hearings, amendments to the Rotorua District Plan and changes to admission charges for the Polynesian Spa.
The Rotorua Daily Post will publish a full interview with Mrs Searancke in the coming days.