While petrol prices continue to rise nationwide, Rotorua remains one of the cheapest cities in which to fill your tank.
In a cross-section of some of the major petrol stations in Rotorua, prices vary between $2.01 and $2.25 for standard 91 octane and $1.39 and $1.54 for diesel.
The two cheapest petrol stations surveyed by the Rotorua Daily Post were Mobil and Caltex on Te Ngae Rd, followed by Gull, Mobil on Fenton St, Z Energy, BP, and Challenge.
At the time of the comparison yesterday, workers at Mobil on Te Ngae Rd said they had just raised their prices, taking them from $1.99, the lowest recorded price for standard 91 octane, to $2.01.
In Tauranga yesterday, we found eight petrol stations ranging from $2.10 to $2.21 for 91 and $1.33.9 to $1.52.9 for diesel.
The cheapest petrol station surveyed in Tauranga was Mobil Causeway, followed by Gull Hewletts Rd, and the most expensive 91 and diesel was at independently-owned BP 2go Summit in Waihi Rd.
Rotorua's Gull assistant manager Gurusharan Singh said their petrol station was "known for keeping prices down".
"Rotorua is not a big place, but has a lot of gas stations so competition for customers is high. If one gas station lowers their price, the other ones typically follow so they don't lose their regular customers.
"It is much easier for a customer in a small town to drive to the cheapest gas station, rather than go to the closest one for convenience."
Mr Singh said the socio-economic status of the area would also contribute to the petrol price.
"Being on Te Ngae Rd we have to consider the kind of customers we will be getting and adjust the price to reflect that.
"Ultimately, I think that the biggest factor remains competition.
"There are three gas stations on Te Ngae Rd alone and that is always going to be reflected in the prices."
Rotorua resident Fee Teat said she filled up at Challenge on Malfroy Rd for a number of reasons, but mainly because of the service from staff.
"We fill up in Rotorua to go to the Mount so I can't really compare petrol prices between cities, but I always go to Challenge because of the great personal service."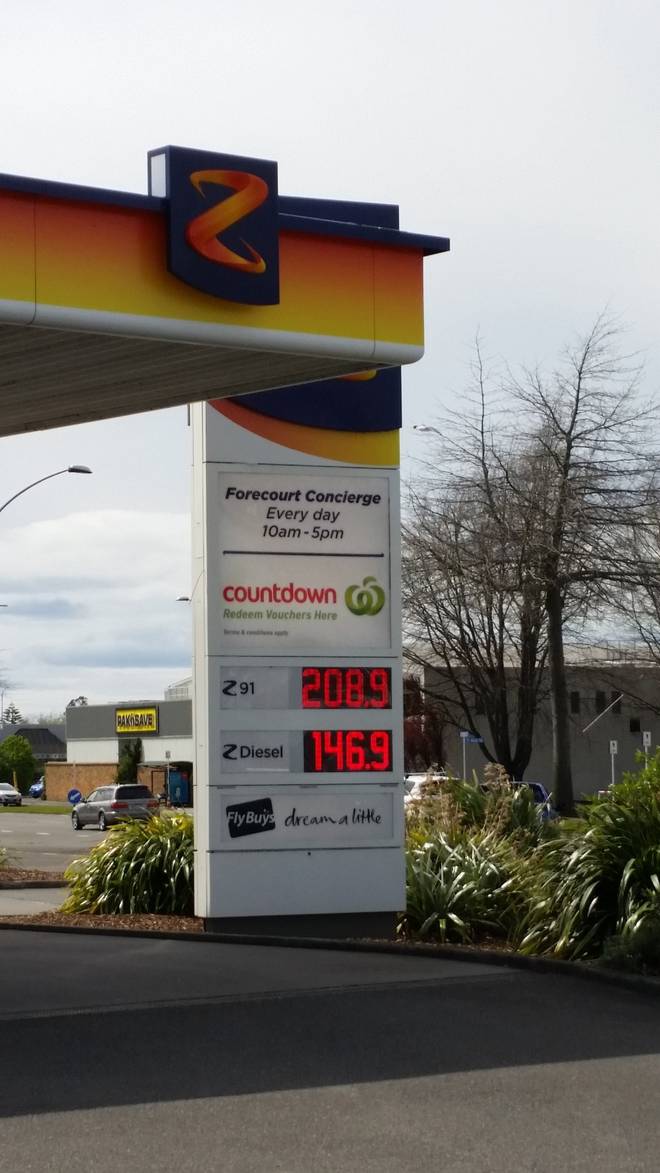 Ms Teat said with two young children, service was more important than any other factor.
"Challenge also has a constant discount for diesel and is the only petrol station I know of that takes the supermarket vouchers as well."
AA Petrol Watch spokesman Mark Stockdale said there was no question the falling US exchange rate had increased the price of importing petrol for fuel companies, but the imported cost of diesel was about the same due to a bigger drop in commodity prices.
"So an increase in retail diesel prices was unwarranted in our view," he said.
Rotorua Petrol Prices
• Mobil Te Ngae Rd - 91: $2.01 Diesel: $1.39
• Caltex Te Ngae Rd - 91: $2.01 Diesel: $1.39
• Gull Te Ngae Rd - 91: $2.02 Diesel: $1.40
• Mobil Fenton St - 91: $2.08 Diesel: $1.41
• Z Energy Fenton St - 91: $2.08 Diesel: $1.46
• BP Fenton St - 91: $2.21 Diesel: $1.52
• Challenge Malfroy Rd - 91: $2.25 Diesel: $1.54
- Additional reporting by Sandra Conchie