The terrifying moment a drowning woman was saved by off-duty lifeguards at Sydney's Bronte Beach was captured by nearby photographers.
Dramatic images capture the rescue from beginning to end, from the moment the female swimmer begins to struggle in the giant waves and soon realises she is in serious trouble.
Thankfully, surf lifesavers Andrew Reid and Troy Stewart had arrived to begin their shift at 7am on Thursday and spotted the struggling swimmer in the surf.
"I had just walked in at 6.55am and a fellow lifeguard turned up because we start at 7am," Reid told the Daily Mail Australia.
"We were actually just looking out and checking the conditions to see how we would set up the beach and a massive set rolled in and I actually joked I wouldn't want to be out in that today."
In the photos, Stewart can be seen thrashing through the water to reach the woman, who was waving and screaming for help. It is thought she was taking an early morning swim and got swept out too far from the shore.
The heart-stopping images show Stewart reach the flailing woman as she begins to sink below the surface of the water, news.com.au reported.
"I've seen a lot of people drown and I can say I think she was going under for the last time," his colleague told the publication.
"But then Troy got to her and pulled her up, it was amazing to see."
Reid later explained that his fellow lifeguard used the strong rip to get to the woman as quickly as possible, before assisting her back to the safety of the shore on the front of his board.
At the same moment, another rescue was going on nearby; a male swimmer, who had bravely tried to reach the drowning woman, soon needed rescuing himself.
Lifeguard Anthony Carroll pulled the man from the water before turning back for the female swimmer to see if he could help his colleagues.
Another guard, Wally Eggleton, was also on hand to assist in the woman's rescue.
Witnesses also helped to pull her out of the water after she was finally ashore.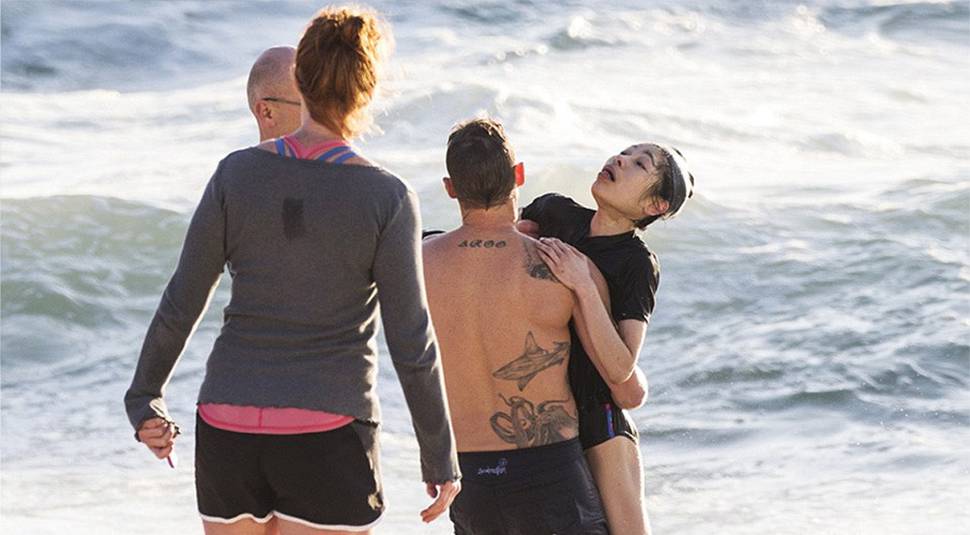 Reid added that the woman is a "very lucky lady" and was extremely grateful to the lifeguards for saving her life.
"She had two of the country's best surf swimmers at the beach this morning, Troy Stewart and Wally Eggleton," he added.
The Bureau of Meteorology has issued a surf warning as enormous waves continue to hit the NSW coast. The hazardous conditions are expected to render many coastal activities such as rock fishing, boating, and swimming too dangerous.