I am not a winter person. Just the thought of getting out of bed in the dark, battling with frozen car door handles and sluicing down the windscreen so I can scrape off the ice and see out of it, has me diving under the duvet. I had to do it this morning and believe me, it's no fun. But once the sun finally does appear and I pile on layers of coats and scarves to head up the hill to the vege garden, I realise how much I like being outdoors in winter. It feels so good to see my breath huffing white clouds into the icy air and feel a blast of cold freshness on my cheeks.
While we humans don't hibernate like bears and bumblebees, our melatonin production does increase when there is less light and this can cause us to feel tired and sluggish. As the weather gets colder we're attracted ever more to satisfying winter carbs and this adds further to that sluggish, lazy feeling. It appears too, that when there is less light, our bodies produce more of the hormone leptin, which can have the effect of disrupting our sleep cycles. Adding it all up, there is a lot going on to make us want to stay inside in winter, on the sofa with the remote at hand.
Enter the winter picnic. There's nothing like rugging up for a little winter picnic adventure to blow out the cobwebs. If I'm on the run I'll often just grab a baguette and some cheese and fruit. It's less about messing around with fancy food and more about getting outdoors, away from technology and pavements, and connecting with nature. The cold makes even the simplest fare — a meal of hot soup out of a flask, a simple pie and a sweet treat — taste like a feast.
If you don't have time to make soup, take the fixings for instant miso soup. Fill the thermos with boiling water and throw miso soup sachets, mugs and a mixing spoon into the hamper. A quick mulled wine is another great option for the thermos, and is as a simple as heating a bottle of cheap red wine with a big spoonful of honey, the juice of an orange and a couple of cinnamon quills.
Pack a pile of rugs, fill thermoses and gather fixings. Winter picnics here we come.
Olive Oil Marble Cake
Ready in 1¼ hours
Makes 1 large cake
4 eggs
1½ cups sugar
½ cup milk
¾ cup extra light olive oil
2¼ cups flour
3 tsp baking powder
Zest of 2 lemons, finely grated
1 tsp vanilla extract
½ tsp ground cloves
1 tsp ground allspice
4 Tbsp rum
1 Tbsp cocoa, sifted
Preheat oven to 150C fanbake. Grease a 25-26cm round springform cake tin and line with baking paper. Place eggs and sugar in a food processor or electric mixer and whizz until light and fluffy.
Add milk and oil and whizz again to combine.
Add flour, baking powder, lemon zest, vanilla, cloves, allspice and 3 Tbsp of the rum and pulse 4-5 times until smooth (it will be quite runny). Pour all but ¾ cup of the batter into the prepared cake tin (don't be tempted to save more). Mix sifted cocoa and the remaining 1 Tbsp rum together and then stir into the reserved ¾ cup of cake mixture until well combined. Drizzle this over the top of the cake to create the marbling effect. Bake until a skewer inserted into the centre of the cake comes out clean (about 55-60 minutes). Allow cake to cool in the tin for 10-15 minutes before turning out on to a cake rack. Store in an airtight container for up to a week.
Annabel says: I discovered this rustic tea cake in Umbria years ago and it has been a staple ever since. I love the way you can whizz the whole thing up in a food processor or mixer to produce a moist cake that keeps fresh for days. Don't be tempted to leave out the rum – the alcohol evaporates on cooking, adds flavour and helps keep the cake tender.
Smoky Jo Soup
Ready in 3 hours + soaking
Serves 4-6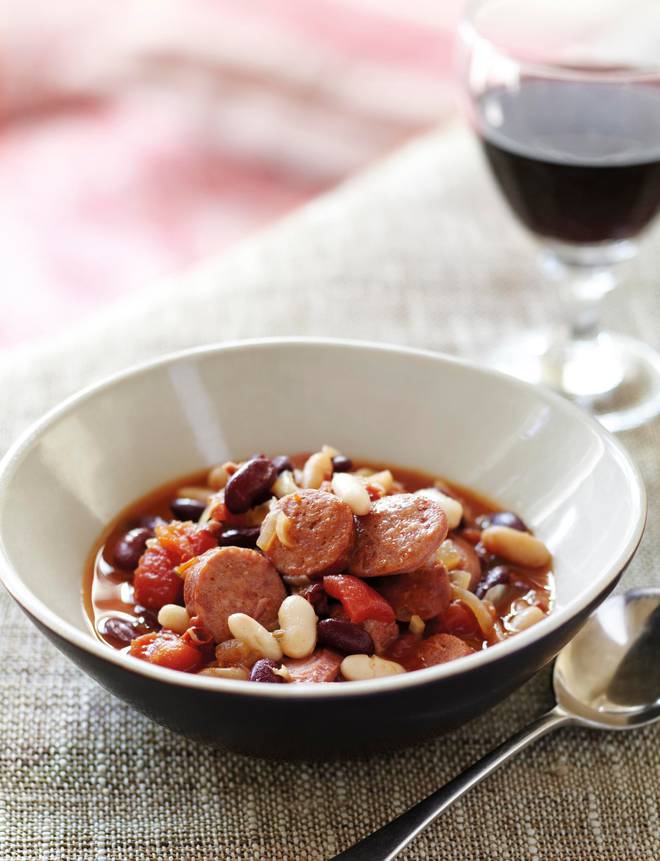 1 ham hock
2 dried chipotle chillies (optional)
2 Tbsp olive oil
2 onions, finely diced
2 cloves garlic, crushed
1 tsp fennel seeds, coarsely crushed
1 tsp cumin seeds, coarsely crushed
1 tsp smoked paprika
2 chorizo sausages, thinly sliced
2 x 400g cans of beans, such as cannellini and red kidney beans, rinsed and drained
400g can chopped tomatoes in juice
Salt and ground black pepper, to taste
Place ham hock in a large soup pot, cover with water and bring to a boil. Cover and simmer for about 2 hours, adding more water if needed. If using dried chipotle chillies, pour ½ cup boiling water over them and leave to soak for 30 minutes. Lift ham hock out of liquid, reserving liquid. Cool ham and cut into small chunks, discarding skin and fat. Heat oil in a large pot and gently cook onions with garlic, fennel seeds, cumin seeds and smoked paprika until softened but not browned (about 5 minutes). Add chorizo and chopped ham and cook another 1-2 minutes. If using chipotle chillies, lift out of soaking liquid and chop, discarding seeds. Add to soup with their soaking liquid. Add beans and tomatoes to the pot along with 3 cups of the cooking liquid from the ham hocks. Cover and simmer for 30 minutes to develop flavours.
When ready to serve, adjust seasoning to taste and divide among serving bowls.
Annabel says: Simmering a ham hock long and slow for a couple of hours, then using the cooking liquid as a stock for the soup is something our grandmothers used to do and it's a great way of making a cheap cut go a long way. Chipotle chillies add a lovely smokiness, but this soup is still excellent without them.
Potato and Feta Picnic Pie
Ready in 2 hours
Serves 8
sheets flaky puff pastry
1kg potatoes, peeled and thinly sliced
2 spring onions, thinly sliced
250g creamy feta
4 eggs
250ml milk
2 cloves garlic, crushed
1 tsp thyme leaves
2 Tbsp chopped capers
2 tsp wholegrain mustard
1 tsp salt
Ground black pepper, to taste
Preheat oven to 190C fanbake. Place a baking tray in the oven and lightly grease a 25cm pie dish. Roll out pastry sheets very thinly on a lightly floured board. Cover the base and sides of the pie dish with one sheet of pastry, overlapping the sides. Layer potato slices into the pastry shell, sprinkling a few spring onion slices and crumbling a little feta over each layer. Beat eggs and milk together, reserving 1 Tbsp to brush over the finished pie. Add garlic, thyme, capers, mustard, salt and pepper and mix to combine. Pour evenly over potatoes. Cover with the other sheet of pastry and press down around the edges firmly to seal. Trim off any excess pastry and use to garnish the pie. Brush top of pie with reserved egg mixture. Place on to heated baking tray (this helps to crisp up the base) and bake for 45 minutes. Lower heat to 160C fanbake and bake until the potatoes are tender (about a further 45 minutes). To check whether the potatoes are cooked, insert a skewer into the centre of the pie. If they are done the skewer will not meet any resistance. Serve the pie hot or warm. Any leftovers can be refrigerated and reheated the next day.
Annabel says: This hearty pie travels well and makes great fare for a picnic or casual lunch. Tailor your own version by adding your favourite flavours – try fresh tarragon or pesto in place of spring onion, chopped olives in place of capers, or parmesan or blue cheese instead of feta. Or glam it up with a layer of thinly sliced smoked salmon.