Magnetic Island has a real pull for tourists, anglers and wildlife lovers, writes Ewan McDonald.
Today, power gives way to sail, and to flippers, but we'll start with a walk around downtown Townsville. Which sounds rather sedate, and refined, but guide Bob Bakkers and I are only a few minutes into our stroll before tales of murders, serial killers, crimes of passion, riots, arson, corruption and gold-rush shenanigans prove that life in Townsville has been pretty much like life in small towns anywhere.
Bob is a university-trained museum curator who's worked at the Australian War Memorial and the Army Museum in Townsville, which adds a military dimension that's relevant here.
"For a small frontier town, the history is amazing with a lot of Australian firsts," Bob says. This is where the Australian flag first flew, where Japan founded its first embassy to serve 4000 migrant workers in sugar, turtle, seafood and pearl industries.
Townsville came of age during World War II. More than 50,000 US and Australian personnel were based here, flying bombing raids to the southwest Pacific and receiving three from the Japanese in return. They missed the railway but did destroy a palm tree.
It's Australia's largest garrison. All forces maintain bases here; their 15,000 personnel and dependents represent 8 per cent of the city's 190,000 population.
Magnetic Island slumbers about 20 minutes off Townsville. Home to 2500, the island got its name because Captain Cook believed his compasses went off-beam when he sailed past in 1770, though science has never supported the theory.
More than half the island is enshrined in national park, so it's a wildlife haven. More than 800 koala live here, the largest group living in the wild, and it's as far north as they get. An estimated 166 species can be found on and around "Maggie", including fish, so it's an anglers' paradise.
It's been a favourite holiday spot for mainlanders since the 1800s. Ferries steamed day-trippers to Picnic Bay, one of its four villages. Later it became a quarantine station and wartime naval anchorage.
The ferries have become larger, faster, and the pace of development has grown with them. They now dock at a recently built terminal at Nelly Bay, with carpark, supermarket, resorts, cafes and boutiques.
It's where I'm staying and pick up my car. For someone who got his first licence at an age when others are totting up what their KiwiSaver will pay out in the near future, it's a challenge. It seems to have three pedals instead of two, and there's a set of numbers on the knob on the gearshift.
I manouevre through the electronic gate on the steep uphill drive into the resort. It takes six goes, and I'm too embarrassed to get out and check whether I've left any tyre marks on the new driveway.
Driving around "Maggie," which doesn't take long, even at a bunny-hop, it becomes clear the island shares much with Waiheke. Inside the World Heritage-listed Great Barrier Reef Marine Park, it's become a dormitory suburb for Townsville commuters and prey to large-scale commercial and upmarket residential development of the style seen in our gulf.
Locals fear for the wildlife and environment in areas not protected by the national park.
Time for something less stressful. As a getaway island, there are water sports, golf, diving expeditions, jet skiing, fishing, horse riding, and topless car hire (think mini-jeeps).
For me, a day on, and occasionally in, the water, with Stu, Lisa, Fletch and their boat dog, Coco, aboard their 18m (60ft) ketch, Big Mama.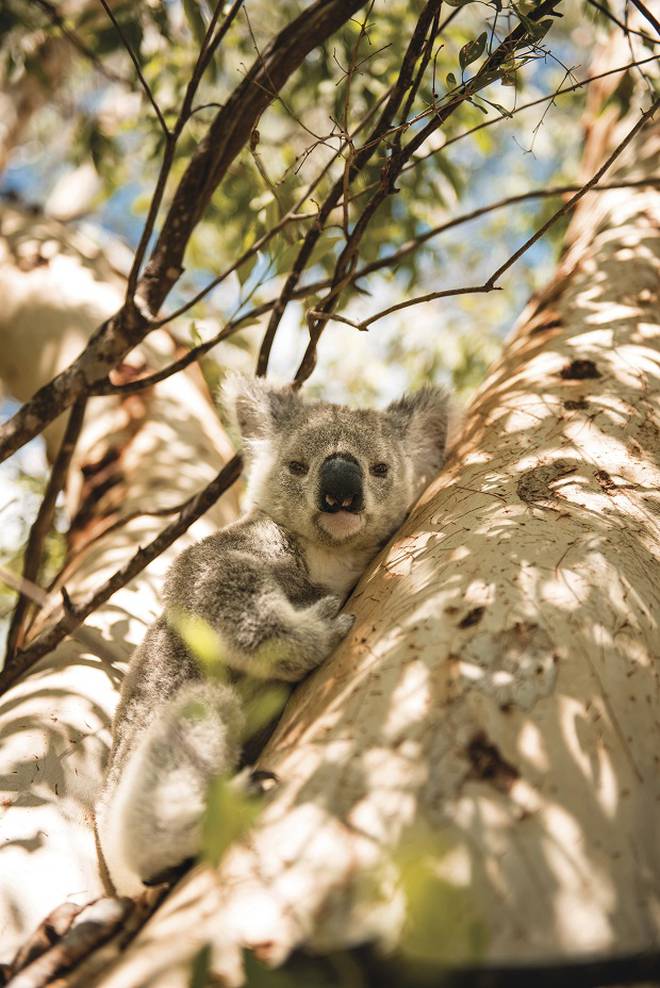 We'll circumnavigate the island, moor for some snorkelling, get the sand between our toes on a deserted beach where the forest meets the sea, and maybe meet a koala as well as marine life down under.
Fletch, 14 and home- or rather yacht-schooled, picks up our mottled crew of a dozen North Americans, Brits, Aussies and one delegate each from Malaysia and Aotearoa on the beach at Horseshoe Bay. Within minutes we're motoring out into the Coral Sea. Soon, his father, Stu, puts the sails up, and there's little to hear but the flap of polyester and slap of wave against hull.
He tacks into a bay. Flippers and masks on, and it's men and women overboard. As someone who learned to swim at an age when others are close to applying for a Gold Card, I'm not the most graceful of marine mammals, flopping about with the elegance of a constipated dugong, but I'm transported — or perhaps dumped — into the bright, magical, undersea world.
Lisa cooks and serves lunch before another snorkel and amble along a forest-fringed beach (no koala at this time of day, no humpback whales at this time of year) before Stu returns us to Horseshoe Bay.
In the morning, it's time to head back overseas. I return the car keys to the receptionist.
"Been a while since I've driven a manual," I say, nonchalantly. "I know," she says. "I was sitting here watching you yesterday."
Checklist
GETTING THERE
flies from Auckland to Townsville, via Brisbane, with return Economy Class fares from $776.
ONLINE
Want more holiday inspiration? Sign up to our new Travel Insider newsletter here.