Lynne and John Knowles' new outlook on life began six years ago when she pulled up in the driveway of this late 1990s executive home.
She got out to lock her car, saw the view across Orewa to the Whangaparaoa Peninsula and thought: "Wow, I must be able to do something with this."

By the time she'd finished checking out the house in her mind, she'd re-clad the stucco exterior, lowered the deck wall, opened up and fitted a new kitchen into the integrated family room, and closed in the glass-roofed corner deck.
"I just love dreaming and drawing and the basic plan was already in my head," she says.
When her husband phoned later that day, she said, 'I think I've bought us a house'."
Working with plans of the original house, with bedrooms and living upstairs and two offices downstairs, Lynne sketched her design lines and scaled-down furniture.

John's approach to all of this is typically: "What are you going to do?" and "tell me when it's finished."
"Lynne is the visionary," he says.

"I know what I like and don't like, but she can visualise things better than I can.
"I know that, so it's better for her to get things to the stage where I can see what it's going to look like."
Three months after their February 2012 purchase, they moved into the house, happy to wait until their builder was ready to start work.
In due course, the house was covered in shrink wrap and Lynne and John found themselves living almost completely cut off from their view.
For four of the five months it took to renovate, they had only two oval zip-up "windows" cut into the plastic to look out through.
They pre-empted any hint of cabin fever by finishing their working days with a nightcap on the back lawn.
The day the plastic came down was magical, a thrill for John. Lynne's additional work included short-listing all the decorative materials for John to make his choice from.

Inside the house, with its new white aluminium joinery and weatherboard cladding, attention turned to the fit-outs.

Lynne integrated into the kitchen everything she once needed a scullery for. The china pantry is near the dining table, next to the bay window seat with its views through the family room out to Orewa.
She doubled up on favourite features, including benchtop roll-down storage, dishwashers and ovens.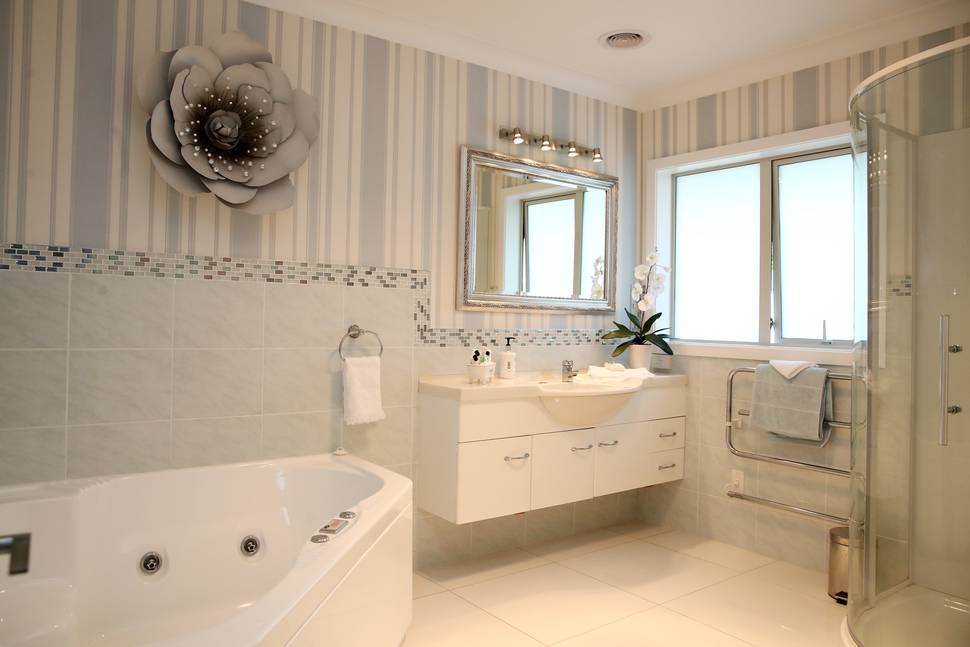 Elsewhere, louvres now replace glass bricks in John's office, listello tiles update the original blue bathroom wall tiles, and two refurbished chrome-dipped chandeliers adorn
the stairwell and the lounge.
On the walls, there is white textured wallpaper in the living areas and Lynne's choice of novelty "lolly wallpaper" in her grandchildren's toilet.
Lynne and John enjoyed 38 years on their former 4ha Dairy Flat property before coming here.
But they've never felt hemmed in here, thanks to right-of-way routes on either side.

Now they're looking to downsize and Lynne is sharpening her pencil for her next project.
101 WALDORF CRESCENT
• 4 bedrooms, 2 bathroom, 2* parking spaces.
• Land 1002sq m, house 286sq m.
• Asking price: $1,675,000.
• Inspect: Sun 12.30-1pm.
• Schools: Orewa Primary, Orewa College.
• Contact: Karen Franklin, Harcourts, 021 779 838, harcourts.co.nz/WH25898
*Plus boat/camper parking