On the rare occasion when Helen Gibbs stays at home during the week instead of working at her busy recruitment company in the city, she is spellbound by the tranquillity.
Even after living here for 37 years, the beautiful native planting, myriad native birds flitting through the trees and the little stream tripping down over rocks below make for an absolute treat.
"People say it's a little bit of Titirangi in the city," says Helen.
When Helen's husband, David Gibbs of Construkt Architects, found the property in a secret spot along a lane off Braemar Rd all those years ago, he couldn't wait to show her.
It was the last piece of bare land available in the enclave. He was so keen, he took Helen, who was 27 at the time, to see it in the dark.
She couldn't see a thing. But she could tell it really was a special spot. Looking out into the pitch black, she asked what was there, David told her it was just lush native bush. It sounded lovely, so Helen agreed to buy it, a decision she never regretted.
Architect David designed the house to complement the spectacular setting, with a splendid curved form and natural materials. It's almost as if the house has grown out of the landscape. Vertical cedar cladding for the exteriors with deep cedar soffits and assorted timbers inside give a zen-like, Japanese flavour.
"The site seemed to suit the notion of having a resort vibe," says Helen. "When all the doors from the living spaces are open to the big sunny decks for entertaining in summer, it really does feel like a resort."
Somewhere on a tropical Pacific island escape comes to mind as you gaze at the exquisite greenery the couple planted, offering magical vistas from every window, with not another home in sight.
FOR MORE PROPERTY NEWS AND LISTINGS GO TO ONEROOF.CO.NZ
Rough sawn timber ceilings and handmade Morris & James floor tiles in the family areas create a rustic textural contrast with the smooth, oiled kauri floors and Douglas-fir sarked ceiling of the elegant circular lounge next door. An English wood burner ensures winters at home are cosy while timbers throughout lend a rich glowing warmth.
Light pours inside and a conservatory-like extension over the breakfast area makes the kitchen feel like summer even in the depths of winter.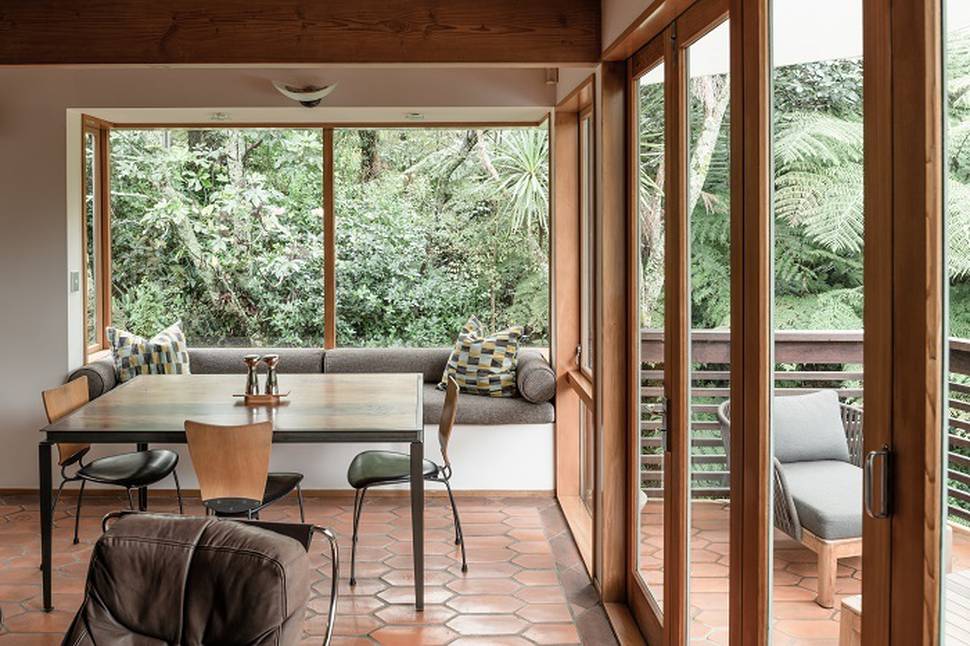 There is an easy connection between assorted living areas on the middle floor and stunning floating timber stairs link all three levels.
When daughter Megan recently left home, she found it hard leaving her generous bedroom suite with its high stud, looking out over the stream from the lower level. In a separate wing, Helen and David's suite is extra large and features a huge fitted dressing room beside the white-tiled en suite with its open, glass-free shower and bath.
Grandma stays in her own room by the entry and Megan used the versatile fourth bedroom opening to a rooftop deck on the upper level as her office. When the Gibbs added the top floor, several years ago, they sought to make it as practical and low maintenance as possible, hence the appealing chequerboard arrangement of planks on the deck. Each piece can be uplifted individually to make cleaning easy.
Surrounded by ponds floating with waterlilies and picturesque pathways weaving through the bush, this beautifully crafted architectural retreat has been a wonderful home and it is hard to part with. But last week, Megan and her new husband moved to their own home.
Now 27, Megan is the same age Helen was when they bought the property. "Although it's hard — it's the only home Megan has ever known — the time seems right for a new start," says Helen.
50 BRAEMAR RD, CASTOR BAY
• 3 bedrooms, 2 bathrooms, 3* parking spaces.
• Land 873sq m, house 242sq m.
• Sale price: CV $2 million.
• Inspect: Sat/Sun 12.30-1pm.
• Auction: 6.30pm, Thur, July 5, 128 Hurstmere Rd, Takapuna.
• Schools: Campbells Bay School, Murrays Bay Intermediate, Westlake Boys High School, Westlake Girls High School.
• Contact: Jordan Selwyn, Harcourts, 027 671 5882; Brooke Barrass, 021 131 0566, 50braemarroad.com
*Plus 2 OSP and boat park.