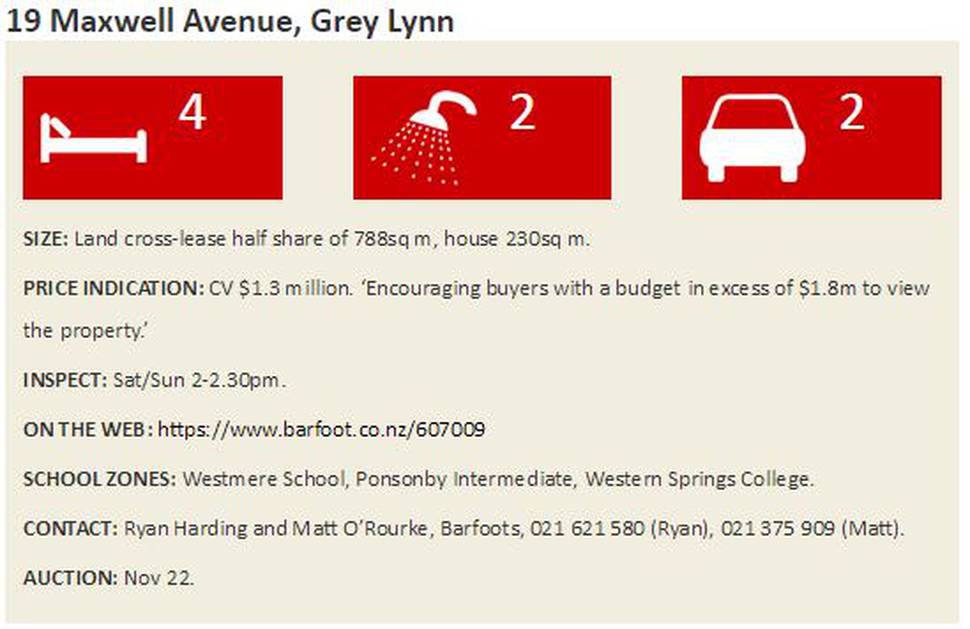 Becks and Thad Lawrence did what every prospective home buyer does when walking through a home for the first time.
They looked up and around, out and down at everything on offer and any untapped potential just below the surface.
They didn't have to look far on both counts here. They spotted the expansive view from the dining area to the sheltered rear deck. Then, down the outside stairs, they ventured into the large lounge/bedroom area with courtyard living.
This blended family of six (now seven) needed more out of a home that most and this place held exciting possibilities for an extra project or two.
That extra scope for enhancement included a new kitchen, a bathroom update and their most important addition - an internal staircase.
As for where to install it, Thad and Becks saw that sweet spot in an instant, right inside the front door.
There, ahead of them, was a bathroom that was little more than one huge shower. Its dimensions in a space with an original opening window and one of two red diamond leadlight windows were perfect for their staircase landing.
In completing that important connection in their fourth home together, Becks and Thad have put the polish on a home that has been ideal for their boys Jack, 9 and Bruno, 7, and Frankie, 18 months, and Thad's two adult daughters Arnika and Imogen.
"Upstairs is our entertainment area," says Becks. "Downstairs, that's your retreat."
Built in the mid-1920s, this bungalow has enviable heritage features from its shingle-clad bay window to its pristine kauri floors and original fire surround. Its beam-and-panel ceilings hint at the days of separate dining and living areas before today's more inclusive lifestyle.
Looking out from their original gas fireplace beneath the sloping tongue and groove ceiling that defines the transition area outdoors, Becks says "When I look out here it reminds me of being in a bach."
They have kept their changes on the light side here, opting for marble-look kitchen and bathroom tiles and light timber for benches in their kitchen and in their downstairs laundry.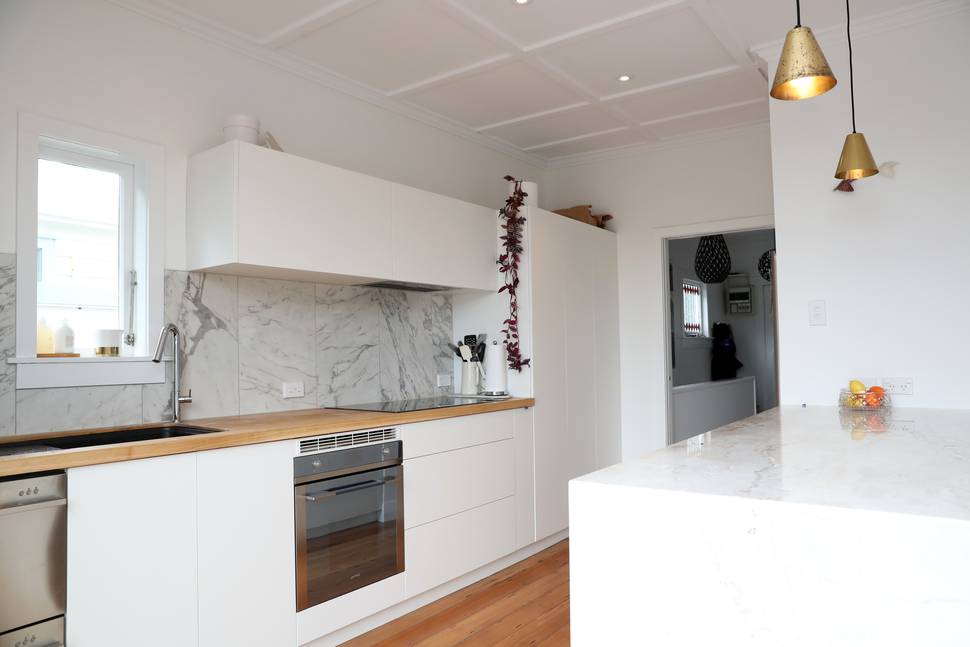 Built into space under the stairs that was already plumbed, this handy utility area is out of sight of the home office at the back of the lounge which opens out to their paved courtyard, lawn and newly planted garden.
Upstairs, their family bathroom services the two front double bedrooms and one rear bedroom in a separate wing off the living area.
They've noted future possibilities for opening out the rear bedroom into the living area to create an adjoining media room.
When Becks and Thad bought here two years ago, they toyed with the idea of adding a second storey to grab the big sea views.
Instead, they have looked far beyond these horizons for their long-term lifestyle needs and seaside desires.
They've bought investment land on Indonesia's Rote Island for its surf lifestyle.
They've also teamed with Becks' parents to buy 16ha of land in Mangawhai, the subdivision of which will include separate land blocks for their respective new homes.
It's a lifestyle move with an eye to the long-term security and that is particularly important to Thad, the son of well-known actor and musician the late Bruno Lawrence, and the owner of the company FAT (Film and Television) Lighting.
There is a lot they will miss here, too. For Becks it will be the sunny north-west aspect. For Thad it will be the safety of their no-exit street that has been wonderful for their boys and their friends.