A sense of adventure sent Mark Wilkins and Jackie Rodgers overseas to teach in Hong Kong.
After eight years they were ready to move back home but wanted to do something different again - living in the bush rather than returning to the city.
As Mark says: "Our son was in Year 13 and was going to go to uni and a job came up for Jackie so it was the right time to come back."
They began scouting properties on the internet until they hit on this architecturally designed home in a peaceful and private setting of mature native bush featuring impressive kauri, rimu and nikau.
"We bought it based on a 10-minute video that our daughter took on her iPhone," says Mark. "It looked great after eight years of living in a 70sq m apartment and looking out the window at thousands of people."
So five years ago, Jackie began her job and Mark spent six months working on the house himself and organising tradesmen to do other jobs, such as renovating the home's three bathrooms, using the Spanish marble that the previous owners had left behind and making the spaces lighter and brighter.
The former owners had used the marble in the kitchen but hadn't got around to doing up the bathrooms in the 1990s home.
With the marble in the bathrooms, there is now a sense of continuity throughout the house, which also has kauri floors, timber joinery and sarked ceilings.
One of Mark's biggest jobs was treating the cedar cladding to make it mould-resistant then oiling it, giving it a natural finish that sits comfortably in the woodland setting.
The couple have developed gardens and paths around the home, which had been landscaped before they bought. Over the years, Mark has thinned out the bush around the house so the sun can get in.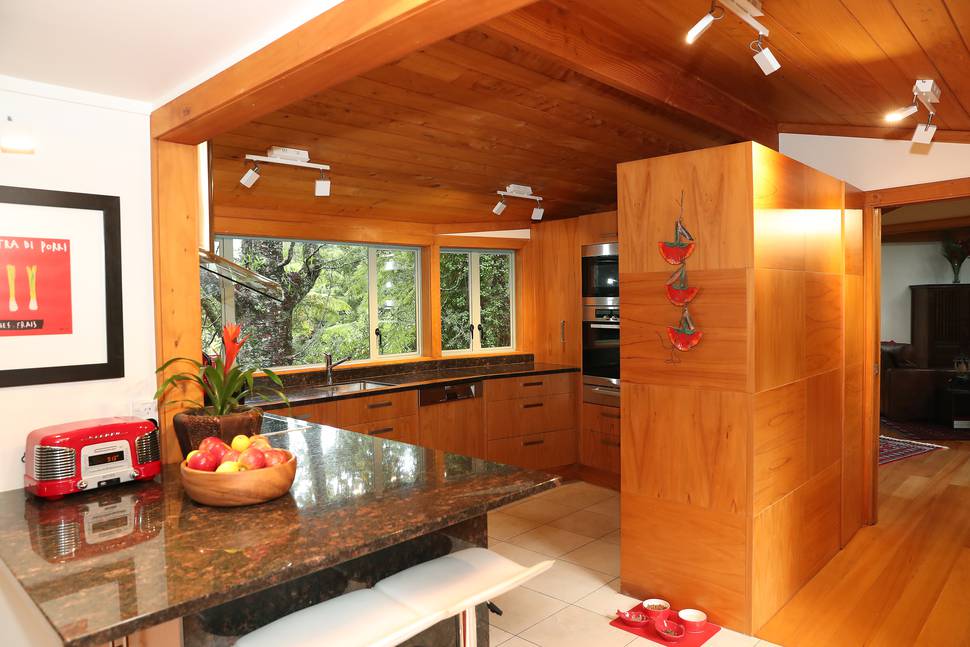 He also built a workshop "with the world's best view" under the house. While tinkering there, he looks down a gully filled with kauri and birdlife.
Inside, the house has extensive glazing with picture windows that frame those bush views.
Clerestory windows - including on mezzanine levels at either end of the house - bring in even more light.
The couple's bedroom features a mezzanine, which they use as a "walk-up wardrobe".
An office, which could be a bedroom, in the other wing of the house also has clerestory windows over a mezzanine level.
"That's my favourite spot up the top there," says Jackie. "I put all sorts of things like photos, birds nest and shells up there."
With lots of living space, the couple have also been able to display all their art works, souvenirs and furniture they bought overseas but had to keep in storage until they came home.
Living room and kitchen both have bush views either side, with decks giving way to paths up to the carport and driveway.
"I put paths right around the house because I wanted to be able to go outside in my Ugg boots and not get them muddy," says Mark.
Two bedrooms at the rear of the house, occupied by the children, look down the valley.
As it seems their two children will soon be heading overseas, Mark and Jackie are about to embark on their next adventure.
Jackie has a job at Wakatipu High School so they will be settling in Central Otago.
Mark says: "We'll probably be looking around Cromwell, maybe a doer-upper. Hong Kong was an adventure and we wanted another adventure."