Having bought an apartment near Spark Arena, Freda Taylor admits she and her husband John began "stalking" apartments around the Viaduct.
"You're at the heart of everything in the Viaduct," says Freda. "And we wanted something that was built from concrete and had more owner-occupiers."
They found just the place at The Parc, an apartment complex that encloses its own grounds - about 3500sq m of gardens that include lawns, paths, park benches, flowering cherries, a citrus grove and herb garden.
Freda says: "We've got a dog and dogs are allowed here so she can go into the park as well."
When they bought their third-floor apartment two years ago, Freda says it needed updating so they fitted it out with new carpet and wooden flooring as well as repainting in more neutral tones with soft furnishings providing splashes of colour.
Freda says they make the most of the east-facing deck at the back, which overlooks the park, and the west-facing deck at the front of the apartment.
"They're both covered decks and we have rain screens on the front one," says Freda. "We have breakfast on the back deck overlooking the park and then tend to have lunch and dinner on the front deck, so we virtually live outside."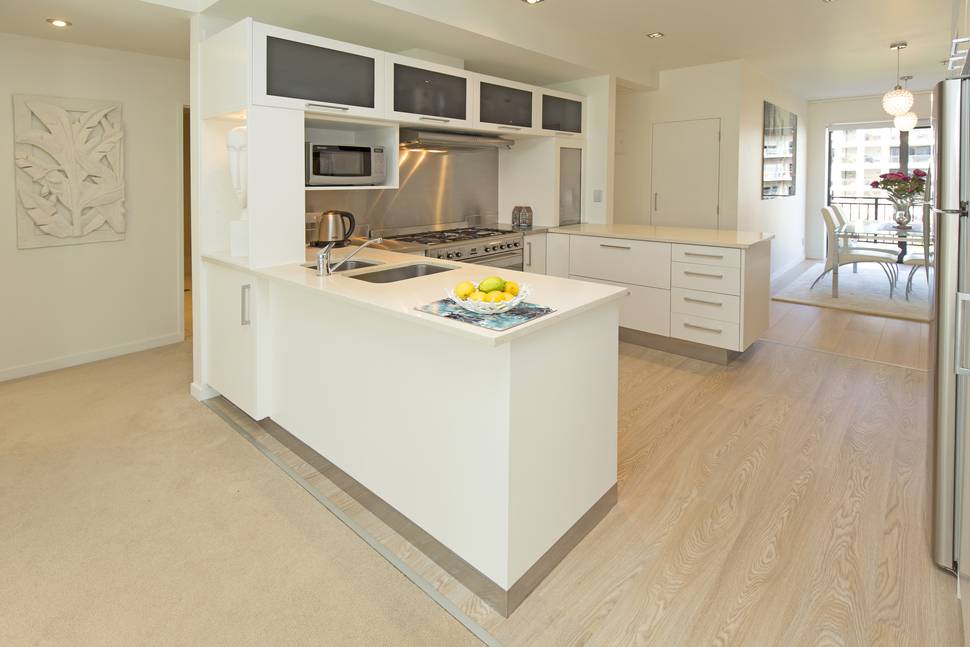 The back deck also offers them a front-row seat for fireworks off the Sky Tower.
Sitting between the two decks is an open-plan living space with the kitchen in the middle. Either side of it are a dining space, opening to the eastern deck, and a lounge with study nook that opens to the other deck.
The two bedrooms - one with a tiled en suite beside the tiled main bathroom - are at different ends of the apartment and each open to one of the decks. The U-shaped kitchen has stainless steel appliances, white stone benches and white cabinetry.
Fred says because the apartment opens out to decks at either end it is filled with light, as well as being warm. "Hand on heart, we have never had the heater on in winter and in summer we just open the french doors."
Proximity to the viaduct means the apartment is leasehold but Freda says that has never been an issue for them.
"We've never had a problem with leasehold because it allows you to have a high-quality apartment; whereas if it wasn't leasehold we would struggle to afford something of that calibre."
She says: "The location is great; in the morning we do two laps of the viaduct and then we stop for a coffee. We do a lot of strolling, and we are only three minutes' walk from Queen St."
Freda says the complex is overseen by a "very fussy body corporate" so the facilities such as the swimming pool, gym and spa are well looked after.