By Leigh Bramwell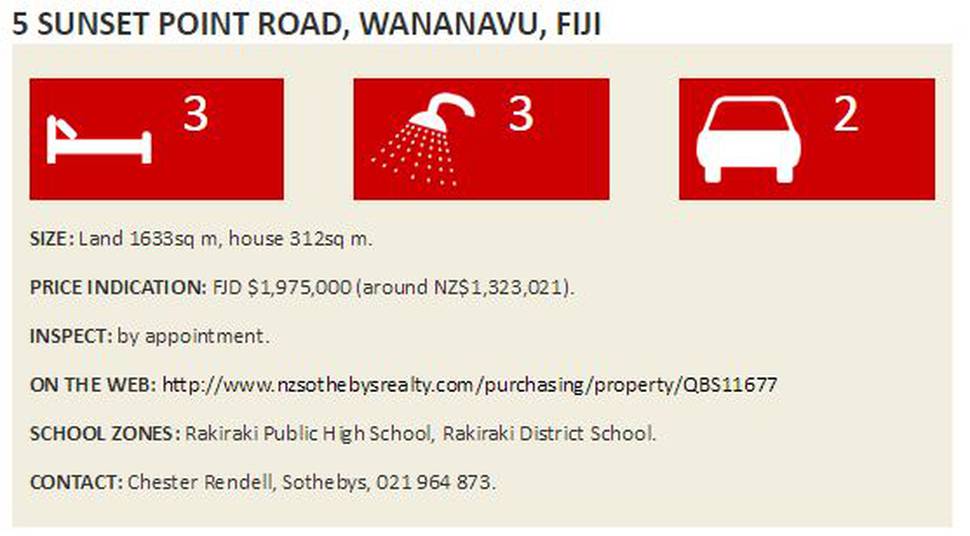 When Michael and Jane Malthus head off to their holiday house to escape the cold Hanmer winter, they go from 3 to 30 degrees in three and a half hours.
Their getaway place is about two hours' drive north of Nadi, and is the result of a long association with Fiji dating back to the 70s.
Back then Michael trained air traffic controllers there, and discovered the attractions of the Sun Coast, known for its coral reefs, diving and fishing.
He later managed a resort there for 18 months, then bought a cottage on the island on Nananu-i-ra, which was the family's holiday home for 10 years.
"But living on an island has its limitations - solar power, rainwater and having to take a lot of supplies over at once - so we sold it a couple of years ago and decided to build on the mainland."
They chose a site above Wananavu Resort looking out toward Nananu-i-ra, and hired an architect living in Suva, and a New Zealander who built the resort at nearby VoliVoli Beach.
"We wanted to capture the Fijian style so the house was designed with three pavilions, vaulted ceilings, and an indoor-outdoor feel. We wanted to make the best of the views, and encapsulate the Fijian culture."
The essence of the pavilion-style design is its spacious, open plan living. Entry is through a covered portico which reveals views of the pool and the sea beyond.
This entry hall forms a separation between two connecting pavilions.
One contains the master bedroom, ensuite, walk-in wardrobe and indoor and outdoor showers, while on the other side is a large central pavilion with lounge, dining, media area, and kitchen.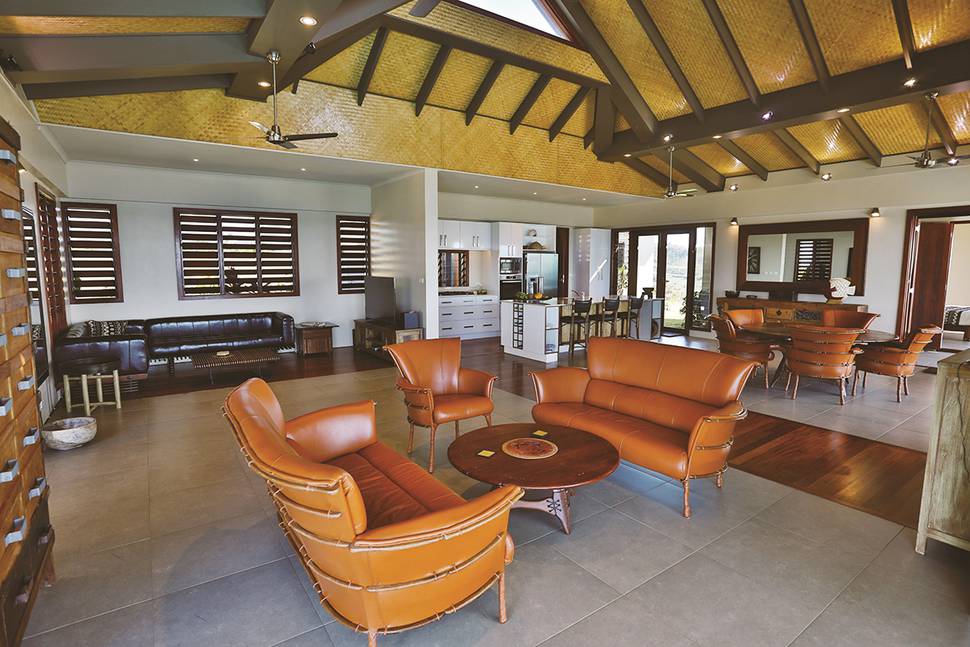 In a third pavilion is a second large bedroom which is a mirror image of the master. All three open out on to large patios, the infinity pool and spa, with sea views of almost 270 degrees.
To the rear of the kitchen is a connecting scullery/utility area with washing machine, dishwasher, sinks and storage, and internal access to the double garage. There's also a third bedroom and ensuite here.
"We have kept the house open and uncluttered to make the best of the indoor-outdoor living," Michael says.
Although many of the furnishings, appliances and artworks are from New Zealand, Michael and Jane have taken care to reflect Fijian style in the use of woven bamboo on the ceilings, bi-folds, timber floors, and in the fabrics and colours used throughout the house.
The interior design gives the house a stylish resort atmosphere, but it is still a holiday place for Michael and Jane.
"Our home is Hanmer but it can get pretty cold there so we like the idea that we can come over here for the winter.
"There are good air connections from Christchurch to Nadi and we can continue to take care of business from here with good internet, banking and communications. And when we are back in New Zealand there's a willing local labour force here to help look after the house and grounds, so maintenance and security aren't a problem."
Although the house is well-designed for entertaining and for guests, Michael and Jane regard it as a private getaway.
But they enjoy the close-knit community of New Zealanders and Australians who live either full time or part time in the area.
When they built the house it was with the expectation that family would make more use of it, but as that hasn't eventuated, a more compact home in the same area is on the drawing board.