Five properties sold for yields of under 5 per cent at Bayleys' first Auckland Total Property auction for 2017.
A total of 12 properties went under the hammer, at a total value of close to $20 million.
"We had bidding on nearly all of the 16 properties up for auction and only four of them were passed in," said Bayleys national director commercial John Church.
"While we had a thinner pool of buyers on some of the properties than would have been the case last year, reflecting the changing market we are in at present, we still achieved some very good results for our vendors."
Three well located properties sold at yields of under 4 per cent.
A 422sq m character two-level residential dwelling at 465-467 Parnell Rd, Parnell, converted for office use, sold for the highest price at the auction of $3,525,000 at a 3.7 per cent yield through Cameron Melhuish, Bayleys Auckland and Tonia Robertson, Bayleys North Shore Commercial.
The 612sq m site it is located on has a Terrace Housing and Apartment Building zoning, the new Auckland Unitary Plan's most intensive residential zoning.
The tenant, which has been in occupation for 30 years, has exercised its final right of renewal, expiring in April 2018.
At 575 Blockhouse Bay Rd, Blockhouse Bay, a 423sq m retail and residential investment property in a retail strip sold for $1.8m at a 3.2 per cent yield, through Alan Haydock and Damien Bullick, Bayleys Auckland. Located on a 610sq m corner site, with a Local Centre zoning, it is fully leased by a convenience store with attached residential accommodation plus a gymnasium
"The auction was brought forward with a declared reserve of $1.4 million because the vendors received an offer they were prepared to accept at this price," said Bayleys commercial auctioneer Richard Valintine. "Further spirited bidding from a number of interested parties then pushed that price up a further $400,000."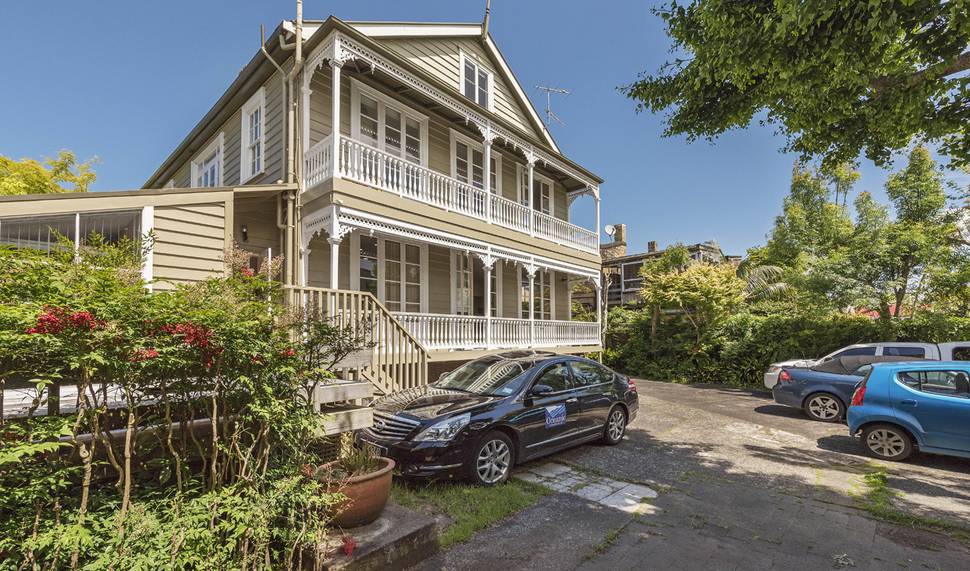 A 532sq m warehouse/retail building on a 1012sq m site at 48 Portage Rd, New Lynn, also attracted very strong bidding from multiple parties before selling for $1,730,000 at a 3.6 per cent yield, through Mike Adams and Laurie Bell, Bayleys West Auckland. It is leased for four years from October 2016 to Plumbing World Ltd. The lease has fixed annual rental increases of 2 per cent per annum and four three-year rights of renewal, with market rent reviews on renewal dates.
Two other properties sold at yields of under 5 per cent. A 230sq m retail unit in the Dawson Rd Shopping Centre, at Glover Park, sold for $1,420,000 at 4.4 per cent yield, through Dave Stanley and Geoff Wyatt, Bayleys South Auckland. Its butchery tenant has been in occupation since the centre was established 25 years ago and is currently on a four-year lease, from April 2016. Bidding on this property started at $700,000 and it was declared to be on the market at $1,150,000.
A new 49sq m unit on ground floor of The Dylan apartment building 367-375 Great North Rd, Grey Lynn, sold for $611,000 at a 4.9 per cent yield through Haydock and Bullick, in conjunction with Michael Nees, Bayleys North Shore Commercial. It has an eight-year lease (from October 2016) to a laundromat. A larger 128sq m retail unit in the same complex sold for $1,270,000 at a 5.35 per cent yield. It is leased for six years from November 2016 to Love Bites Kitchen.
Other properties to sell at the Bayleys Auckland Total Property auction, included:
• Unit 5, 32 Constellation Drive, Albany: A 385sq m unit, part of a retail convenience centre, occupied by Snap Fitness sold for $2,585,000 at a 6.1 per cent yield through Ranjan Unka and Anna Radkevich, Bayleys North Shore Commercial. It has an eight-year lease from 2013.
•11-13A Paul Matthews Rd, Albany: A 517sq m modern industrial unit with air-conditioned offices and eight carparks sold with vacant possession for $1,550,000 through Matt Mimmack, Bayleys North Shore Commercial.
•Unit A, 7 Porana Rd, Wairau Valley: A well-presented 110sq m industrial unit with twin roller door access and two onsite car parks sold with vacant possession for $476,000 through Matt Mimmack and Trevor Duffin, Bayleys North Shore Commercial.
•137 Onehunga Mall, Onehunga: Fully licensed bar and gaming premises in a 213sq m character two-level building on a 185sq m site in Onehunga's main retail strip, occupied by the vendor, sold for $900,000 through Oscar Kuang and James Chan of Bayleys' international division.
•Unit C, 179 Harris Rd, East Tamaki: A 270sq m showroom, warehouse and office unit with six carparks sold for $825,000 at 5.3 per cent yield through Tony Chaudhary, Janak Darji, Amy Weng and Mike Marinkovich, Bayleys South Auckland. Longstanding occupant Party Hire has renewed its lease for another four years.
•115 Victoria St, Whanganui: 403sq m retail premises with 10 on-site carparks on a 916sq m site in the heart of the CBD sold for $2,730,000 at a 7.55 per cent yield through Cameron Melhuish and Ed Donald, Bayleys Auckland and Eddie Zhong, Bayleys North Shore Commercial. The unit is occupied by Post/Kiwibank on 12-year lease from November 2010.